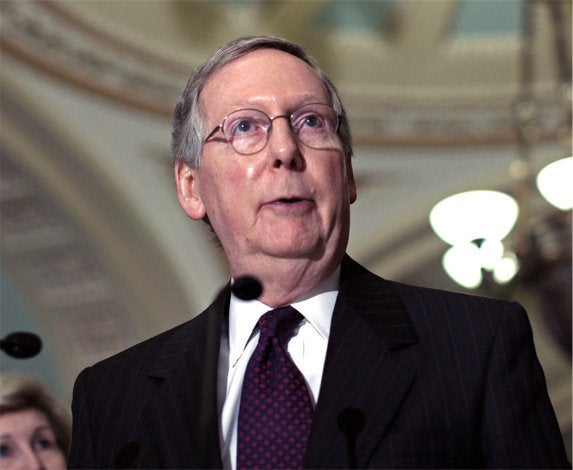 Whispers about Senate Minority Leader Mitch McConnell's (R-KY) military service during the Vietnam War have been floating around Washington for years and were reported in print at least as far back as two campaigns ago. From the Kentucky Kernel of November 1, 1996, Senator's Discharged Questioned:
A letter found in the [University of Kentucky] Library Department of Special Collections of a request from a former U.S. Senator to the then commanding general of Fort Knox created conflicting stories Thursday about the military record of Republican U. S. Sen. Mitch McConnell.

The letter was found in the personal letters of U.S. Sen. John Sherman Cooper, a Republican from Kentucky. It was written to Maj. Gen. A. D. Surles, commanding general of Fort Knox. McConnell served as an intern in Cooper's Washington, D.C. office in summer of 1964. He was in boot camp at Ft. Knox and a member of the 100th Division of the U.S. Army Reserve.
McConnell enlisted in March of 1967 and was abruptly discharged four months later for a minor medical condition, optic neurosis. During a time of war, one might appropriately presume the armed forces would want to minimize the number of departing soldiers.
Dr. Mike Minix, with the department of ophthalmology at the UK Med Center, explained that optic neuritis usually affects individuals 15-45 years of age.

According to Minix, the condition can usually be treated with steroids. "Within three-four weeks of having the condition, individuals will usually have their eyesight return to 20-20 vision or normal vision."

This same type of treatment would have been prescribed in 1967, although advancements have been made in the treatment of this eye condition, he said.

McConnell's discharge was expedited by Cooper's claim that the enlistee needed
to be released quickly to attend New York University.
NYU records, however, indicate that McConnell never applied to the school, and
at the time of his discharge he had already earned a law degree from the University
of Kentucky. Why exactly would a United States Senator write to the Commanding
General of one of the nation's most important military instillations with false
information about a member of the US armed forces?
Click to enlarge.
A lot of smart people have pursued this story. The common thread? McConnell's military records. That's because those records are private, unless of course McConnell chooses to make them public. Sen. McConnell doesn't even acknowledge his military service on either his US Senate or re-election campaign websites, so it's probably no surprise that he's kept those records under lock and key for years.
So, why revisit this story, and why revisit it now?
Like when I investigated and reported on Larry Craig after 26 years of rumors, I've turned fresh eyes on this case and recently noticed an interesting inconsistency with McConnell's public Army record. In particular, there is a differing answer to a section of his records titled, "Transcript of Court Martial." While every other section of McConnell's records without information simply "n/a," this particular section uniquely states, "not on file." Does that mean a McConnell court martial file exists? Only the Senator knows.
I also have reviewed copies of phone records showing a flurry of calls from the office of McConnell's patron in the Senate, Sen. Cooper, in the days immediately preceding McConnell's discharge. The calls abruptly stopped as McConnell was released from the service. It is also interesting to note that the UK archives show that despite a frequent correspondence during the years prior to his discharge, it was three years after McConnell's discharge before they exchanged letters again.
Is there a smoking gun on any story about McConnell? While for a host of reasons it's not possible to talk about the documents I possess, there certainly are enough serious and legitimate questions about his military service that deserve answers, not just to me, but to every citizen of Kentucky.
I've taken six trips to the state in the last several months to investigate these questions. I've visited a slew of towns, spoken with dozens of people, and spent hours poring over archived public records.
Under what appears more and more likely, under an Obama administration, McConnell - the Senate Minority Leader - is poised to become the highest-ranking Republican in the country. He deserves the same level of scrutiny as other top elected officials. The apparent standard bearer of his party, this anti-gay politician sets policies and national priorities that have a far-reaching impact on us all. The American people deserve to know the truth about this man and what these records indicate from his past.
They say experience shapes your perspective on things. Could such experiences explain McConnell's uneven treatment of the sex scandals of Republican Senators Larry Craig and David Vitter received a great deal of attention last year? McConnell was quick to throw Larry Craig under the bus, yet threw his support behind adulterer and prostitute client David Vitter.
"Elections should be about informed choices. He's obviously not proud of his record, Sen. McConnell isn't, or he would have shown it by now," Stumbo said. "Something isn't correct about it that might cause a lot of people, including veterans, to take a second look at him."

McConnell enlisted in the Army Reserve in July 1967 at the height of the Vietnam War but received a medical discharge after less than six months for an eye condition called optic neuritis, according to limited information that has been made public.
No matter how you slice it, McConnell's story just doesn't add up. That's why I've encouraged him to consider the facts and truth his allies, not a problem. He should come clean with the American people. A speedy release of his records and openness with the public is the only thing that will help clear this matter up once and for all.
Popular in the Community