It's the bride's privilege to ask her wedding party to dress a certain way for her wedding. It's tradition. She can tell them what jewelry and shoes to wear, too. She can even ask everybody to wear their hair up, or down, if she's super picky. But she absolutely, positively CANNOT ask anybody in her wedding party to alter their physical characteristics in any way.
Now I know we've all heard of brides who have dragged their bridesmaids to fitness boot camp before the wedding, or demanded that her girls lose weight for their dresses. In truth, we know these unfair requests are about the bride's opinion of herself more than anything. But they're hurtful and insulting and should never be made in the first place. If some of your best friends don't look good in the bridesmaid dress you've chosen, choose another dress!
With that attitude in mind, you can imagine my reaction when I read a blog by Julianne Adams about a bridesmaid who had posted on Reddit because she had been asked to dye her hair to match the rest of the wedding party. What? SERIOUSLY??? I had to read it twice. And go look at the original postings. I'm horrified.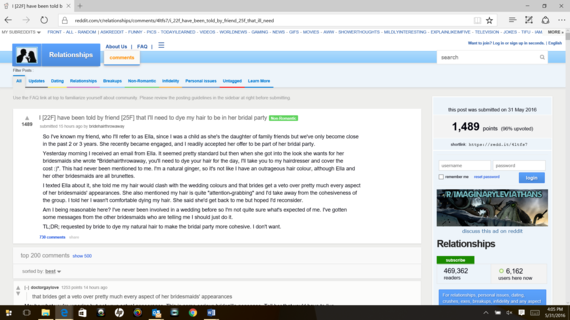 According to Adams, the bridesmaid is a natural redhead, who doesn't color her hair. Bridezilla has asked her to change it to another color because "she told me my hair would clash with the wedding colours and that brides get a veto over pretty much every aspect of her bridesmaids' appearances. She also mentioned my hair is quite 'attention-grabbing' and I'd take away from the cohesiveness of the group."
Hold up, wait a minute! That's just completely insane. There are some things you can ask your wedding party to do, for the sake of tradition and pictures, but you can't ask them to do anything that would make them super uncomfortable, or alter their appearance for more than an evening.
I've seen brides go to some extremes in an effort to make their wedding parties totally matchy-matchy. Sometimes, it's pretty ridiculous. One client forced her Maid of Honor to get extensions so they would all have "long thick hair to mid-back." Fortunately, she wasn't picky about the color. There have been some flat-out battles between brides and grooms when the bride wanted all the gentlemen in the wedding party to shave their faces clean for the big day. Some brides even insist everybody get everything done by the same salon - down to the manicures and pedicures - so they look coordinated in the bouquet shots. Polish color to compliment the flowers, of course.
One of my brides had wraps made to go with all the bridesmaid dresses for the explicit purpose of covering up the very visible tattoos on one bridesmaid's back for the duration of the wedding ceremony. Her grandparents were very conservative, and she'd made the compromise with her mom when she selected the strapless dresses. Several times I've seen bridesmaids covering up tattoos with makeup at the bride's request. I've never seen anybody get upset about it on the wedding day, so I can only assume these things were discussed in advance. Some brides request an airbrush makeup artist to cover up their own body art, and everybody else's. But that can all be washed off later that night.

You can give your bridesmaids cosmetics and accessories they HAVE TO wear, if you want everybody to have matching pink lips and foot jewelry. You can ask your friend who ALWAYS wears big dark smoky eyes to tone it down for the night. You can even ask your friends to remove large facial piercings if they really bother you. What you can't do is ask anybody to do something that would either embarrass them, or that they could not undo at the end of the night.
You can't ask anybody (bridesmaids or groomsmen) to cut their hair. You DEFINITELY should not ask anybody to dye their hair. You can't make losing weight a condition of the position in your wedding party. These are all things that are your issues, not theirs. You cannot try to manifest your own insecurities by changing the bridesmaids and groomsmen's appearances for the sake of "cohesive" pictures. Not only will you be acting like a Bridezilla, but you're truly overstepping the bounds of friendship, and possibly hurting someone that you care about. Words do hurt. Asking your friend to permanently (to some extent) change something in order to be acceptable for your wedding party is akin to saying they're not good enough as they are. That's truly hurtful.
Remember that the members of your wedding party are honoring you with their participation. They care enough about you to want to spend time and money for you to have them be part of your wedding. In return, you need to treat them with respect. If you have insecurities, as it appears this bride does because she's asking her friend to dye her hair, don't let them ruin your friendships or your wedding day. You will never make yourself look (or feel) better by taking somebody else down.