In today's society, reality shows have become one of the most popular genres on television. Shows like Jersey Shore, The Voice and The Real Housewives have become the topic of many daily conversations. Tonight is the season 20 finale of 'The Bachelor' and the show's popularity is often questioned. Chris Harrison stopped by AOL Build recently and even he is surprised, but proud of how long the show has been going on. In his conversation with Leigh Blickley, he said, "I am proud. I am proud of the fact that this show does what most shows do not do in this day and age, and that's to last for fifteen years. That just doesn't happen."
Reality television was made solely for the entertainment of the viewers. It's not necessarily meant to be intelligent or political. Reality television is something people can watch to unwind from a busy day and have something to talk about with friends later. What makes 'The Bachelor' so popular among today's viewers? There are a few reasons that I can come up with.
IT'S A COMPETITION- People love watching and participating in competitive shows and events. With so many women after the same man, it's a competition to win the man's heart. There are so many personalities battling it out to be the one woman to spend the rest of her life with this one particular man. If I had a dollar for every 'Bachelor' prediction game I came across on social media, I'd be able to pay off all of my friends' student loans. Everyone becomes an expert on who would make the best wife for the featured Bachelor and hilarity ensues.
THE DRAMA- There's no question that people love drama when they're not involved. It's all part of the 'thank goodness it's not me' culture. It's safe to say that some of the show's most dramatic moments are also the ones that are the most memorable. Episodes when the girls get catty (spoiler alert: every episode) are the most interesting ones. Drama sells! Who can forget the moment on season 13 when Jason Mesnick proposed to Melissa Rycroft, but then dumped her shortly after for the runner up Molly Malaney? Besides, who doesn't enjoy watching girls fight over a guy like preteens at a Justin Bieber concert?
CONNECTIONS TO THE CONTESTANTS- With so many personalities on one show, we're all bound to feel connected to someone in the cast. This season, I felt a connection most to Jubilee. I know what it was like to be an outsider and uncomfortable around a certain group of people. That alone made me want to root for her. A lot of people felt the same way about Jubilee, because it seemed like social media exploded when she was sent home.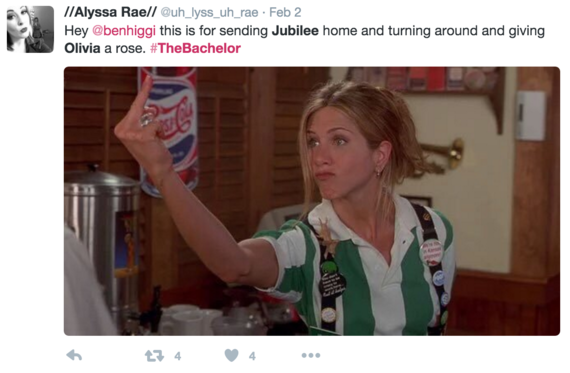 'The Bachelor' has really become a phenomenon over the past twenty seasons. There are so many stories being told and the ones that end in a happily ever after certainly don't suck.
For all you 'Bachelor' fans out there... you can chat live with former 'Bachelor' star, Chris Soules after the season finale tonight! Download Skoozi from the app store and you'll be able to connect right away as soon as the final rose is given and Ben is an engaged man. Be sure to follow Skoozi on Twitter for more updates!
Calling all HuffPost superfans!
Sign up for membership to become a founding member and help shape HuffPost's next chapter