This question originally appeared on Quora.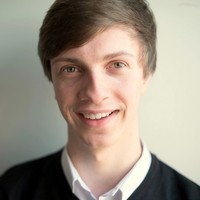 Answer by James Cook, Startup Social Media Guy

Sure, The Rolling Stones had the swagger. And The Beatles had all the hit songs. But there was something about Led Zeppelin. Not just glamour, the other bands had that in equal measure. What Led Zeppelin had was force, power, mystery, that unknown factor that you don't know exists until you hear it for the first time.
Let me tell you a little story. Back in the summer, I traveled with a friend to London to see the Damien Hirst retrospective at the Tate Modern. On the way home, I decided I wanted to see Jimmy Page's house. It's just off Kensington High Street on a public footpath. [1] Anyone can walk past. And many Led Zeppelin fans do, unaware of the camouflaged CCTV cameras mounted on the exterior of the property.
Me outside Jimmy Page's house (Photo Credit: Laura J P Richardson Photography)
To put this in perspective, I love Led Zeppelin. So you'd think that when I saw Led Zeppelin guitarist Jimmy Page standing in his front garden, I'd say hello. I didn't. I stood across the road in reverential silence. Partly because I was in awe of seeing him, and partly because of that factor I mentioned before, that mystery.
To the uninitiated, Led Zeppelin are a rock group formed in late 1968 by four young British men. But once you listen to their albums, and read around the subject, you realize there is something else to Led Zeppelin. For a decade, this band ruled the music industry when it was in its golden age. They rampaged across continents, spreading mayhem and rumours as they traveled in their plane named 'The Starship'. Not even The Rolling Stones could make infamous clusters of groupies like The GTOs [2] gather to trade tales of the mysterious backstage antics that Led Zeppelin engaged in.
So, I return to the scene of me standing on a relatively quiet street in London looking at Jimmy Page. Why did I not say 'Hello' or scramble around for a leaf or something for him to autograph? I did not speak because, however big a Led Zeppelin fan I am, I'm scared of Jimmy Page.
Above is a photograph of Jimmy Page outside Boleskine House. This property sits on the banks of Loch Ness in Scotland. Legend has it that it was built on the site of a church that burnt down with its congregation inside. There are tales of an underground tunnel that leads to Boleskine Cemetery, an ancient graveyard that sits just over the tree-lined road nearby. Another Scottish legend tells the story of Lord Lovat, a Scottish hero decapitated in the Tower of London. Since Boleskine House was the nearest consecrated ground to the center of the Highlands, that is where his ghost resides. [3] Jimmy Page himself told a newspaper reporter of the severed head that haunts the corridors. Boleskine was owned by English occultist Aleister Crowley, and it was in this house that he attempted to perform one of the most powerful of occult rituals. Halfway through, energy spent, he gave up, leaving the house haunted with the unbanished demons of the netherworld. Or at least, that's how the story goes.
The tale of Boleskine House is symptomatic of that unknown factor that makes Led Zeppelin great. No other band in history has this kind of mystery surrounding them. Perhaps only their largest influence, Robert Johnson, came close, with tales of him striking a deal with the devil in the depths of night at a crossroads in Mississippi.
One of only two known photographs of Robert Johnson
What drove the music of Led Zeppelin? Why, that would be the four English men who formed the band. And these men thrived on debauchery. One standout tale tells of a drunk, yet willing, groupie penetrated with a dead shark in a hotel room. Another more morbid tale has Jimmy Page carrying cases of whips with him on tour. It's widely known that he had relationships with underage groupies, making the existence of these cases far more sinister.
Perhaps there is one legend about Led Zeppelin that says more about their greatness than any other. For, as the whispered story goes, they all sold their soul to the devil. A blood contract, signed in exchange for instant success, mastery of the blues, and sudden fame. All of them but one: John Paul Jones. The reserved bass player eventually stopped traveling with the band, instead preferring to make his own way to each concert. In his fantasy sequence for the Led Zeppelin concert film The Song Remains The Same, he is shown at home with his wife and children. In contrast to this, John Bonham is seen drinking, raising hell in a variety of cars, motorbikes, and drag racers. Robert Plant travels to the far-flung reaches of a fantasy land to fight the hordes and rescue a maiden fair and true. Jimmy Page sits by the banks of a river in the Sussex countryside, playing an ancient English folk song. When he turns to the camera, his eyes glow a devilish red. Maybe there is some truth to the rumor after all. After John Bonham's death in 1980, the band fractured. The only member left with a semblance of normality was John Paul Jones, returning to session work as if Led Zeppelin was but a dream, perhaps a particularly bad one.
Jimmy Page's chilling sequence in The Song Remains The Same
Yet it was not only the backstage antics and occult mystery that made Led Zeppelin great. The music they created defined a genre, transforming rock music from a tired rehash of old blues standards into a whirling dervish of musical energy and primal force. Songs like Immigrant Song and Kashmir transport the listener to distant lands, while Since I've Been Loving You and Tea For One show the blues core that pervaded every recording the band made.
Led Zeppelin live was a ferocious experience, or so I've been told. John Bonham's thundering drum solos provided the counterpart to John Paul Jones's melodic keyboard pieces. Jimmy Page favored using a violin bow on his guitar, driving it across the lowest string to create deep, sonorous tones, or across the highest to generate screeching bursts of feedback. Robert Plant's voice could handle everything from the screaming introduction of Immigrant Song to the gentle enunciation of the start of Ramble On.
What is so great about Led Zeppelin? When you listen to a Led Zeppelin song, you're listening to something other than four men in a cramped studio. You're listening to fifty years of blues music driven into a frenzy by Jimmy Page's studious years of listening to every release by the American blues masters. You're listening to all the folkish tradition of the English countryside in Robert Plant's vocals. You're listening to the musical theory and melodical genius of John Paul Jones. You're listening to John Bonham, whose drumming style once lead Jimi Hendrix to comment 'Boy, you've got a right foot like a rabbit!' When you're listening to a Led Zeppelin song, you're listening to the combined output of four of the most talented musicians who ever lived, along, of course, with that unknown factor.
Calling all HuffPost superfans!
Sign up for membership to become a founding member and help shape HuffPost's next chapter