On my travels to facilitate One World Academy spiritual journeys across the world, I come across this question at the immigration quite often: "Oh! You are a religious leader coming to lead a prayer meeting?" And I try to clarify, "No. I am a spiritual teacher. I teach people to be joyful!"
"Oh ok. Yoga and meditation?" I can't but smile at this point. I helplessly agree- "Yes. Yoga and meditation is a small part of the program." My passport is stamped and I am welcomed into the country.
It makes me wonder why 'spirituality' is used interchangeably with 'religion'. To me religion is more about taking refuge in a higher power; while spirituality is an inner exploration, a process of discovering yourself. And why has yoga become synonymous with spirituality? Perhaps it is because spirituality is confused with a life-style than an inner way of living in a beautiful state of being. The spiritual tag seems to refer to more of what people see us do, than we actually are, which is our inner state of being.
For many people, it probably takes two instances of hurt and sadness to shake their relationship, but ten instances of love and kindness to build one! In its 'default' mode, the brain often tends to lean more towards limited and stressful states like anxiety or hurt. We need to time and again retune our brains to beautiful states such as serene-joy, calm-courage, Dynamic-peace to name a few.
Quite simply put, spirituality is the art of dissolving suffering states and living in beautiful states.
Here is your chance to live life from a Beautiful State
FOR A BEAUTIFUL STATE OF BEING
ON OCTOBER 7, 8 & 9 '2016
THE WESTIN BONAVENTURE HOTEL 404 S. FIGUEROA STREETLOS ANGELES, CA 90071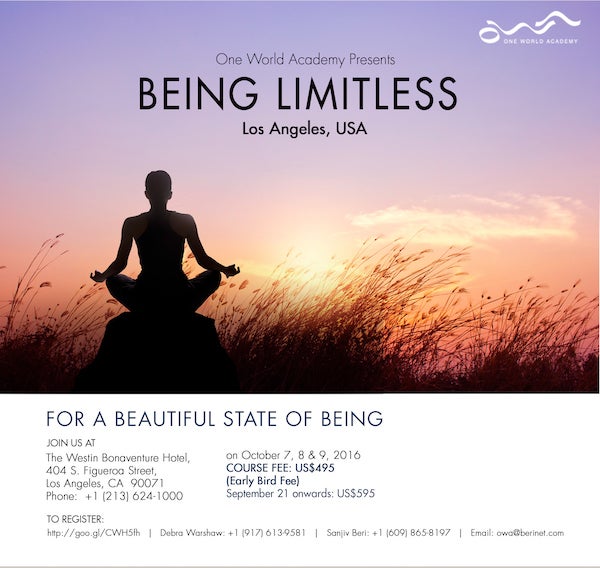 Popular in the Community