 What Is It Anyway? is a series that examines the histories behind peculiar and obscure foods. Today, we're explaining spotted dick.
It's likely that you've stumbled upon this dessert, which has become more of a white elephant gift than a food item eaten in earnest, while browsing the aisles of your local grocery store. The Heinz version comes in an aluminum can covered with a close-up photo of something speckled and bready-looking, and text that reads, "Spotted Dick." As if this wasn't gag-worthy enough, some smaller text informs shoppers that this dessert is, in fact, microwaveable.
So, what is it, anyway?
Spotted dick is a traditional British pudding made from suet, or mutton fat. The suet is mixed with other ingredients, such as baking soda, flour, molasses, corn syrup, or nutmeg. This creates a pastry dough, to which raisins or dry fruit are added, hence the dessert's "spots." The dough is traditionally either steamed or boiled, and is often served with a custard sauce.
Etymology
Why does such a commonplace, and even appetizing dessert have such a strange, unappetizing name? As mentioned, "spotted" refers to the currants, fruit or raisins in the pastry. "Dick" is messier to explain -- the word itself has a fuzzy history, and in the 19th century alone it was understood as an abbreviation for dictionary, a policeman, an apron, a riding wip, and, of course, male genitalia. Around the same time as these meanings were used, the first recorded spotted dick recipe was created. Etymology resources suggest that the "dick" in "spotted dick" could be "a corruption of the last syllable of pudding," "a corruption of 'dough'," or a reference to the German dick, meaning thick or viscous.
History
Alexis Benoist Soyer wrote the first documented recipe for spotted dick in his 1849 book, The modern Housewife or ménagère, but similar meat-based puddings date back to medieval times. In fact, the Latin root for "boudin," or "pudding" is "botellus," meaning sausage. According to the Oxford Companion to Food, suet puddings became popular by the 17th century thanks to the invention of the pudding cloth, and by the 18th centuries these baked goods were given a sweeter twist by adding fruits and spices.
"Hallo! A great deal of steam! the pudding was out of the copper. A smell like a washing-day! That was the cloth. A smell like an eating-house and a pastrycooks next door to each other, with a laundress next door to that. That was the pudding."
Also on HuffPost Taste: 7 Creative Pudding Recipes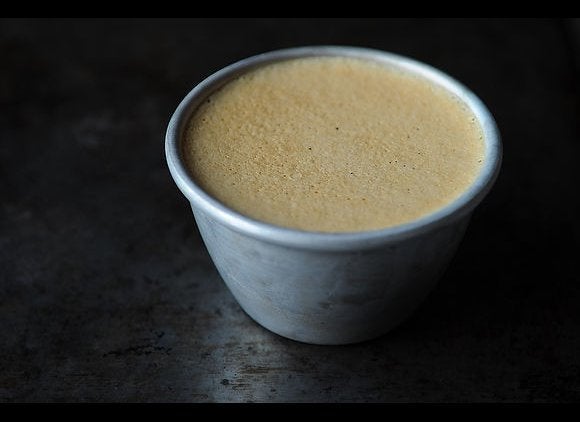 7 Creative Puddings
Related