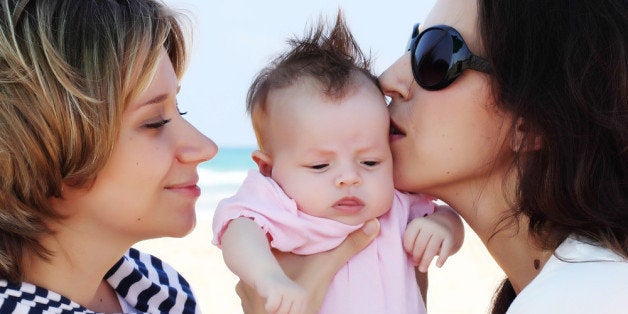 Surrogacy is one of those splashy subjects that often grabs headlines, most recently with Kim Kardashian (possibly) taking to Twitter to shoot down rumors that she's using a surrogate to carry Kimye baby number two. But there is still a lot of confusion about what surrogacy entails -- and what it doesn't. Here are some of the basics you need to know:
At its core, it's an arrangement in which a woman agrees to carry a baby for an intended parent or parents. There are two main types: In traditional surrogacy, the woman provides her own eggs and therefore shares a genetic link to the resulting baby. Then there's gestational surrogacy, in which the woman -- in this case, a "gestational carrier" -- carries a baby created from the egg and sperm of the intended parents, or from other donors, but does not have any genetic link to the child.
"By far the vast majority of arrangements these days are gestational, where the surrogate is not genetically connected to the child that she is delivering," said Richard Vaughn, an attorney with the International Fertility Law Group, which specializes in assisted reproductive technology law. Because the carrier and baby share no genetic connection, gestational surrogacy agreements are generally less complicated in the eyes of the law, he explained.
"Surrogacy is important as an option because for some people, it's the only way they can have a child," said Kim Bergman, a psychologist and co-owner of Growing Generations, a surrogacy and egg donation agency. Intended parents may turn to surrogacy for any number of reasons -- for example, because they are in same-sex relationships or because they have fertility problems and have been unable to conceive themselves.
"Surrogacy is not 'womb for hire.' It's not a business deal, and it's not an exploitive adventure -- not when it's done right," argued Bergman, who said that many women who work with her agency are motivated to become gestational carriers after seeing close friends or family members struggle with infertility. "Surrogacy is a collaboration between a whole group of fully-informed, consenting adults who have all come together for the purpose of helping someone become a parent."
"In the states and countries that have objections [to surrogacy], those objections usually have to do with the potential for the exploitation of women," said Vaughn. For example, one Al Jazeera piece told the story of poor women in India who, after giving birth, "are usually left high and dry."
Bergman said that it is this very real potential for exploitation that motivates reputable agencies to ensure the women who become surrogates are not doing it because they need the money. Growing Generations, for example, checks women's tax information to ensure they meet certain income criteria, she explained.
"There's no value judgement. I think women should be compensated for this," Bergman said. "But there are two reasons why we want to rule out that women are not in it for the money. One, we want to make sure they're not being exploited. And two, because women who are motivated by the money lose interest and do not stay committed to the process." The women who are accepted as surrogates with her agency have all already given birth to at least one child and had healthy, complication-free pregnancies and deliveries. They undergo a months-long vetting process, including psychological screening.
The legality of surrogacy depends on the state where the gestational carrier lives and intends to give birth. Even then, there is often no clear-cut answer, as many states lack statutes that relate specifically to surrogacy. "For many years, Illinois was the only state that had comprehensive legislation dealing with surrogacy, but in the past few years New Hampshire, Delaware and Nevada have come online with a statute," said Vaughn. "In assisted reproduction, there are intended parents of all kinds -- straight or gay, married, unmarried or single -- but certain states place restrictions on who can acquire parental rights in these cases, so who can be legally recognized as the baby's parent will vary from one state to the next," he added.
"Generally, the goal is to rebut the automatic presumption of law that the woman carrying the baby is the mother," Vaughn explained. "Typically, a person who is pregnant doesn't need to prove she's the baby's mother, but in surrogacy you need to rebut that. Most states require a court process to do that."
According to Bergman, the cost of hiring a full-service agency can run upwards of $150,000, which includes things like doctors, psychological screenings and counseling, attorney fees, any medication and travel expenses, compensation for the surrogate and the costs associated with her pregnancy and recovery, as well as the agency's fee.
"Gestational surrogacy contracts typically allow for payments for things such as medical expenses associated with the costs of becoming pregnant... and the living expenses associated with going through all the procedures and pregnancy, giving birth, recovering... those are the kinds of expenses accounted for in gestational surrogacy agreements," added Margaret Swain, fellow and deputy director with the American Academy of Assisted Reproductive Technology Attorneys.
How parents and gestational carriers match:
Bergman said there are "less than a handful" of major, full-service surrogacy agencies in the United States, as well as a number of smaller outfits that offer less comprehensive services.
"It's critical that the parties engage professionals who are experienced in this particular area of medicine, of psychological counseling and of law," Swain cautioned. "If you don't, you may find yourself behind the eight ball and it can end up being a really expensive and difficult situation when the baby is born."
"This is not just some cold medical procedure," echoed Vaughn. "It's an extension of a person's right to procreate. You're creating a child who would not have existed if not for your intent."
Related