More often than not, when people mention that they have made a substantial amount of money on the internet, it's closely followed by some kind of scam or virus link.
Making money fast is notoriously known as a scheme, which gives a bad name to legitimate companies that exist with the sole intention of helping people earn some extra cash.
But what if I told you that all you needed was a computer and/or some kind of mobile device to start earning gift cards?
Swagbucks, a company that has given out over $100 million to its members in just the last 7 years, boasts an A+ rating on the BBB and is a completely legitimate way for internet users with a little extra time to make some money.
How To Start Earning Swagbucks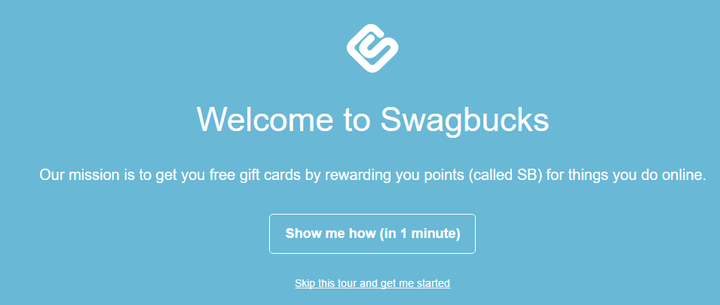 Swagbucks is a company that pays you for completing certain tasks. Each "Swagbuck" is worth 1 cent of actual money. The tasks that you perform on the site will grant you a certain number of swagbucks.
You can create an account for free using this link.
There are several different kinds of tasks that members can perform to earn points, and most of it will depend on personal preference. Some popular options are as follows:
Completing surveys
Watching videos
Online shopping through the Swagbucks website
Print and use coupons at your local grocery store
Answer daily polls and offers
Now that we have determined how Swagbucks works, let's walk through getting our first SB. As stated above, there are several different ways to go about this.
How to earn SB by completing surveys

Swagbucks surveys pay well. Some can be pretty time consuming, ranging from just 5 minutes to well over 30 minutes long, but they will pay anywhere from 10 to several hundred Swagbucks for your time.
If you are looking for something quick, surveys may not be for you. However, if you want to make a lot of Swagbucks, this could be the way to do it.
Unfortunately, not everyone is going to be eligible for every survey. You must fit a certain criteria, depending on what the survey company is looking for. If you are not eligible for a survey, however, you will still receive 1 SB for your attempt.
Pro Tip: Follow the Reddit on Swagbucks for insiders tips.
How to earn SB by watching videos
If you scroll down your Swagbucks homepage, you will see a section for videos that looks something like this:

As you can see, each sponsored video is worth a certain number of SB. All you have to do is click the video, watch it as per the instructions, and you have earned your first SB.
You can watch as many videos as you'd like for the day, so this can be a fast and efficient way to earn plenty of SB.
How to earn SB by online shopping
By going to the Shop section of the Swagbucks website, you are opening yourself up to an entirely new opportunity. Online shopping is extremely popular, so it makes sense that Swagbucks would want to optimize that experience for users.

They offer plenty of websites to choose from, so there is a little something for everyone. Whether you are looking to buy something from Best Buy, Walmart, a clothing store, or you want to plan your next family vacation, doing so through the Swagbucks website will earn you a substantial amount of cash back.
Each online store has a different Swagbucks policy. Best buy, for example, offers its customers 1 SB per $1 spent. Walmart, meanwhile, offers 7 SB per $1 spent. After you make your purchase, you will receive your SB. This is a great way to make some money -- especially if you are making a large purchase.
How to earn SB through printing and using coupons

The grocery coupon section of the Swagbucks site has plenty to choose from. If you are an avid coupon user, this just may be the answer to all of your problems. The coupons are pretty great, and many of them are for popular products that are already being used in most households.
For every coupon that you print out and redeem from the Swagbucks website, you will receive 10 SB! Not bad, right? While saving money with coupons, you are also earning money in your Swagbucks account.
How to earn SB with daily offers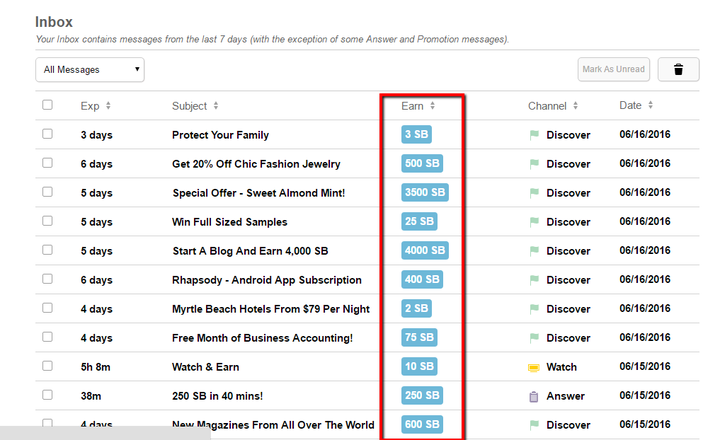 Your Swagbucks inbox will be filled every single day with offers that expire in 24 hours. They usually are worth more than your typical offer, so it's a great idea to complete as many of them as you can (or are eligible for) when they are given to you.
Beyond the offers that are being sent to your inbox, Swagbucks members are also able to answer Daily Polls. This will take all of 3 seconds and will earn you 1 SB.

Honestly, there are a countless number of ways that you can earn Swagbucks through the site. Looking at the top bar alone provides 3 more options that we haven't even talked about yet.
If you use the search bar to look something up as you would use Google, you will receive 5 SB per day.
Every day, you are given an attainable goal to reach. If you meet your daily goal for that day, you will earn an extra "bonus" SB.
If you refer someone to the program, you will earn 10% of every SB that your referrals earn for life.
The more you familiarize yourself with the site, the more you will begin to unravel the opportunities for profit.
In addition to learning how to start a blog Swagbucks is a great way to supplement your income. If you haven't already, I suggest taking the time to learn how to launch your own blog, and learn how you can develop a niche and monetize it.
So here's the plan you should follow after reading this article:
2. Work it into your schedule where you dedicate 30 minutes per day
3. Track your progress and follow the Reddit for the latest SB offers that are worth adding to your daily todo list.
Good luck, if you found this article useful it would be great if you can share it with your friends who also might like it.
Support HuffPost
The Stakes Have Never Been Higher
Related
Popular in the Community