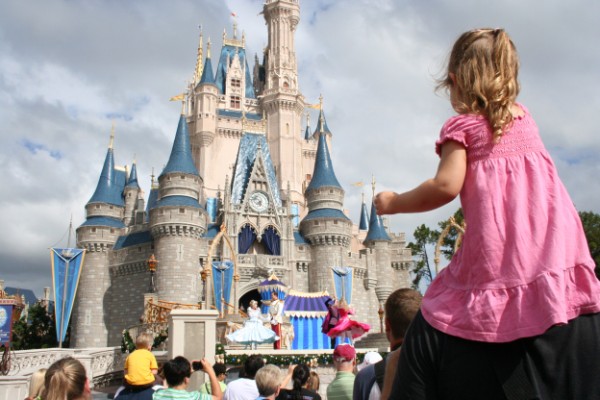 It's "The Happiest Place On Earth." It's the "Place Where Dreams Come True." Disney's mission statement is "To Make People Happy," but many parents fear THE MOUSE, and think a more accurate statement might be "To Make People Wait In Lines In The Hot Sun And Spend Lots Of Money" or feel Grumpy Dwarf is an accurate representation of a parent's mood at the end of a day at The Magic Kingdom. I, too, was a Disney skeptic , but after two trips to Walt Disney World with a toddler in tow, have happily embraced my role as an ear-wearing occasional visitor.
Most parents feel that a trip to Disney is an eventual must do. The question then becomes "When?" Many thought we were nuts when we booked our first trip there, as our daughter was still only two. We figured we were going to Florida anyway, and our daughter had so fully embraced the movie Cinderella that we wanted to blow her mind. Pre-kids I got excited about Eurail passes and eating gyros at quite possibly the filthiest food stand at a ferry terminal in Greece. Now here I was, giddy at the prospect of meeting a real live fake princess. My old Motley Crue t-shirt mysteriously, spontaneously, combusted.
If you're traveling with a baby or toddler, Disney makes it easy for you. There are change tables in every restroom and high chairs in every restaurant. Everything is barrier-free, making getting around with a stroller a breeze. On both visits we stayed in Disney resorts, making it easy to get to and from the park via their in-house transit system (the Monorail was awesome for this, as you didn't have to fold your stroller), and Disney guests are often able to utilize extra hours in the park -- usually before it opens, which is great for early rising toddlers. All parks have a baby care center that offers a cool and comfortable place to change and feed baby, and sells baby care items you may have forgotten. Probably the biggest argument against visiting Disney with a baby or toddler is that they won't remember it. Actually, our kids remember a surprising amount, and we'll never forget those trips -- which is really what matters matters to us.
But, I have no frame of reference when it comes to bringing older kids. Of course, the idea of it seems easier, but also possibly more expensive. Toddlers may point and grunt to extras they want when a ride *conveniently* lets out into a gift shop, but they usually haven't quite figured out the WHINE for it. I turned to Sandra Halket, a certified Disney-specialist and owner of her own travel agency -- Click The Mouse -- to get her take on the best age to visit Disney. As a mom of two girls aged 14 and 11, and with over thirty visits to THE MOUSE, Sandra knows her Disney. But her answers surprised me.
According to Sandra, "... there is never a 'best age' to visit Disney. Every destination offered, from the Disney Cruise Line or Disney Parks have been created with every age group in mind. Toddlers can enjoy rides and attractions at Walt Disney World and Disneyland just for them, under-threes are free, and they can also be part of activities and shows on the Disney Cruise Line specific to their age. Toddlers and pre-schoolers are offered special shallow pools and unique activity centers and even playground areas at the resorts." Sandra continues, "Pre-schoolers can especially enjoy the interaction at a park like Epcot where there are hands on approaches (with a little Disney fun) to concepts like communication, energy and innovation."
Tweens and teens are too cool for school these days, so I figured by twelve Disney trips would be done. Not so says Sandra, "Thrill rides like Expedition Everest at Disney's Animal Kingdom and Space Mountain at the Magic Kingdom will keep them interested for a while, but what I've discovered having both a tween and teen is how incredible the Disney Cruise is for this age group. They each have their own club where they can make new friends, play games, do activities or just hang out and be themselves while being supervised by Disney Cast members. The bonus for parents on the cruise is that food is unlimited and especially if you have a teenager, feeding them can be very costly." I'm definitely keeping this in mind for when my growing-like-gangbusters son gets older.
But are the parks finished when you've teens in tow instead of toddlers, according to Sandra, not at all, "Epcot is a great place for teens and tweens to use their minds. At Innoventions, they can create their own rollercoaster and ride it, ride a space shuttle at Mission Space or taste some food flavors from around the world at World Showcase."
So if there's no real "best age" to take your kids to Disney, I suppose as a parent it's when you feel that you are ready. If lines drive you nuts visit in January or early November. Do your research so you know in advance what you can and can't miss. And show up on Main Street, USA with an open mind. You might be surprised at how much fun you end up having.
Related