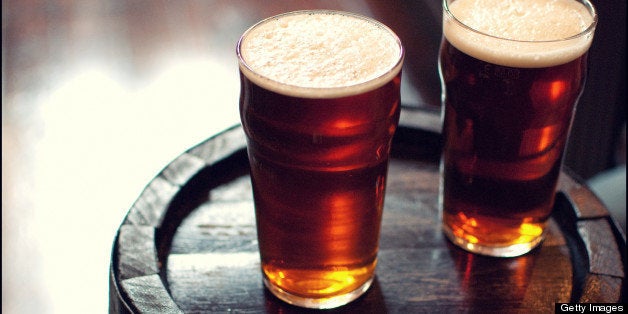 A very wise man once told me, "Hype happens. We can't control it." Proving his point? The abundance of hype in the craft beer world right now.
Lately it seems that everyone I know is travelling around to exclusive beer festivals or popular breweries -- all to get a chance to purchase a rare or highly-ranked craft beer. Websites like Beer Advocate and RateBeer have created easy-to-use forms to publish beer rankings, allowing everyone to admire and express their palate's IQ. According to these evaluations, expert and novice beer enthusiasts conclude that Heady Topper (The Alchemist) and Westvleteren 12 (Westvleteren Abdij St. Sixtus) reign supreme. But are these truly the best beers in America? That decision is a personal one.
When I legally entered the beer marketplace in 1997, few desirable craft beers were stocked on local shelves. Right around the corner, though, I found great beer being brewed! 3 Floyds, a then local nano-brewery introduced me to Alpha King and I instantly fell in love. This "Pale Ale" drinks more like an IPA and boasts a quaffable, hoppier-than-most citrusy aroma. Since my discovery in the late nineties, 3 Floyds' popularity has skyrocketed, having gone from paying for inclusion on the heavily controlled tap handles of Chicago to being honored as the "#1 brewery in the world" -- even garnering a James Beard nomination.
I'm a believer that hype is great for the beer industry. It creates excitement and news of hyped beer spreads like wildfire. Unfortunately, it also causes many extraordinary breweries and world-class beers to be ignored. Sometimes, it even causes disrespect for beer styles that seem "not as sexy." As an example, here's a quick list of beers that probably won't make anyone's top 50 list, despite being some of the best made beers in the world:
· Founder's Porter - Dark, roasty, chocolaty and extremely drinkable!
· Bell's Two Hearted - Michigan royalty - a gold standard among IPAs.
· Sierra Nevada Bigfoot - A massive Barleywine that develops with aging.
· Dogfish Head Noble Rot - A Saison that crosses into wine country by using grapes.
· New Glarus Raspberry Tart - American version of a Framboise featuring local ingredients.
Only you can determine the best beer in America. It's the beer you enjoy the most, made by a brewery that is accessible to you. Your local craft brewer provides jobs and pays taxes in the community where you live and, most importantly, offers the freshest choice of bottles and taps, created through locally sourced labor and ingredients. Whenever I travel, I delight in the local craft beer that's available and I encourage you to do the same. Local brewpubs can produce a high quality craft beer and better yet, provide great beer and food pairings in their menu.
Dave Engbers from Founders Brewing in Grand Rapids Michigan is the wise man responsible for the aforementioned quote about hype. While hype has helped put Founder's Brewing on the map, they always remain true to their vision for every beer and each style that they create. They never sacrifice their product for hype, and it certainly shows.
While overall beer sales have declined recently, craft beer sales continue to climb! A new craft brewer opens its doors almost every day in America! With all this excitement over craft beer it's your responsibility to drink local and ignore the hype. For that I offer you a toast... "Gezondheid," health and well-being.
Related