Last week, Obama gave a moving eulogy at the College of Charleston in Charleston South Carolina for the Emanuel African Methodist Episcopal Church's slain pastor Clementa Pinckney. Commentators have praised the speech for its deft navigation of religion and politics as Obama himself has linked the tragedy to specific calls for gun regulation.
In his message, Obama became not only President and honorary parishioner, but preacher, placing demands on a still nominally Christian nation to rely on grace in order to live up to its unofficial spiritual creeds. Yes, Obama's speech laid out his spiritual vision for the country's racial conversation, but how does his conception of grace fit in Christian tradition? What risks and opportunities might this vision present for communities that wish to engage in direct political action?
The word "grace" appears a full thirty-five times in Obama's eulogy. Obama gave specific prescriptions for how to earn "national" grace. He argued that removing the Confederate flag, a "reminder of systemic oppression," would "express God's grace." He went further still, affirming that national grace also requires resolving other areas of "blindness" such as poor education in minority communities, employment bias, gun violence, police training, and criminal justice reform.
Such a politicized definition of grace may grate on Christians, like Rick Santorum and Jeb Bush, who wish for "theology and morality" to be separated from systemic social issues. Nevertheless, the concept of grace as a catalyst for political conscience finds resonance in the witness of one of the Twentieth Century's most compelling martyrs, German theologian Dietrich Bonhoeffer*. Educated in Tübingen University, in 1930 he became a lecturer in systematic theology at Berlin University. He also visited the United States, where he especially grew to appreciate the America's Black Church tradition during his time in Harlem. He returned to Germany in 1939 to become one of the main leaders of the Confessional Church, an organization of religious groups opposed to the regime. He also joined the famous 1944 plot to assassinate Adolf Hitler and attempt to find a settlement with the Allies.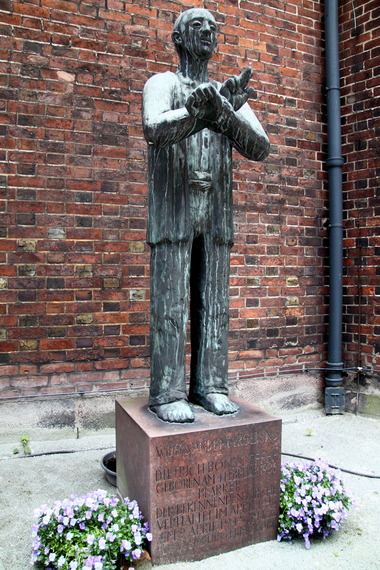 Memorial of Dietrich Bonhoeffer in front of St. Peter's Church, Hamburg from Wikipedia Commons courtesy of David Meisel

Bonhoeffer wrote in his book, Cost of Discipleship, of "cheap" and "costly" grace. "Cheap grace" Bonhoeffer wrote, "is the preaching of forgiveness without requiring repentance, baptism without church discipline, Communion without confession, absolution without personal confession...grace without Jesus Christ, living and incarnate (44-45)."
Costly grace on the other hand was "the Kingly rule of Christ...the gospel which must be sought again and again, the gift which must be asked for, the door at which a man must knock."
Like Bonhoeffer's "costly grace", Obama's grace implies divine and human intervention in the political and social sphere. Obama started the "grace" section of the speech describing the Emmanuel's role in the Underground Railroad and the Civil Rights Movement as a place of "inviolable dignity" for African-American activist. He continued on to describe the slaying of Pinckney, a pastor and state legislator, by a racist who was clear in his racist motivations. Obama, to claps and shouts of agreement from the audience, recounted how the killing did not spur the killer's hoped-for racial conflict based on the American "original sin" of slavery , but rather, national action and unity:
Oh, but God works in mysterious ways. (Applause.) God has different ideas. (Applause.)

[The alleged killer] didn't know he was being used by God. [He] could not see the grace surrounding Reverend Pinckney and that Bible study group -- the light of love that shone as they opened the church doors and invited a stranger to join in their prayer circle... As a nation, out of this terrible tragedy, God has visited grace upon us, for he has allowed us to see where we've been blind. (Applause.) He has given us the chance, where we've been lost, to find our best selves. (Applause.) We may not have earned it, this grace, with our rancor and complacency, and short-sightedness and fear of each other -- but we got it all the same. He gave it to us anyway. He's once more given us grace. But it is up to us now to make the most of it, to receive it with gratitude, and to prove ourselves worthy of this gift.
While Obama's grace is, like Bonhoeffer's, politically radical, it's also conceptually broad, almost universal. Bonhoeffer's grace was deeply orthodox. He believed that "costly grace" could cost a man his physical life in order to gain Christ. He ridiculed "grace as a doctrine, a principle, a system (p.43)."
[Grace] is costly because it condemns sin, and grace because it justifies the sinner. Above all, it is costly because it cost God the life of his Son (p.45).

During the 1930s and 1940s, Bonhoeffer called for a political resistance, the "other Germany" (p.27) that would preserve Western civilization against what he saw a the false idol: The racist fascism of National Socialism which had put blood divisions above the dignity of the human person. As Hitler grew more powerful, Bonhoeffer raised the stakes for his spiritual comrades, exhorting "He who severs himself from the Confessional Church severs himself from the Grace of God (p.31)."
Obama's call to action-filled grace undoubtedly echoes Bonhoeffer's, but the latter's emphasis on martyrdom and orthodoxy also presents potential points of conflict between Obama's administration and Christians of conscience. The sincerest of his opponents may just as easily (many times correctly) invoke the idea of a "costly" grace, a political martyrdom of religious conscience, in defense of exclusively heterosexual marriage, or protecting a fetus. These are issues where Obama is, frankly, at odds with Christian tradition (although not always the majority of Americans).
That caution aside, remembering Bonhoeffer's example, supporters and opponents of Obama must at least recognize that the president was not hijacking or politicizing Christianity (which always had political implications) in his speech from the pulpit. Rather, he was participating in the religion's constant revival by seizing on the universal Church's social message as a legitimate rallying cry against indifference.
Whatever our differences, Christian Americans should lend our ears, if not to Obama's call to our natures' better angels, at least to God's call for universal self-sacrifice and self-reflection on the whole range of pressing moral issues facing America.
*Pages referenced come from: Dietrich Bonhoeffer, Cost of Discipleship (Touchstone Edition, 1995).
Related
Popular in the Community