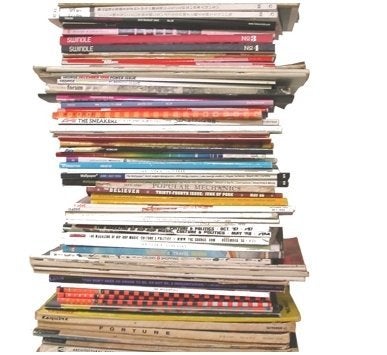 Literary journals like Boulevard, Pleiades, Antioch Review, Southern Review, Georgia Review, Iowa Review, Michigan Quarterly Review, Yale Review, Southwest Review, Threepenny Review, Prairie Schooner, Agni, Salmagundi, Raritan, Boston Review, Harvard Review, Texas Review--and Colorado Review--are where most of America's great new writers first find exposure. Nowhere else in the world is there such a proliferation of quality literary journals. How has the economic crisis affected our best literary journals? Can literary journals continue to serve their traditional function of discovering and promoting the best new writing in the changed technological environment? Why should we support literary journals? What are the challenges of running a literary journal, and how have they changed in recent times? I recently spoke with Stephanie G'Schwind, editor of Colorado Review, about these issues confronting the vast number of writers submitting to literary journals, and the editors screening those submissions.
Shivani: How many years have you been editor of the Colorado Review, and how did you find your way to this position?
G'Schwind: I became editor in 2003, when David Milofsky, the previous editor, stepped down after several years at the helm. Before that, I'd been the managing editor for five years. And before that, I worked at Indiana University Press, in the production department and as one of IUP's freelance copyeditors. I was very fortunate to get a background in both editorial and production, which really prepared me for this job. Working for a university press is a wonderful way to learn the book business.
Shivani: What are some of the practical challenges of putting together a literary journal? What are your joys and pleasures?
G'Schwind: Well, you're always working on two or three issues at a time. And the devil is definitely in the details; when you get as many submissions as we do, you HAVE to be organized. We can never forget that publication in journals such as Colorado Review is what helps get writers into writing programs, colonies, and residencies; helps get them jobs, promotions, and tenure; and helps them get their books published--all of which is to say, it's serious work that has a serious impact on someone's writing career, so it matters that we handle things carefully every step of the way, from opening the submission envelope to sending the issue to the printer. This is simultaneously daunting and exciting. What I dislike the most, though, is telling people no. Contrary to what writers might think of editors, rejecting manuscripts is no fun at all. Conversely, the very best part of the job is calling writers to say that we're going to publish their work. I also run an internship through the journal, and it's extremely rewarding when interns graduate and land jobs in publishing.
Shivani: Does it help or hurt if a literary journal is affiliated with a university? Most of them are, but some aren't.
G'Schwind: I've never worked on a journal that wasn't affiliated with a university, so I can only guess at this. I suppose there are advantages and disadvantages with either set-up. Frankly, I feel very fortunate to have Colorado State University's support; it's what allows me to do the work I love as my full-time job. When you're independent, though, you're obviously not affected by an institution's budget woes or changes in its administration or mission. But a lot of editors who run independent journals do so in addition to their full-time jobs, literally as a labor of love. They are unsung saints.
I think, though, that there's a misperception out there that all university-affiliated journals are lavishly supported; some are, most aren't. Every journal that lives at a university has a unique relationship with its institution. Regardless of the details of support, however, I do believe there is generally some inherent stability in being located at a university; although, as we've seen with other journals lately, that stability can never be taken for granted.
Shivani: How dependent are you on university funding? What are the obstacles to getting such funding, and has it gotten easier or more difficult over time?
G'Schwind: Quite dependent. This is what the university provides Colorado Review: Generous office space (not entirely free, however: we do pay indirect costs on this, which go toward utilities, custodial support, etc); a steady supply of smart, hardworking, unpaid graduate students to help run the magazine; an English department that's proud of and supportive of us, and whose office manager handles all our accounting; a development office that provides enormous help with grant applications and fundraising; and last, but by no means least, a portion of our operating budget and most of my salary.
Among the obstacles of securing this sort of funding is that the administration is always changing--the chair of the department, the dean of the college, the provost, and the president--so just as soon as you think you've successfully made the case for what you're doing and have a fan or two, one or more of the principal cast changes. That part hasn't gotten easier or more difficult in and of itself, but the economic climate that many universities currently find themselves in has certainly complicated things.
Shivani: Are you facing particular difficulties during this economic crisis?
G'Schwind: We've lost about forty percent of what the university was contributing to our operating budget. And while we've always been careful and thrifty, we must be even more so than ever. We've been able to trim some production and advertising costs, and we've put even greater effort into fundraising and grant writing, to some success, so we're currently OK. But every hour spent fundraising or grant writing is an hour that isn't spent editing.
Shivani: What are the prospects for the long-term viability of the most prestigious literary journals, among which is Colorado Review?
G'Schwind: I think more and more of us will likely migrate from print to online. And while I, like many literary journal editors, love print, I'm not overly concerned about that move. I'll make it if I have to. Fortunately, technology is allowing us to do wonderful and interesting things that mean it doesn't have to be one or the other; a journal can be online and still offer die-hard print lovers the option to subscribe in the traditional way: a paper copy sent through the mail.
Shivani: TriQuarterly, one of the most prestigious literary journals, recently went online--abruptly, taking the literary community by surprise. How do you feel about this?
G'Schwind: It's not the decision to have TriQuarterly go online that was disturbing (the online version recently had a "soft" launch, and it looks quite impressive); it was that the two editors, Susan Hahn and Ian Morris, were not retained. I feel their longtime dedication, expertise, and vision, which inarguably contributed to the success and fine reputation of TriQuarterly, were rather unceremoniously discarded.
Shivani: In a world beholden to the brevity and evanescence of blog posts, Twitter, and Facebook updates, how can the literary journals retain their claim on our attention?
G'Schwind: By making the move along with readers to those social networking venues, which many of us literary journals already do. But I think we've always competed for attention: with newspapers, slick magazines, books, TV, films, etc. I know that many of Colorado Review's authors are avid bloggers, blog readers, and Facebook users, but I believe they are still and always will be committed to the literary journal, online or otherwise.
Shivani: How can literary journals reach a broader readership? Are you interested in seeking a larger readership? What efforts do you make, and which have been the most successful?
G'Schwind: Well, one thing we've done recently, with the generous support of a grant from the National Endowment for the Arts, is to provide gift subscriptions to about 150 rural public libraries throughout Colorado. There are writers and readers in those rural communities who want to engage with contemporary creative writing but lack access to it, so we decided we'd make Colorado Review available to them at the public library. My hope, of course, is that everyone who encounters the journal will fall deeply in love with it and purchase subscriptions for themselves and everyone they know! But on a more realistic level, what I hope happens is that CR will, of course, acquire new individual and library subscribers, but also that both readers and writers in those communities will discover the world of literary journals, CR being just one. Literary journals are where many writers publish first, so we're a great ally of the new writer, but we're also a great place for readers to discover new writers.
Shivani: Are there trends in writing that you have come across in your tenure as editor of Colorado Review? Are there trends that worry you, and are there trends that please you?
G'Schwind: I'm seeing so many more creative nonfiction submissions, which really pleases me. We still don't get enough, but we're getting more than we did even five years ago. I can't say there are any new trends that worry me--just the old one of there being far, far more people who want to be published than who want to read or subscribe.
Shivani: Is there a uniformity of product, in terms of both fiction, poetry, and memoir, because of the dominance of MFA writing programs, and is it worrisome for you?
G'Schwind: That hasn't been my experience. We see exciting and diverse work coming from grads and students of the MFA programs. And we see it from non-MFA writers as well. We don't read the cover letters when we sit down to read the manuscripts, so we're making initial decisions about the work not knowing anything about the writer. It turns out that many of our authors do come from MFA programs, though certainly not all. The writers of the three short stories and two essays in the summer issue all happen to have MFAs, but the pieces couldn't be more different from one another. What I will say about people who publish in Colorado Review, however, is that they are doing three things: they are participating in some kind of writing community, whether an MFA program or a serious writing group, in which they are actively sharing their work and responding to that of their peers; they are reading contemporary fiction/poetry/nonfiction in literary magazines, collections, and anthologies; and they are reading deeply about craft.
Shivani: Tell us some of the exciting things we can look forward to in future issues of Colorado Review.
G'Schwind: We're always publishing great, fresh writing. The summer issue, out in July, has a fascinating essay about Jonestown, framed through the critical review of an album recorded by the Peoples Temple in 1973. You'd think there's nothing more to say about those events, and yet the author, Brian Kevin, manages to make the story seem new again somehow (and to many of our younger readers, it actually is new). We're also running some terrific fiction from writers Candice Morrow, Melissa Lambert, and Martin Cozza. And there's a great interview with Dave Eggers about his book Zeitoun. The fall issue, coming out in November, will feature the winner of the Nelligan Prize for Short Fiction, Katherine Hill's "Waste Management," a terrific story of loss and purging.

Popular in the Community