This post is part of the Relay for Kids in partnership with SOS Children's Villages. Each time you share this post, Johnson & Johnson will donate $1 (per action) to support children worldwide affected by crisis. Scroll to the bottom to find out more.
I recall standing by a metal crib in Kolomna, Russia in the late '90s. I was drawn to a baby whose face looked like a mask. There was no emotion or affect; she had an empty and vacant face. She rocked with a vengeance forward and backward as she sat in the crib with other toddler children. The speed of her rocking built to a crescendo and then slowed until she was still. Then it ramped up again. She had facial features consistent with Fetal Alcohol Syndrome. I was schooled in this when I worked on an Indian reservation in Gallup, New Mexico in 1992. Many of the Navajo children were affected by alcohol.
Katya was the name of this Russian orphan and she never made eye contact with me, no matter how I tried to entice her. She rocked for hours. I meandered through room after room with children in cribs or lying on mats and saw a kind of a holocaust. The children in that orphanage, as in most institutions, were "ruined" by the lack of attention and malnutrition. Caretakers were not trained to be connected to the children. In fact, they were told not to love the children because there would be nothing to be gained. These children suffered from attachment disorder, and they only had a chance to recover if they were stimulated, socialized, placed in a small group home that simulated a family or perhaps were adopted locally or internationally. Adoption was rare even in the early days of the explosion of international adoption in the '90s.
From these early adverse experiences, I learned the most important thing that a child needs. My foundation, Worldwide Orphans, sent hundreds of volunteers called Orphan Rangers to work and do service in orphanages around the world. It was obvious that abandoned kids who were institutionalized needed connection, nutrition, play and commitment from caretakers, whether kin or not. These were traumatized kids who had been abandoned by family and had experienced adverse conditions that changed their very DNA. They would be robbed of their childhood and be developmentally delayed and unable to attach to a primary caretaker. Some escaped this death sentence through their resiliency. What determined resiliency was hard to predict, but Worldwide Orphans offers play through the "Toy Library" to orphanages in Bulgaria, Vietnam and Haiti -- and we certainly are able to measure the effects of such programs over time.
Teaching play to adults changes their understanding of a child's feelings and behavior and creates compassionate caregivers. This then protects children from abuse and neglect. Children can explore and learn through play, which leads them to feel competent and confident about their abilities. That is likely the pathway to resiliency that strengthens children against the very tragic pain of abandonment and loss. We at Worldwide Orphans celebrate the power of the orphan through play and resiliency.
By sharing, you make a difference for kids in crisis: From March 23 until April 24, each time you 'like' or share this post via the social media icons above or comment in the section below, Johnson & Johnson will trigger a $1 donation (per social action) to SOS Children's Villages, the world's largest organization dedicated to orphaned or abandoned children, up to $30,000*. $1 provides food, shelter and medical care to a child in crisis. In addition, you can also Donate A Photo** and Johnson & Johnson will donate $1 when you upload a photo for SOS Children's Villages -- you can help raise up to $20,000 in seconds with the click of your mouse or snap of your smart phone.
Johnson & Johnson, SOS Children's Villages and The Huffington Post created the Relay for Kids to support children around the world who have been affected by poverty, conflict, disease and natural disasters. Visit www.sos-usa.org/relayforkids to learn more.
*Blogs must be shared between March 23 to April 24, via Facebook, Twitter, StumbleUpon, reddit, Tumblr and Google+ from the Huffington Post. Each share will trigger a $1 donation up to $30,000. There are no limits on how many times you can share a post.
** via the Donate A Photo app for iOS and Android. Johnson & Johnson has curated a list of trusted causes, and you can donate a photo to one cause, once a day. Each cause will appear in the app until it reaches its goal, or the donation period ends. If the goal isn't reached, the cause will still get a minimum donation.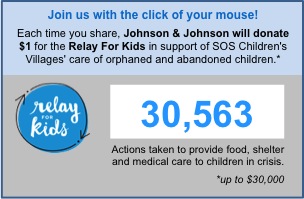 REAL LIFE. REAL NEWS. REAL VOICES.
Help us tell more of the stories that matter from voices that too often remain unheard.