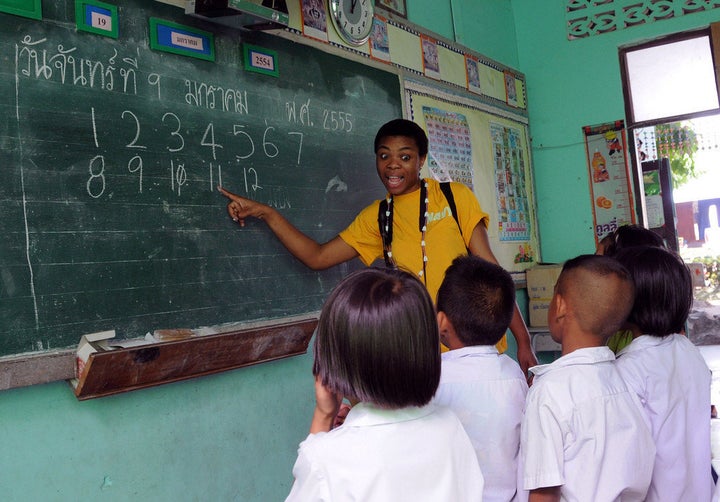 In an age of increasing awareness of world issues and global needs, there has been a recent surge in travel philanthropy or, more simply put, using travel as a means to give back. The problem many people face when it comes to this, however, is that it can seem overwhelming. Well-intentioned people who truly want to make a difference simply don't know where to begin, or whether or not their efforts will really have an impact.
The crux of travel philanthropy can be summed up in four C's: Caring, Confusion, Connection and Challenges.
Caring
What was once reserved only for the ultra-wealthy, missionaries or members of the Peace Corps has now become a social norm. More and more consumers want to get involved and do something -- anything -- that will help causes that matter most to them. Rather than simply donating cash, people are beginning to feel compelled to help in a more hands-on way. What better way to do so than by traveling to areas in need?
Confusion
Unfortunately, caring isn't enough to effect change. Just because you care, doesn't mean you know how to take that next step. People want to help, but find themselves confused on exactly how, where, how much, what it will demand of them and what kind of commitment they want to make.
To offer some clarity, philanthropic travel can be divided into three different categories:
Donor Travel: This is for committed philanthropists that want to witness their investments at work in real-life situations. Donor travel is deeply moving, can upset idealism but ultimately brings people closer to the issues and communities that they care about. It also deepens sustainable investment and strengthens the connection between travelers and community organizations.
Private Travel: This is for travelers that want to dig a little deeper during a vacation in terms of cultural and community exchange. Private travel often involves families that want to pass on values of caring or service to the next generation. It can be particularly challenging because each traveler or group of travelers is different and may have different goals for their trip.
Urgent Service Travel: This category offers travelers intense volunteer opportunities in second-response disaster zones, such as in Haiti and Japan. Urgent service travel is particularly attractive to many people because it is less expensive than many other offerings and can be a good fit for citizen-travelers from all walks of life. Anyone from police chiefs and merchant marine officers to teachers, health professionals and students can get involved. In addition to the trip cost, travelers are typically required to raise a minimum amount for the project.
Connection
Philanthropic travel is becoming more popular because people are becoming more eager to reconnect with humanity. One of the most effective ways to do this is by connecting with and serving others. In a world that has become increasingly competitive, commercial and electronically driven, many people are finding the need to rediscover their own sense of meaning. Vacations are no longer just recreational. Service and other forms of philanthropic vacations offer a remembrance and restoration of a humanity many of us are no longer practicing in our everyday lives.
Challenges
Of course, as with any volunteer-based program, travel philanthropy is not without its challenges. The main challenges that must be overcome include:
Vetting: With so many volunteer opportunities and organizations and no ranking system or review site like those that exist for hotels, tour operators or other stakeholders in the travel sector, it can be extremely difficult to locate reputable programs to connect and partner with.
Follow up: Unfortunately, most systems are not yet well developed at most international project sites to enable visitors and volunteers to follow up once they return home.
Complexity: For travelers desiring to make a difference, it can be challenging to become educated about and penetrate the complexity of the issues at hand. It's important to consider every aspect of the work being done, and the long-term impact it will have. For instance, hiring local Maasai men and sending them to school may seem like a great initiative, however one must also consider the secondary effect of these guides potentially growing wealthy enough to marry more wives. The result of this may be an increase in terrified young brides who were not given equal opportunity.
Given the state of the world today and the unfortunate potential for continued future decline, travel philanthropy will likely only continue to increase in popularity. The most important thing to remember is that in order for it to be impactful, both for the communities being helped and the volunteers, we must understand and successfully overcome the challenges at hand and develop more effective programs that will serve humanity in the most positive way possible.