Imagine arriving to the US, unable to speak the language. Now imagine being forced to appear in court, alone, to defend your case against deportation. Could you do it and succeed?
The likely answer is no. You'd need the aid of an attorney who knows how to navigate immigration law. If you're an immigrant with no money to pay for one, you're out of luck. But with universal representation, all that could change.
What is universal representation?
With universal representation, if you're an immigrant facing deportation, you'd be entitled to a lawyer who'd represent you throughout the legal process if you cannot afford one yourself.
What's the big deal?
While people facing criminal charges are entitled to government-funded representation, people in immigration court are not. If they are unable to finance a lawyer, they are forced to appear in court alone. These people often face deportation, as they are unable to defend themselves before a judge. In the more than 2.1 million cases pending in immigration courts as of February 2023, over 1.3 million people — or 59% of immigrants in deportation proceedings — lack legal representation and must defend themselves against deportation. This figure includes adults, families, and unaccompanied children.
Why is universal representation important?
The right to a lawyer is an integral part of the US criminal justice system — so shouldn't that right also be granted to immigrants facing deportation, for whom the stakes are just as high?
When immigrants go unrepresented in deportation cases, they are unable to defend themselves in front of a judge. As a result, they can be deported simply because they cannot afford an attorney — even if they have a legal right to remain in the US.
Universal representation can prevent the separation of families, stop the deportation of immigrants, and get people out of detention centers and back into their communities.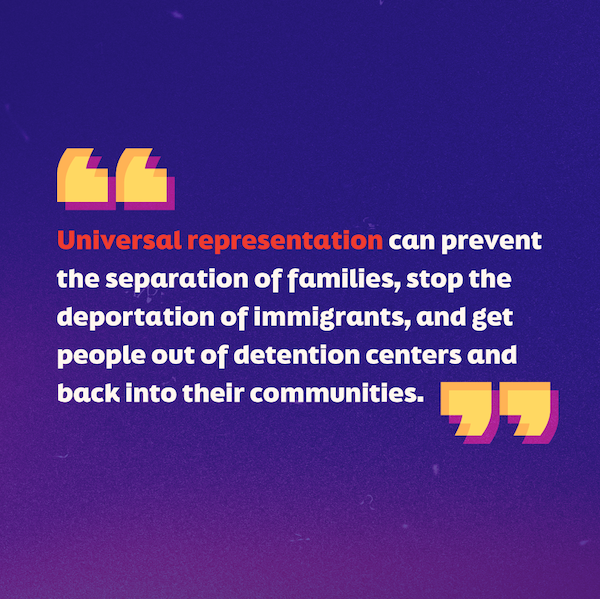 Raina and Ana's Story
Both from Mexico, Raina and Ana, whose names have been changed to protect their identities, fled their country to escape violence. When they arrived, they were taken to a detention center, where they were instructed to sign papers written in English. Because Raina and Ana did not speak the language, and because neither a translator nor an attorney were provided to them, they were unaware that by signing, they were waiving their right to seek asylum, which meant they would be sent back to Mexico.
"They just said, 'Sign it here, sign it here, sign it here,'" Ana recalled.
When Halinka Zolcik, an accredited representative of Prisoners' Legal Services of New York, took on their case, Raina and Ana's situation improved.
"After I started working with these ladies, [ICE] started being careful," Zolcik said. "It 1,000% changed how they were treated."
With Zolcik's help, Raina and Ana's orders of deportation were reversed, and they were able to complete their asylum applications.
Raina and Ana's experience illustrates the importance of universal representation. With an attorney to guide them, they not only were able to navigate the legal system with fairness, respect, and clarity, but they were also able to forge a clear path to citizenship.
What's being done about this?
Organizations such as the Vera Institute of Justice are fighting for the federal right to universal representation. In fact, their Advancing Universal Representation initiative has supported numerous programs at the state and local levels. Among those is the New York Immigrant Family Unity Project (NYIFUP), a statewide defender program that provides lawyers for immigrants. It is the first and largest public defender program in the country.
What can you do?

All facts via Vera Institute of Justice.
This article was paid for by Vera Institute of Justice and created by HuffPost's Branded Creative Team. HuffPost editorial staff did not participate in the creation of this content.
Related