Anaheim California is the home of Disneyland. It's a place where parents of mostly small children wander the streets wearing Micky ears and looking for a bit of americana fun.
But for 3 days - worlds collide. More than twenty thousand young teens, mostly girls, and some with parents in tow - are descending on the massive Anaheim Convention center for VidCon.
VidCon is kind of like ComicCon, but rather than be looking for superhero's - at VidCon the fans are here to gawk at, take selfies with, and get autographs from YouTube Stars.
As Nick Bilton so accurately writes in the New York Times, these are not celebrities that adults are supposed to know. They're fans are teens - as it should be. Says Bilton: "These teenagers will be on the hunt for celebrities with names like Smosh, Burnie Burns, TheThirdPew, Markiplier, Ksiolajidebt, Connor Franta, Flula Borg and Superwoman. To you and me, these monikers are completely unrecognizable."
Founded in 2010, Vidcon was created by two young men who created a video blog known as -The VlogBrothers. But Hank and John Green have turned their little gathering of video bloggers into a massive marketing event. And John, who's teen novel "The Fault in the Stars" became a sensational film - is of course a celebrity in his own right. But that doesn't stop the brothers from being genuinely amazied by just have fast their 8 year old event has turned into a 21,000 gathering of teens - capturing the fast growing web-celebrity trend like lightning in a bottle.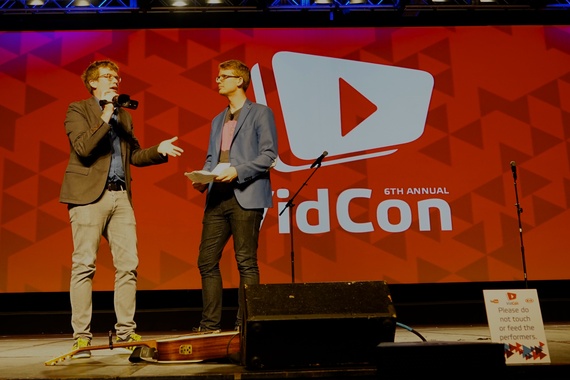 The shear number of fans, and the shocking fervor of their fandom is enough to make almost anyone -even an industry veteran like myself - a bit wary.
So - wisely, VidCon now has an 'industry track' for all the folks who are working in the industry!
this year there are 2000 registered pro's from companies including tech, advertising, MCN's, brand managers and media companies. The Industry track has four main pillars, Keynote Conversations, Round-Table Discussions, Hands On Training and Platform and Product Demonstrations And they've added an Industry Only" zone to get a bit of space away from the screaming teens.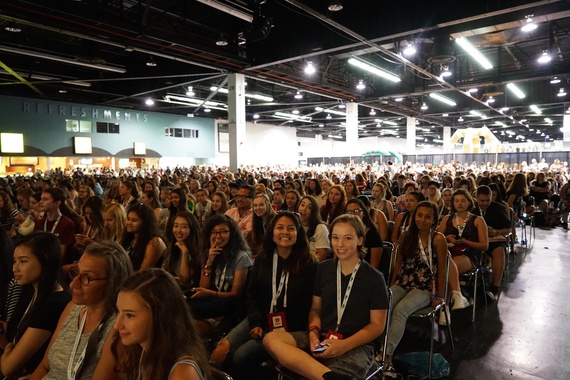 Jim Louderback, the former GM of the groundbreaking Revision3 content creation studio - sold to Discovery back in 2012, is now the editorial director for the industry track at Vidcon.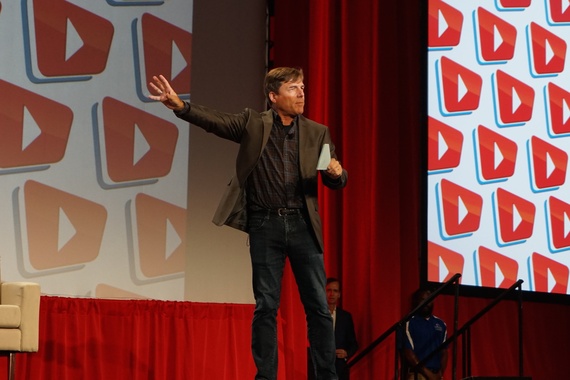 Says Louderback: "I've been to every Vidcon, and participated as a speaker or moderator on every industry track."
Louderback, says VidCon is more that just YouTube, explaining to Video Ink: ""We're really trying to look across the entire spectrum of what online video and digitally delivered video looks like." "We're embracing Twitter and some of the new virtual reality platforms like Littlestar and Vrideo, and we've got [newer] streaming platforms like Meerkat, YouNow and Hangwith."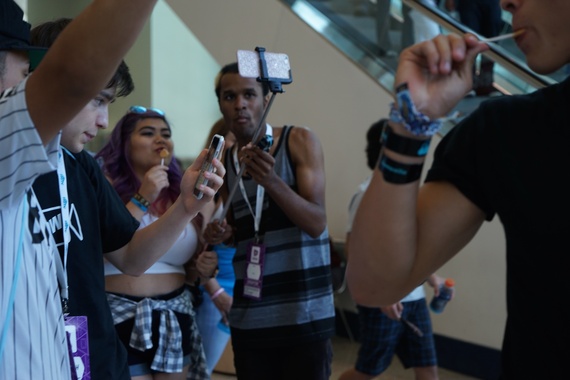 YouTube CEO Susan Wojcicki told the packed house "We've gone beyond an era of passive entertainment into a renaissance of immersive entertainment. Where the traditional rules of television--those 22-minute episodes or strict --are being rewritten in favor of new kinds of entertainment, interesting new faces and above all, engagement and community" said Wojcicki.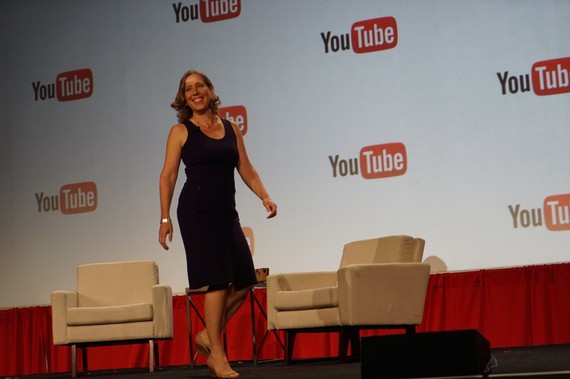 YouTube 'watch time' has accelerated and is now up over 60% year over year, the fastest growth rate we've seen in two years. The amount of content uploaded to YouTube has grown over the last year, too, with more than 400 hours uploaded every single minute. The number of people watching YouTube per day is up 40% year over year since March 2014
Vidcon is really about change - change in the way television is created, shared, and viewed. And Wojcicki was clear who she credits with the change - "You're the stars of today. So YouTube's strategy will always be the same: invest in you, our creators. You're a massive part of the reinvention of television."