A few years ago, we started a non-profit called Write-A-House. It made quite a splash at the time. The idea of fixing up Detroit wrecks and giving the refurbished home away to writers really impressed journalists (tip: if you want to get good press, do something nice for writers) and we found our little project getting huge attention in New York, LA, Italy, Bangladesh, you name it.

Two years and three houses later, we have begun fundraising for our fourth house. This has been a bit trickier. We are no longer the hip young thing, and the usual skepticism has crept in.

Now when we reach out with our fundraising, people often ask "How much does a house cost to renovate?" And we answer "About 70 grand." And they say, "Hmmmn, wow, isn't that is a lot for a single writer?"

It's a fair question, but still it always gives me pause.

First of all, we've always been clear that Write A House is not just about one single writer. Every house we refurbish is a vocational education project and comes with an apprentice attached to the job site, someone who is learning carpentry and trade skills. So, right off the bat, we're not just helping one writer, we're helping two people.

Then look at the people at the job site itself. It takes a lot of skilled and unskilled labor to fix up these homes. So every single house we work on is a jobs program.

Then there is the neighborhood. The families on each block have welcomed the writers who have moved in, because they know that a healthy, occupied home brings stability and anchors the community. Each single restored home increases safety and raises the value of everything around it.

Then there is the city. The writers we have brought here are broadcasting a rich, nuanced message about what Detroit is like today. They're new voices with new audiences describing a city that has a texture and a character deserving real attention. They are widening the circle, hosting events for other writers, from around the region, the country, and the world, deepening the conversation about Detroit. It's not parachute journalism, each of these writers is helping create a real dialectic, bringing beautiful and fascinating insights into the place they now call home.
One person, two people, a dozen people, many, many more. This project is all about the surprisingly large impact of a very small action.

Okay, but suppose we just play devil's advocate and argue that, still, it's 70k per writer, that's a lot, right? Absolutely, but is that so unreasonable? There are plenty of precedents, from Guggenheims to Knight Journalism Fellowships to obscure LA screenwriting awards, where writers get almost as much, if not more. So why can't Detroit provide a writer with the same acknowledgement, the same honor, the same esteem that, say, a Fulbright does? Our judges have included national celebrated writers like Billy Collins, Major Jackson, and Dream Hampton. Surely any writers these folk hold in high regard should be deemed worthy of some real respect and reward? Right?
Also, while providing support for any excellent writer always seems worthwhile, it's especially important in this era, because these writers are working in our new, hard and cruel economy. Support for their work is dwindling across the board, newspapers are folding and academic budgets are being cut and the middle class continues to vanish. Now is the time to step up support the great talent we find. Because the economy sure isn't helping them.

So, we'll see. I've always said that this could be a very small idea or a very big idea. If it's small, maybe all we do accomplish at the end of the day is provide some notably talented writers with good houses in an interesting place that they get to call their home. That is just fine. Really.

Or maybe it is a big idea, maybe people will look at this program and see other ways to rejuvenate our struggling cities, maybe someone will start a Teach a House or Nurse a House, maybe we'll start rewarding the talent that actually supports our culture, people who make our neighborhoods richer.

Maybe. I don't know. We'll see what happens. What I do know is that this isn't a fad. It's not a passing thing. We're not going to stop working on this idea. Not for a long time. We're incredibly happy with its success. We love the writers we have discovered and we can't wait to discover more. We're proud of what Write A House has accomplished so far, and we're very curious to see what it will do next.

And if you believe in what we're doing, you can support the fourth house here: https://www.indiegogo.com/projects/support-the-arts-create-jobs-and-rebuild-detroit--2#/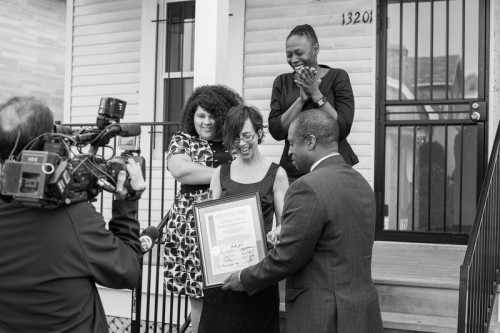 Calling all HuffPost superfans!
Sign up for membership to become a founding member and help shape HuffPost's next chapter