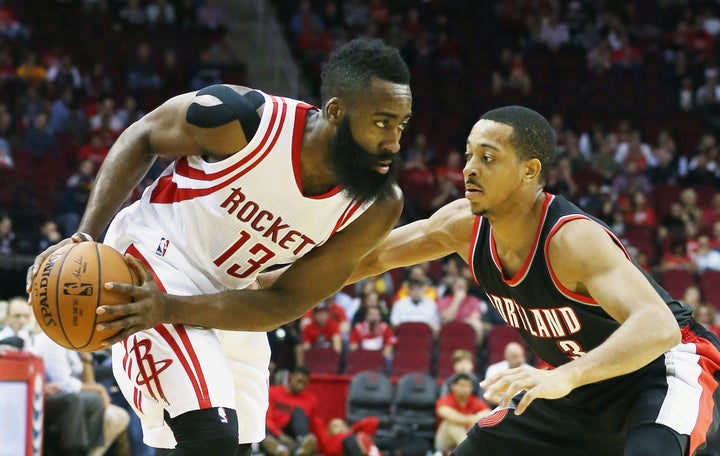 When you're an elite NBA player, subpar play and losing aren't supposed to be par for the course. And earlier in James Harden's career, both of these things would have seemed inconceivable.
The 26-year-old bearded genius has a history of being a scoring machine. He's fresh off the best season of his life, during which he averaged a stellar 27.4 points while earning first-team All-NBA honors for the second consecutive year. The Houston Rockets, led by Harden's dynamic play, won 56 regular season games en route to its first playoff series win since 2009. Although Harden suffered a wretched series against eventual champion Golden State in the conference finals, he was partially exonerated after totaling 45 points in a crucial Game 4 victory.
Harden's 2015 campaign, however, is off to a shockingly poor start. The Rockets fired head coach Kevin McHale, who, despite his often curious substitution patterns, gave his star combo man the keys to the entire offense. While the team has limped to a 5-7 start, Harden has endured perhaps the least efficient shooting stretch of his career, converting a putrid 37 percent from the floor and 26 percent from the 3-point line. To be perfectly clear, Harden's woeful shooting this year has nothing to do with his talent -- as I examined in 2012 -- but everything to do with his overzealousness to shoot 3-pointers and Dwight Howard's inability to command any attention from defenses in the half-court.
Harden's ball-handling creativity has long stymied even the best of defenses, but what has gotten him in trouble is an outrageous 9.8 3-point attempts per game, nearly three more than his career high and second only to Golden State's top sniper, Stephen Curry. The difference is that Curry has quickly become one of the game's all-time greats and Harden -- even at his best -- has never been a pure knockdown shooter. The tricky part is Harden's navigation of an offense that relies heavily on 3-pointers and very little on the mid-range game. For such a predatory scorer to be hoisting so many triples, Harden is legitimately bailing out defenses who no longer have to worry about his influx of driving forays to the basket. Sure, he's taking an average of 12 free throws per game, but he's requiring an all-time high in shot attempts to do so.
The other component to Harden's struggles has been Howard's pitiful play. The $88 million center possesses little feel with his back to the basket -- hardly a surprise -- and his ineffectiveness on the low block has enabled teams to guard him straight up, without help. Realistically, Houston didn't sign Howard to be an isolation scorer, but he needs to be a threat, and he simply isn't one right now. Opposing defenses will downright abandon him if he's not near the low block. The 29-year-old ranks just 36th in Player Efficiency Rating -- the overall rating of a player's per-minute statistical production -- while posting the lowest scoring clip (14 points) he's had since his rookie season. Moreover, Howard's career-low 4.4 free-throw attempts -- a stunning number for what we'd expect to be a physical presence in the paint -- show a general lack of assertiveness in the half-court.
Remember, it wasn't that long ago that Howard was widely considered to be the premier center in the league. His inflated contract may say he's still that guy, but both the eye test and the numbers tell a different story. Furthermore, Howard's decreased offensive productivity has made Harden's life more challenging. The court shrinks because the lanes aren't as wide while the pick-and-roll game -- a longtime staple of Howard's game -- loses its luster. At some point, you have to wonder if that has contributed to Harden's reliance on the 3-pointer.
Harden will long remain one of the game's top-notch scorers -- he tossed in 45 points Wednesday night on 11-29 shooting and is averaging 29 points -- and a lethal late-game player. Last year, he ranked fourth in "clutch" scoring, according to 82games.com.
What remains to be seen is whether he can make it through a noticeable shooting slump and change in attacking nature. And can he revert back to becoming a more efficient all-around offensive weapon alongside newly minted point guard Ty Lawson?
It would behoove Harden to continue employing the pick-and-roll, but also to force defenses to make a decision aside from merely going under or over the screen. If Howard wants to suddenly show up and assert himself more in the half-court, that would be immensely helpful as well, but like the truly great combo guards before him -- think Jordan and Kobe -- sometimes you simply have to force the issue yourself.
Popular in the Community