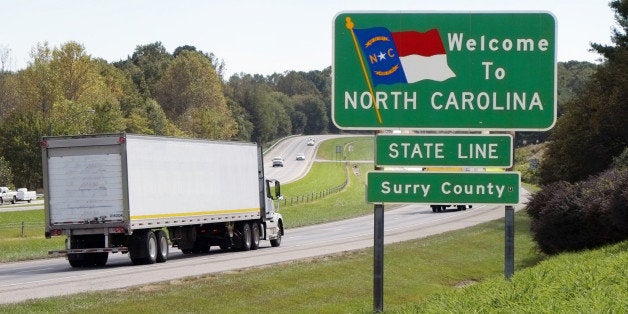 For me there was a time being born and raised in the state of North Carolina carried a great sense of pride. If you take a moment to reflect on it, we've got everything that you could ever ask for. Great eating, breathtaking scenery, amazing sports teams, and a diverse population. North Carolina as a whole is steeped in tradition and has rightfully substantiated it's place in American history. We're the home of The Lost Colony, the place where Babe Ruth hit his first home run as a professional, and where The Wright Brothers first took flight. Not to mention we're the home of Michael Jordan, arguably the greatest basketball player that has ever lived.

"And in 2016, it appears that we've got it wrong again."

But to be truthful, we have been known to be tardy when it comes to getting on the right side of history. We were the last state to pass an ordinance of secession during The Civil War. The University of North Carolina, which Michael Jordan attended, just started integrating African-American students in 1955. The city of Greensboro is known more for the 1960's Woolworth sit-ins and the 1979 KKK "Greensboro Massacre" than as the home of Loretta Lynch, the first female African-American US Attorney General. And in 2016, it appears that we've got it wrong again.
On March 23 The Public Facilities Privacy and Security Act, better known as House Bill 2, was signed by Gov. Pat McCrory (R) less than 12 hours after being introduced by the North Carolina General Assembly. Numerous critics are now referring to the bill as the most Anti-LGBT bill in the United States. The first lines of the bill say that it is "A BILL TO BE ENTITLED AN ACT TO PROVIDE FOR SINGLE SEX MULTIPLE OCCUPANCY BATHROOM AND CHANGING FACILITIES IN SCHOOLS AND PUBLIC AGENCIES AND TO CREATE STATEWIDE CONSISTENCY IN REGULATION OF EMPLOYMENT AND PUBLIC ACCOMMODATIONS." So you're probably thinking, "what's the big deal"?

"It's more than just some LBGT legislation that the language of the bill suggests."

Many believe that this is simply a law that is made to make sure that people are using the restrooms and facilities related to their biological sex. It is much more than that. One of the things that a lot of people fail to realize is some of the actual underwriting of the bill itself. It's more than just some LBGT legislation that the language of the bill suggests. For starters, the law now declares that state law overrides all local ordinances concerning employment, public accommodations and wages. That means should your county or city officials choose to raise minimum wage in your local municipality, now they can't. The more affluent counties that can afford and wish to pay employees more are no longer allowed to under this "LBGT law."
So where's the discrimination in wanting men to use a men's restroom and vice versa? Where's the discrimination in protecting our children from sexual predators that may want to enter the privacy of their bathroom? For one, people who identify as transgender seem to be more likely to be assaulted in a bathroom or locker room. Concerning sexually predatory behavior, the previous Charlotte ordinance that protected those who identify as LGBT does not protect sexual predators from prosecution. Charlotte passed an ordinance that did not allow businesses to discriminate against gay, lesbian or transgender customers in addition to long-standing protections based on race, age, religion and gender. The North Carolina General Assembly overturned it and it now applies statewide. For example, now if you have had sexual reassignment surgery to become a man, law mandates that you have to use the same restroom as someone's mother, wife, or daughter. The law also allows businesses to refuse to serve people who identify as gay, lesbian or transgender since they are no longer protected under said law.
The financial backlash of this has the potential to be utterly catastrophic. According to the Human Rights Campaign, the state is now at risk of losing $4.5 billion in federal funding because it is in direct violation of the federal non-discrimination act Title IX. Numerous global companies and entities such as, but not limited to, the NBA, Apple, Dow Chemical, IBM, Google, and Bank Of America have openly expressed deep concern and distaste for the law.
North Carolina has been making great leaps and strides progressively in recent years but once again, it seems like we take two steps forward and twenty steps back.
The law goes into effect April 1.
This is not the North Carolina I'm proud of.
Calling all HuffPost superfans!
Sign up for membership to become a founding member and help shape HuffPost's next chapter