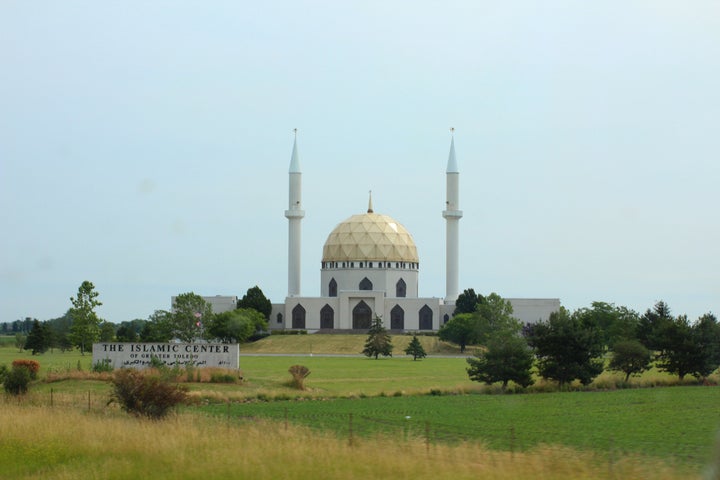 Randolph Linn, 52, has been charged with federal criminal hate crimes for an arson at the Islamic Center of Greater Toledo in Northwest Ohio. The St. Joe, Ind., native is in police custody and faces chargesfor intentionally defacing, damaging and destroying religious property because of the religious character of that property and using fire and explosives to commit a felony.
Authorities believe Linn to be the man seen in a camouflage sweatshirt and hat outside of the mosque. It's the sort a lot of people in Northwest Ohio might wear to hunt deer in the winter or fish for walleye in the spring. Although I can't help but wonder if such discretion would be afforded to a Muslim man who set fire to a church, I remind myself of the prevalence of this sort of attire in this part of the country so as not to feel like he set off to wage war against Muslims in America.
According to an affidavit filed by Victoria Erikson, an FBI special agent who works primarily on prosecutions related to civil rights violations, police released images from the surveillance tapes and received information from an Indiana woman who identified the man as Randolph Linn, 52, of St. Joe, Ind. The woman identified the red SUV in question as Linn's, and described comments he had made in reaction to "The Innocence of Muslims" film, as well as the attack on embassies in the Middle East and the deaths of U.S. servicemen in the region.
Police put out a warrant for Linn's arrest. They confirmed his license plate number and found a camouflage sweatshirt and cap in his SUV. Linn was taken into custody and read his Miranda rights by police. En route to the police station, Linn volunteered the statement, "Fuck those Muslims."
Police in Perrysburg, Ohio where the mosque is located have since released photos of a person of interest caught on camera as he approached its entrance.
Surveillance footage shows the man police believe to be Linn outside of the mosque with a red gas canister and revolver in hand. He wore a camouflage sweatshirt and hat, the sort a lot of people in Northwest Ohio might wear to hunt deer in the winter or fish for walleye in the spring. I remind myself of the prevalence of this sort of attire in this part of the country to counter the sense that he set out for a battle.
I can't help but wonder if Linn set a fire in the massive, domed prayer room where I have bowed my head to ask God for peace so many hundreds of times because he felt the God I pray to is not the God he prays to.
I don't doubt that he and I share a reverence for God and country, but the realities we hope to see under the red, white, and blue most likely take very different shapes and hues.
I wonder if he feared the fictitious threat of "creeping sharia" that has been engineered by a few individuals to forward Islamophobia.
I think of what the mosque must have symbolized to him, think of what it means to me.
I played soccer in its surrounding fields, sloppily ate shawarma sandwiches in its cafeteria, and did cartwheels in that prayer hall with my best friend when no one was around to see us. I went on service trips to soup kitchens and listened to interfaith panel discussions put on by the Islamic Center. I learned to read the Quran and learned the stories of Noah and Abraham, Moses and Jesus along with the Prophet Mohammad.
And in the days following 9/11, I joined hands with hundreds of people who formed a massive circle around the mosque after bullets made easy targets of the stained glass windows that line the mosque's great dome.
When I left for college, I felt out of place in other mosques I visited -- so few afforded equal space for men and women to pray side by side as the Islamic Center of Greater Toledo does, and even fewer had democratic boards with so many women leaders making key decisions.
But I know that not everyone in this part of the country would see my mosque as I do, or offer it the same respect they would afford to a church or synagogue. It may be just a minority of people that sees us as "other," but as we know of any sort of terrorism, it only takes a few to incite enough fear to disturb the sanctity of such a site.
And that's what bothers me most.
That one man with a match has shaken an entire community of people from countries around the world who have made this sleepy corner of Ohio their home, in many cases, because of the mosque.
It's hard not to feel like you're at the center of a bullseye after a crime so pointed. It's hard for me not to look differently at the farms and faces that occupy the area around the Islamic Center, which was so boldly built as one of the first traditional-looking mosques in North America.
But after accounting for my own hurt and fear, I've had to take inventory of so many others who are coming under fire (literal and figurative) in just the same way the Islamic Center.
This attack on my hometown mosque has made me consider with renewed anguish the horrendous attack on a gurudwara in Oak Creek, Wis., which left six dead, and the fire that razed the Islamic Society of Joplin, Mo., to the ground.
It's also forced me think even more critically the attacks on the Ahmedis in Pakistan, the violent protests that erupted in the Middle East and South Asia in response to the "Innocence of Muslims" film, and the slew of grenade-attacks on churches in Kenya this summer.
And while the black-and-white beliefs that led to these events threaten to shroud the world in opaque shadows, there are bits of light to be found amid all the darkness. I'm sure that, as before, churches and small businesses from around my area will stand united with the mosque I so cherish. I'm sure there will be an outpouring of donations, as there were for the mosque in Joplin. I'm sure the Islamic Center will be full of lightheartedness, laughter and the smell of fresh falafel and french fries again.
But despite all that, it's hard not to think about how much damage can be done by one man with a match in a mosque or one man with a movie camera in a Hollywood studio, or one man with a big TV audience and little to hold him accountable in Pakistan.
There is too much smoke and water damage in the Islamic Center of Greater Toledo for worship services to be held there for now, but police will maintain a 24-hour watch in the weeks to come. Once its deemed safe, my family will return there for Friday prayers and Sunday school. But for now, I can't help but wonder and worry about the next time that one person decides he will shatter the sanctity of so many.
REAL LIFE. REAL NEWS. REAL VOICES.
Help us tell more of the stories that matter from voices that too often remain unheard.