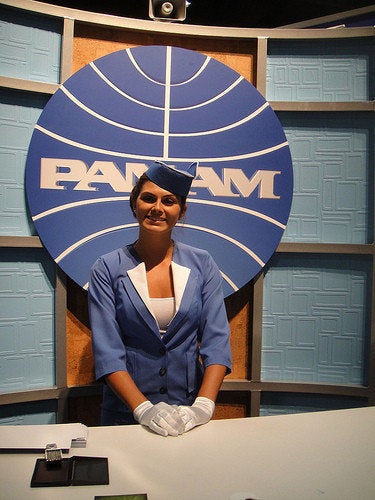 In 1966, I wanted nothing more than to get out of Pennsylvania and see the world. A recent graduate of Penn State, I was teaching art outside of Philadelphia and being told to dance with my students during the prom. I couldn't join the Marines so I joined Pan Am: I signed up to be a stewardess.

I moved to Kew Gardens, Queens, for a month while I was being trained for my new job. A woman had just been stabbed in the street near my house as 48 people watched and nobody had tried to help her. I kept my head down for four weeks then high-tailed it to Manhattan, where I found an apartment with a promiscuous German stewardess.

I was given my uniform, which was fabulous and flattering, a tight blue skirt (well, not too tight) with a slit, a crisp white blouse and a fitted jacket all in sky blue. The fabric matched my eyes.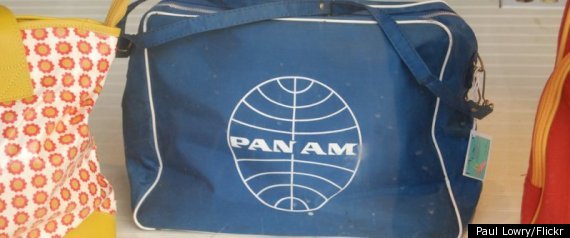 My first flight was to Bermuda. As we circled before landing, I felt dizzy and had to ran to the bathroom to throw up. Still, I was out of Philadelphia and happy about that. I was about to see the world. I felt like Candide.
Bermuda was enchantingly pink and we stayed in a white hotel. After I recovered from my nausea, I had twenty four hours to see the island before flying back to New York. In three days I was to fly to London and then on to Paris and Rome. In London we stayed in a hotel on Hyde Park Corner, but it was so noisy I had to put the mattress over the window and sleep in the bathtub. I only had twelve hours for the layover and needed my sleep. The noise was overbearing. The same thing happened in Paris and Rome was a disaster.
Layovers were 12, 24 or 48 hours. Lack of sleep quickly became a problem.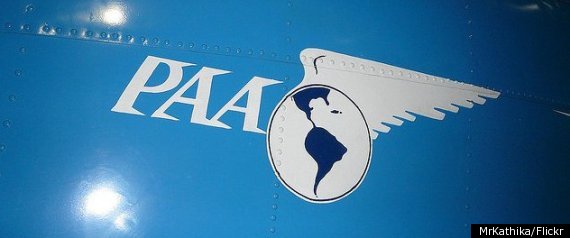 On a layover in Beirut, I managed to fly to Jerusalem, but the guards detained me at the airport because they thought I was a German Jew: My maiden name was Wagner. After being held by police for an hour, I only had two hours left to see the ancient city. My girlfriend and I were thrown out of the Church of the Holy Sepulcher. Her dress was too low in the back and mine was too high in the front.
Back in Lebanon, we decided to have a cocktail in its rooftop lounge which was full of Sheiks looking for women, who they objectified far more than even the airline had.

It wasn't long before flying became grueling work. My feet swelled and ached from the stilettos though we changed to flats onboard. Each city was a new adventure, but I struggled under the pressure of trying to sleep. In Bangkok, I bought quaaludes and soon I was dependent on them. I carried quaaludes, seconals and nembutals. My handbag was a pharmacy when it wasn't a bar stocked with mini liquor bottles pinched from the plane.

I became an alcoholic and addict. What had begun as Candide's best of all possible worlds had quickly transformed into something else entirely. I suffered chronic airsickness and lost 22 pounds just from vomiting. I now weighed only 108 pounds.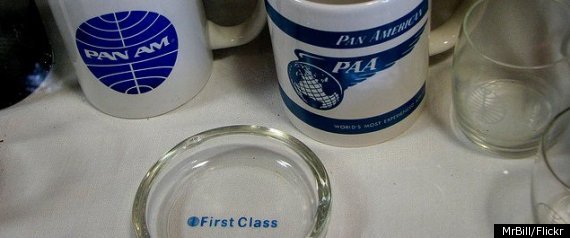 I took a medical leave of absence in order to try my hand at modeling in Paris -- my passengers kept telling me I had beautiful eyes and I wanted to believe them. Three months later, I'd been featured in French Vogue.
I was more than happy to quit my job at Pan Am.

The mere smell of a plane still makes me nauseous, but I don't regret the two years I spent seeing the world. I'm as grateful to have had that experience as I was when it ended.
Support HuffPost
A No-B.S. Guide To Life
Related
Popular in the Community