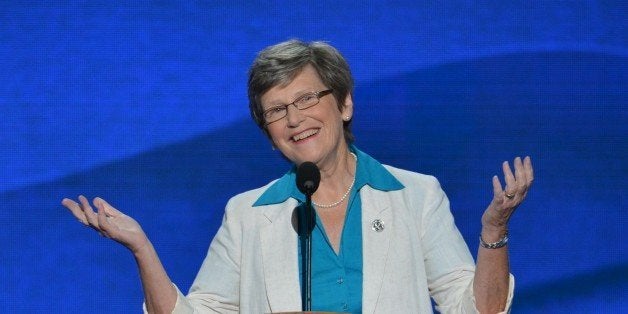 It is difficult to believe that it has been fifty years since I joined my religious community, the Sisters of Social Service, and began a lifetime of commitment to the quest for justice based in the Gospel. Over the decades my spirituality and prayer life have deepened to be a contemplative life of "walking willing." "Walking willing" to all sorts of unusual places including lobbying on Capitol Hill - and even places like the Colbert Report! It has been a challenging life of joy and struggle nurtured in community and alive in the Spirit!
Over the years I have learned from my community's history the intersection of faith and politics. We were founded in 1923 in Budapest, Hungary, in response to Pope Leo XIII's call to work for just wages and safe working conditions in the midst of the industrial revolution there.
Our foundress, Sister Margaret Slachta, was the first woman in the Hungarian Parliament when she headed our community. She spoke passionately about how the Holy Spirit led her to the quest for justice in the light of Jesus's message in the Gospel. My community's orientation to both charity and justice shaped my young spirit from the day I entered and does so to this day. All of my Sisters have encouraged me to open my heart to touch real people's lives, hear their stories, and share encouragement along the way.
Recently, I was talking with a television producer about my coming interview. We talked a bit about the struggle to create community and to be grounded in this speeding world. She surprised herself by choking up and getting tears in her eyes. It touched me deeply that she would let herself be vulnerable with me in that setting. Something I said mattered to her and let her know that she is not alone in this life. I hugged her and feel more connected to her for her wordless eloquence.
This phenomenon is not uncommon and is part of the reason that being "A Nun on the Bus" is so sacred. I often hear the stories of folks who are working hard every day to make ends meet - people like Robin, who works fulltime for minimum wage but has to live in a homeless shelter because she cannot afford rent in the Washington DC area. Or Billy and his wife at a free dining room with their two boys because they have no money left for food after they pay their rent. This is even though both of them are working. Or Katrina in the literacy program overcoming her learning disability and now contributing to our society by helping others. Or Cynthia who celebrates that her husband can get cancer treatment because their family finally got health insurance through the Affordable Care Act.
It is deeply moving to be able to share their stories. But a further joy is that everyone has a story to share.
In our nation, where Robin and Billy and his wife all work for minimum wage and don't have enough to support themselves and their families, median CEO pay has topped $10 million dollars a year. This means that CEOs are paid about $5,000 per hour. Or in three hours they earn as much as a minimum wage worker like Robin makes in a whole year. How can a CEO have a clue about the reality of low-wage workers?
So part of my service on the bus is to share the stories beyond the big divides.
But the TV producer reminded me that in our speeding society many feel alone and struggling. Economics is not the only poverty that exists. Rather, the plight of even the "economically secure" is that fear and insecurity can seep into life so that they feel they are on their own and no one "has their back." This feeling of loneliness is undermining our democracy. By focusing on our individualism we are losing the reality that democracy requires a community committed to collaborative problem- solving. This requires that everyone stay engaged and that no one can really "go it alone."
So I have discovered that the hunger we experience for the bus and the message that we bring are hungers for inclusion, deeply held values and space for the 100%. This is the joy of my life that I can help individuals see and understand the struggles of others. Like all of the popes before him since Pope Leo, Pope Francis is challenging the world to create an economy of inclusion. Pope Francis is correct when he says that peace building and this new economy must be grounded in the reality of people's lives and not in the theories of academics.
But this is more than just a faith response.
In our polarized politics we need to build peace that can create a future together. We need to foster peace among the current three dominant political parties: Democrats, Republicans and Tea Party. This peace needs to be grounded in the stories of real people so that we can work together to actually solve the problems of the 21st century - such as economic disparity, a broken immigration system, and global warming.
I work at this because of my faith that has been nourished by so many in my religious community and in our country. But in our pluralistic world, we come together as a nation in the Constitution.
For me, this is the joy of the bus. We come with our faith and welcome all who want to join us in the quest for justice. You don't have to be a Catholic or a Sister. All are welcome to join us to create community in our hungry world.
So I urge all of you to join us on the bus as we drive for faith, family and fairness. It is my prayer that this commitment will continue to be nourishment for our spiritually hungry nation and will, in the end, help to "form a more perfect union."
Popular in the Community