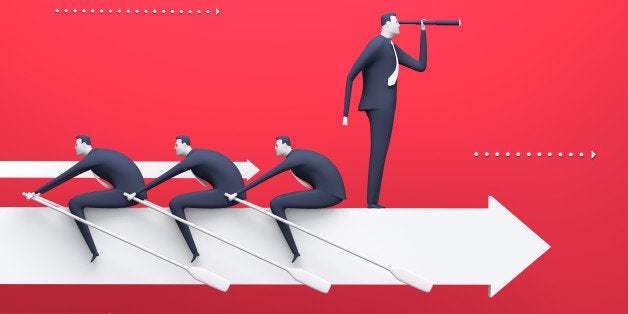 I cringe at the word "nonprofit." I do everything I can to never use it. I know that's how Big Brothers Big Sisters (BBBS) is categorized, but it implies that money isn't important. I think the term diminishes the efforts, seriousness and intellect of those who run them. Organizations such as ours are fortunate to have a higher purpose than profit; we are motivated through serving more children, curing disease or housing families.
While it may not be our main goal, I certainly would like to end every year with a profit. Not a large one, necessarily, because then I would have left the opportunity to serve more children on the table. But by ending the year with a profit, I am really focusing on growth. A profit means we can look further ahead to the future and connect even more children with mentors for years to come.
I do not have the traditional pedigree of a "social impact sector" CEO. I studied accounting and economics in college, have an MBA, and spent the first tenure of my career in finance, accounting and business academics. Many people have asked how I ended up at BBBS--I left my for-profit career so I could make an impact on my local community. But I wanted to do it differently: by being smart, efficient and approaching it with scale. I focus on creating socioeconomic change, getting kids to break the cycle of poverty and violence by becoming the first in their family to graduate high school.
As CEO of a social impact organization, I am in the fortunate position to be able to fuel collaboration between the business world and the world of philanthropy. Building long-term, meaningful relationships has become the best way for social impact organizations and businesses to collaborate.
Offering community partner programs, for example, allows more ways for companies to become involved, rather than just writing a check. The close proximity of big-business and communities that are in need provides a unique opportunity for corporate involvement. Even in Orange County, Calif., there is a bubble that you don't see on TV. We have large areas of low-income, under-educated, high-incarceration communities surrounded by very affluent neighborhoods.

In terms of corporate giving, social responsibility programs have become pillars on which businesses stand. They build trust with employees, customers and stakeholders alike. Engaging employees strengthens bonds, creates loyalty and makes individuals more productive. One-off volunteering is wonderful, but the positive effects of that time quickly fade away into the regular workday of phone calls and emails and meetings.
Consistent, one-to-one involvement--like the mentoring relationships offered through BBBS--changes the volunteering game for corporations and their employees. It allows them to feel a little bit of what makes me love my job by seeing firsthand the difference they're making month-by-month. In our program, this carries them through to the next time they see their mentee and helps lay the groundwork for lasting change. These ongoing, positive relationships with adult role models have the ability to change the trajectory for children and, as a result, have a lasting effect on the social fabric of communities in which they live.
And there's also a return for the companies involved with social impact organizations, beyond meeting social responsibility needs--there's no denying that when communities are thriving, so are local businesses. As the goals of corporations and charities continue to merge, this will ultimately strengthen the foundation of every community.
That's social impact. And as CEO of BBBS, that's what I'm working toward--changing the lives of children, strengthening their relationships with friends and family, and creating a positive impact that resonates for generations.
Calling all HuffPost superfans!
Sign up for membership to become a founding member and help shape HuffPost's next chapter