Ernest Hemingway said, "The writer's job is to tell the truth."
You'd be hard pressed to find a writer who wishes to shirk this responsibility. But, there's discrepancy among us about what "truth" really means. Should we share our emotional truths? Should we accumulate facts? Should we work to empathize with others, and in doing so learn to see one another more clearly? Should we make our political motivations clear? Should our truth-seeking and truth-telling change along with our political situation?
Hoping to better examine these questions, we asked authors ― most of them writers of fiction ― what it means to them to do their work during Trump's presidency. Their responses are below.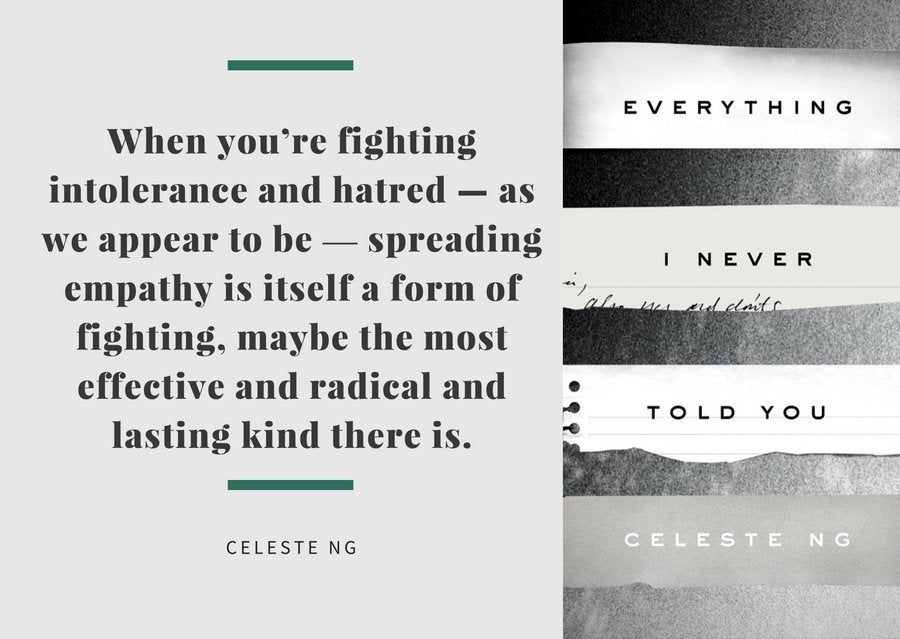 Celeste Ng, author of Everything I Never Told You
"Writing ― making any kind of art ― is always a political act, but at this particular moment it feels more important than ever. The fundamental job of a writer is to spread empathy ― something that's been sorely lacking in the Trump campaign and from Trump supporters. When you're fighting intolerance and hatred — as we appear to be ― spreading empathy is itself a form of fighting, maybe the most effective and radical and lasting kind there is."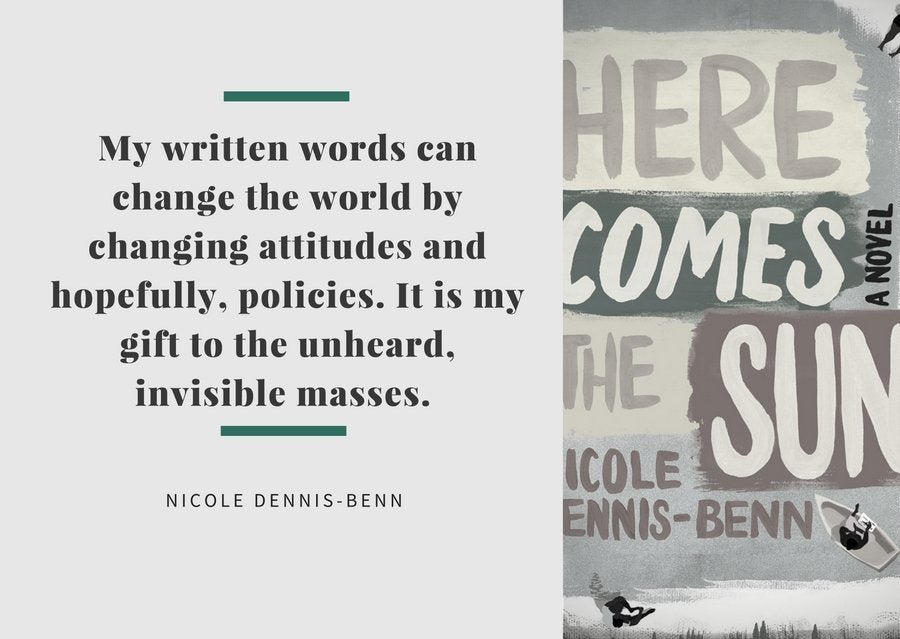 Nicole Dennis-Benn, author of Here Comes the Sun
"This morning a friend alerted me that a young college student she knows attempted suicide in fear of being deported. She said she thought I could help. 'Just reach out to her,' she pleaded. But I felt helpless in that moment. For what could I say to this student, who was so paralyzed with dread that she would rather end it? How could I possibly hold her hand and tell her that it will be alright, when I'm not even sure myself? I wrote about the struggle of undocumented immigrants in a recent Literary Hub essay, 'My First Visit to the Church of American Democracy.' Their existence here is a series of tentative footsteps: They have to apply for jobs they hate straight out of college that promise them sponsorship; some listlessly apply for PhD programs and post-docs in departments that work them like slaves just so that they can extend student visas; others marry abusive spouses with hopes of stability; many scrub floors, toilets, stadiums, among many other menial jobs, just to make enough to pay for rooms too small to hold them and the dreams they came with — dreams that this young woman fears she might have to let go of, and return home to a country that is not prepared to take her back.
"So, it was with great disappointment that I looked up from my sheltered world as a documented immigrant with no words to say to my young sister. My spoken words would be too sweet, insipid. Just words. Therefore, I sat before my computer to write. It's the only way I know how to cope. I write to dismantle notions used to build walls that alienate people. Fiction is easier to digest, which is why I choose it as my medium for activism. My written words can change the world by changing attitudes and hopefully, policies. It is my gift to the unheard, invisible masses. Long before Trump, people of color have dealt with racism. A whole generation of African-Americans was sprayed down with hoses, denied housing, denied education, denied citizenship. Long before Trump, women have been denied ownership of our bodies. Long before Trump, immigrants have crouched in fear of getting deported. Long before Trump, gays and lesbians still could not order wedding cakes in certain towns and transgendered people were denied the human right to relieve themselves in the bathroom of their gender. Therefore, it is not Trump who is the driving force behind my reason to pick up the pen, but the motivation to write against a lifetime of bigotry."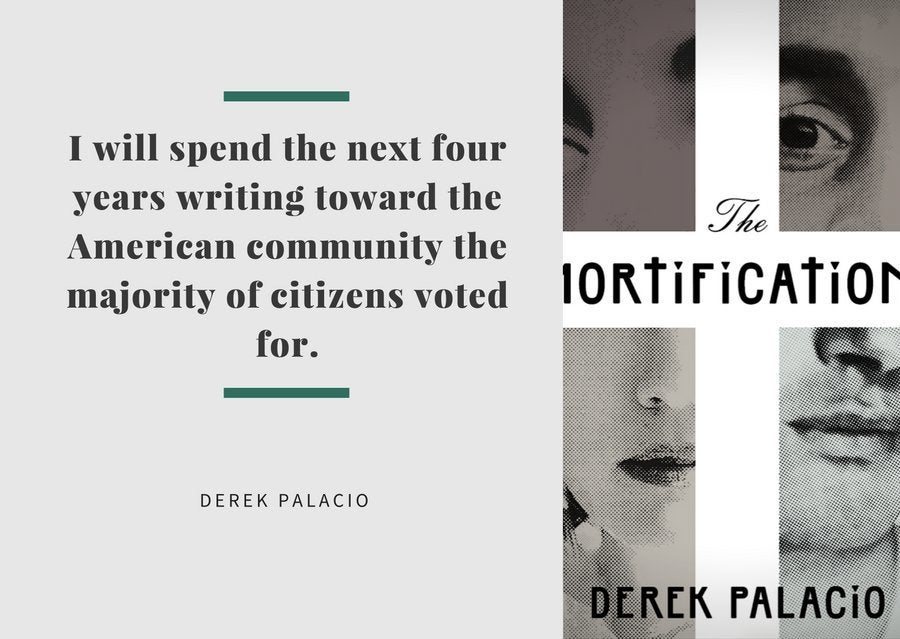 Derek Palacio, author of The Mortifications
"I am by nature a plotist. I love cause and effect, especially when it webs people together, revealing an interconnectivity that is perhaps subconscious or intangible, but still very real. In some ways this election suggests an America that wants to compartmentalize. The voters who cast their vote for Trump were willing to isolate the elements of his rhetoric that spoke to their wants while ignoring the sexism and racism equally woven into that very same message. And now we are being told that we can have one without the other, that Trump will abandon the denigrating perspective of his campaign; that his presidency will be about jobs and the economy.
"It seems to me, then, that to be a writer under this administration is to remember and remind others that such an approach is impossible, that one cannot build a wall without tapping into the bigoted fears underlying such a project. Those things are inextricably linked, and I am compelled and obligated to make clear such connections in my work. At the same time, I hope to also make clear the ways in which we as a citizenry are also still connected. Regardless of what we want for ourselves, we cannot ignore the effects of our decisions on others, which is something Trump's campaign has asked us to do. I will not participate in that ignorance, and I will spend the next four years working against the baseless hierarchies and aloneness of his message. I will spend the next four years writing toward the American community the majority of citizens voted for."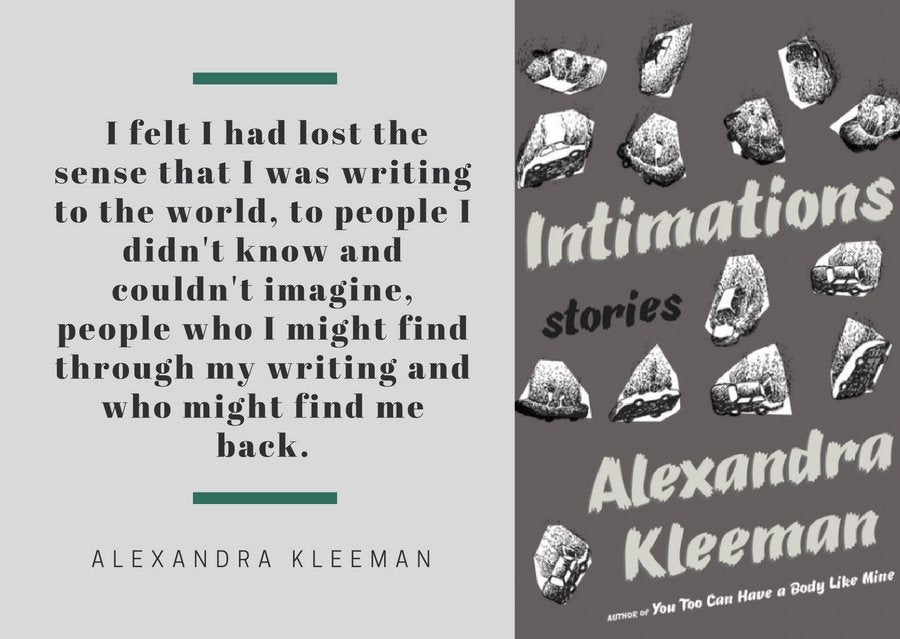 Alexandra Kleeman, author of Intimations
"As the election results came in on the night of Nov. 8, my heart broke: it felt impossible to swallow the discovery that the electoral majority of my country had chosen to affirm the racism, sexism, and dishonesty that characterized Trump's campaign. As a non-white woman with loved ones in every one of the categories threatened under Trump's politics, I feared for our bodies and our futures and I felt the loss of security as something visceral ― a cement block on my chest, a fist at the base of my neck, a hand around the lung, tightening. But when I thought of myself as a writer, I felt the loss of something less concrete. I felt I had lost the sense that I was writing to the world, to people I didn't know and couldn't imagine, people who I might find through my writing and who might find me back. I had always thought of writing as a sort of CETI signal sent out into the universe, which had a chance of touching someone even if it ultimately failed to. In this new reality, it felt like we shared no common language of values, ethics, or even basic agreement on facts. Is communication possible without those things?
"The simplest way to say it would be that I lost the sense of a shared world. A week later, I still don't know how to negotiate the fissure: do I have a responsibility to try to find new ways to communicate the urgency of environmental and racial justice to people who are not inclined to listen? Or is my responsibility only to the people who've been put at risk by this election, who already have my compassion? What I do know is that being a writer in the political world to come will require much more of me than writing: it'll demand my body, my time, the parts of me that I felt were personal rather than political. If we want to protect the values that make literature possible, we'll have to step outside our discourse ecology and work for them in their more concrete, embodied form."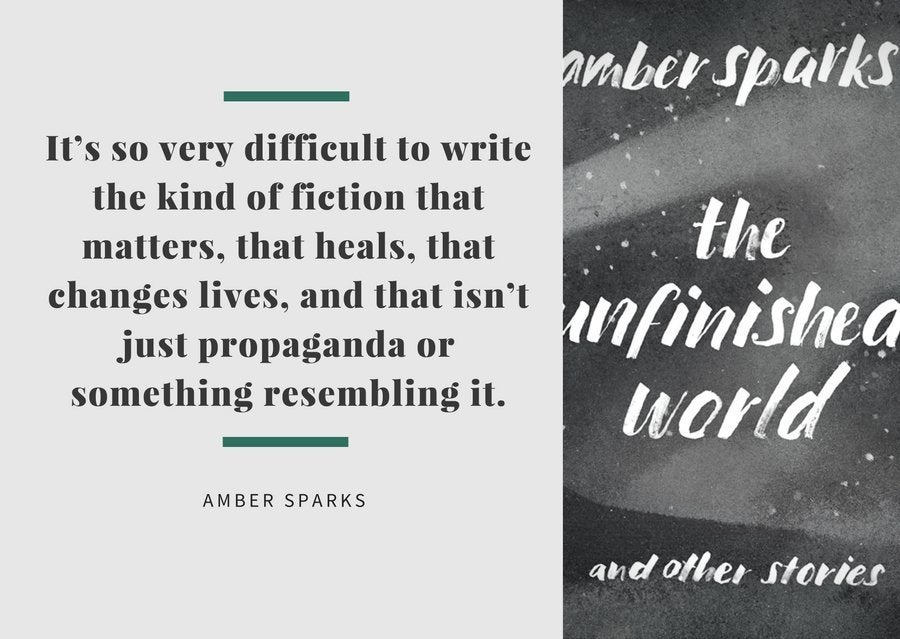 Amber Sparks, author of The Unfinished World
"I have two separate lives, one as an activist and one as a writer, so right now I'm mostly thinking about the activist part and very little about the writer part.
"But when I do think about my life as a writer under a President Trump, I worry that I won't be up to the responsibility. It's so very difficult to write the kind of fiction that matters, that heals, that changes lives, and that isn't just propaganda or something resembling it. I worry that the kind of fiction I write won't matter at all in this Brave New Trumpian World; and I worry that it will. I tend to write, though obliquely, about women's lives and the lives of those who identify as outsiders. That seems more important than ever during a Trump presidency - whether to bring comfort, or to tell someone 'you are not forgotten,' or to create a visibility through fiction for people who otherwise wouldn't be seen at all.
"There's also the more important work of opening up new avenues and opportunities to give direct access to new voices, to people of color and LGBTQ and disabled people and immigrants and refugees and the many other people who will be more marginalized than ever under Trump. That work needs to be continued and amplified times a thousand. I just hope I can do my part to be a responsible and engaged artist during the very tough times ahead, even when I'm personally despairing that art makes a difference at all. When Bush was elected in 2000, I put up a poster on my apartment wall and I've carried around the quote with me ever since ― a bit by Brecht, 'In the dark times, will there be singing? Yes, there will be singing about the dark times.' I'll keep remembering that."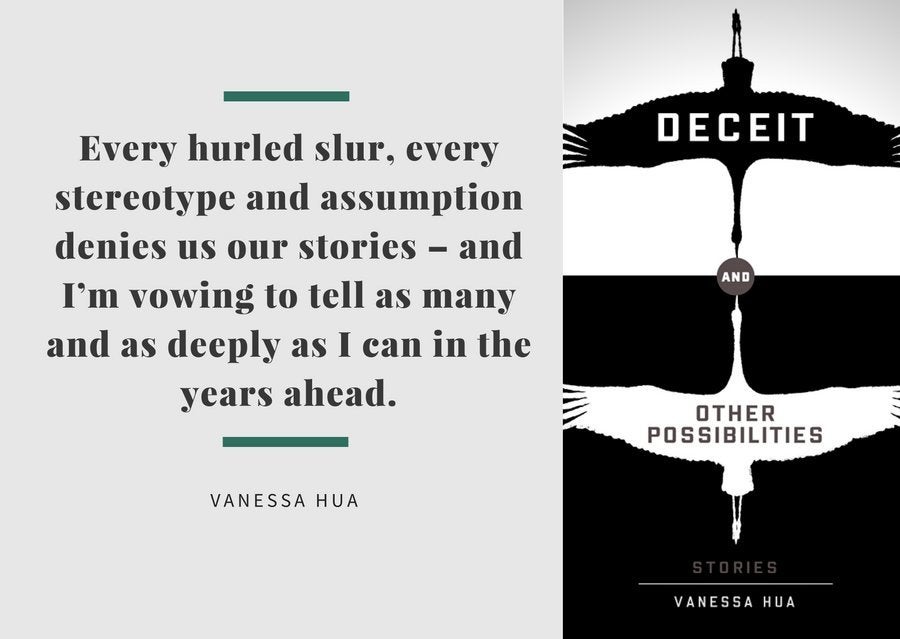 Vanessa Hua, author of Deceit and Other Possibilities
"As a journalist and author, I've always tried to shine a light onto untold stories, to foster empathy and to drive change. In other characters, we might find kindred spirits, even if we don't share the same race or place, sexual orientation, social class or religion. I'm the American-born daughter of Chinese immigrants. This country was built on the backs of immigrant and people of color, and in times of war, we have protected this country, too. We need to hear these stories more than ever, at a time when the president-elect questions our loyalty, when he denies the disabled, the queer community, and the marginalized their humanity. Every hurled slur, every stereotype and assumption denies us our stories ― and I'm vowing to tell as many and as deeply as I can in the years ahead."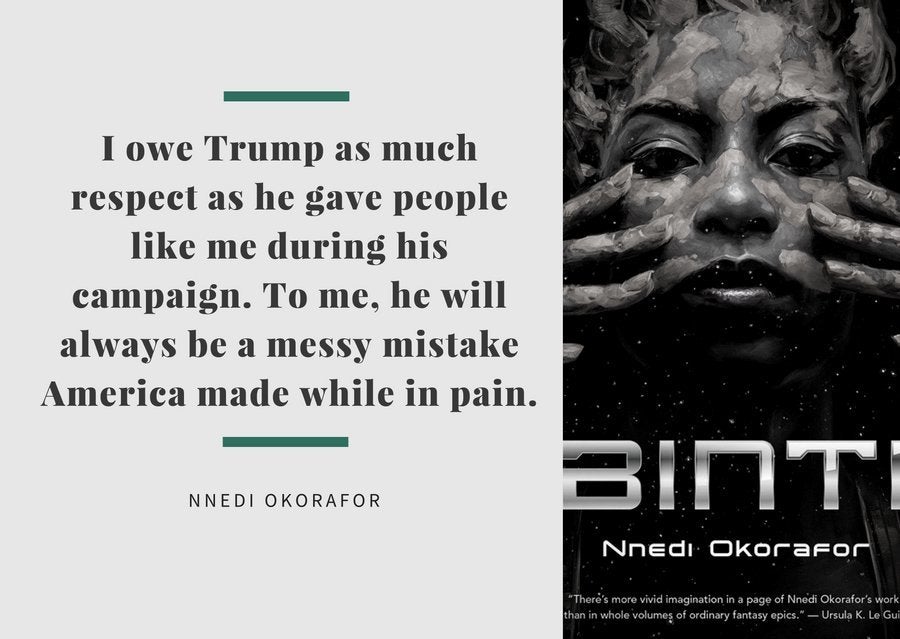 Nnedi Okorafor, author of Binti
"My first response to Trump's win was not denial or shock, it was fury. Now, days later, that fury has stabilized and become another energy source. The writer in me is feeling wickedly mischievous.
"I owe Trump as much respect as he gave people like me during his campaign. To me, he will always be a messy mistake America made while in pain. I'm witnessing this, I'm in this ... as a writer, and there is nothing more inspiring than being in the hurricane. I've been actively incubating a new book (I know the story; I'm just letting it sit until it says it's ready). All this will affect it; I'm looking forward to seeing how."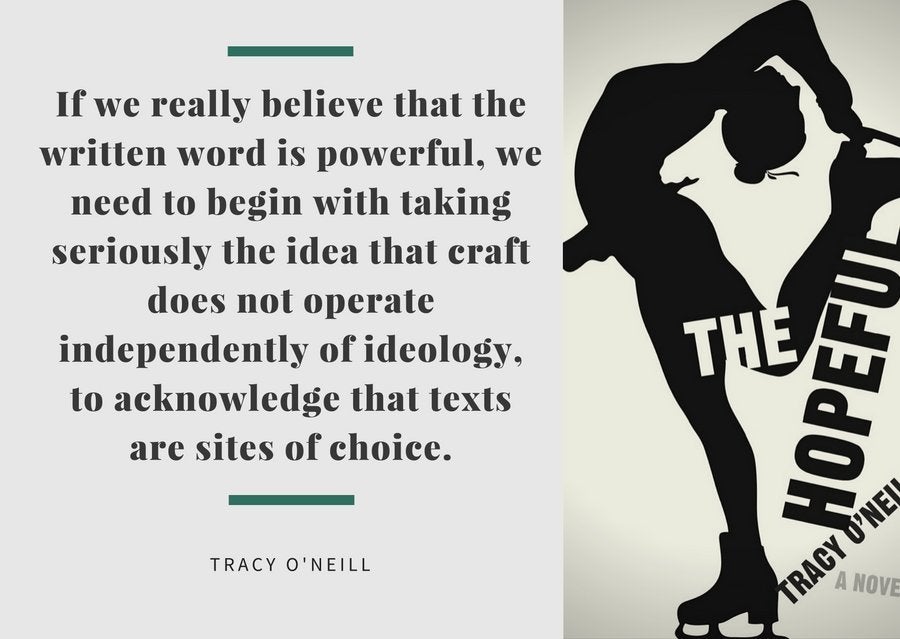 Tracy O'Neill, author of The Hopeful
"Like many writers, I teach, and under the Trump presidency, as always, our classrooms must act as microcosms of decolonized worlds. These are spaces for building communities gathered by storytelling, and if we really believe that the written word is powerful, we need to begin with taking seriously the idea that craft does not operate independently of ideology, to acknowledge that texts are sites of choice.
"How can point of view complicate power relations? How might syntax defamiliarize systems of inequality? Part of our job too is refusing the reproduction of problematic power structures in the texts to which we assign value. I see far too many syllabi that look as though their aim is passing the Mischling Test. Instead, we need to take responsibility for our future canon. I want to see syllabi that mash up form and genre, that move to the margins and say hell no to hegemony. Finally, we need to frame dissent as a necessary facet of our practice in workshop, emphasizing that consensus is not the constitutive material of community."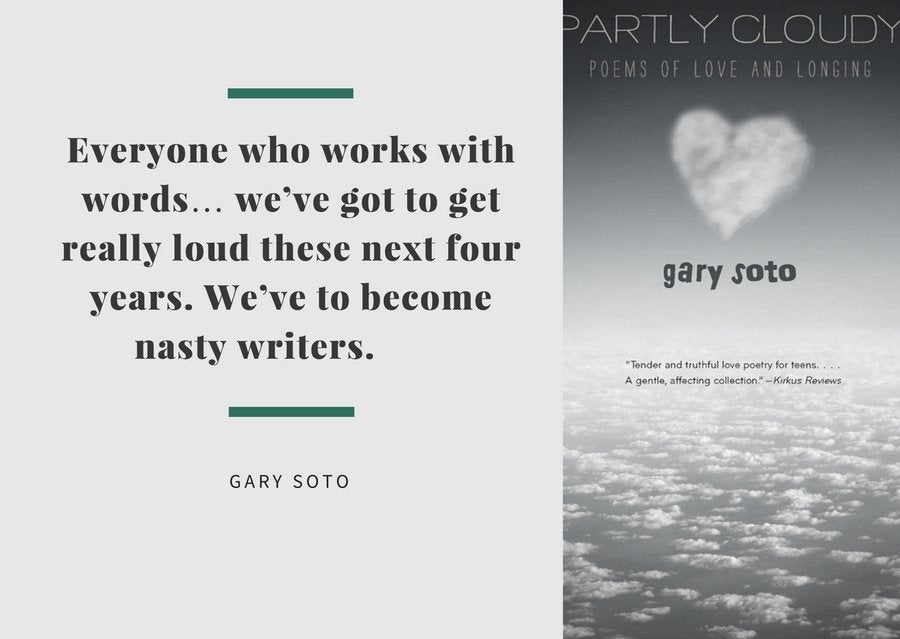 Gary Soto, author of Partly Cloudy: Poems of love and Longing
"The day after the election and an hour into a manageable hangover, I sat on the couch, my dear wife, Carolyn, at my side. Neither of us was happy. Neither of was hopeful. Outside our window, birds on bare limbs, leaves on the ground, and the sun filtered by a cloud.
"To hell with that poetry!
"I smiled at a devious thought and shared it: 'Carolyn, what if I get the call from the Trump camp to the write the inaugural poem. Should I accept?'
"My wife slowly raised her face to mine — no, she was not about to pucker up with me. How dare I make light of such a tragedy!
"OK, it wasn't funny and, anyhow, the call won't come. There won't be a voice that asks, 'Is this Mr. Soto? The poet of many remaindered books?'
"I shared this additional silly thought, and my wife, not willing to play with me, stood up and moved away. The sun behind the cloud disappeared.
"None of it was funny, none of it made sense — how had Hillary lost? And now what do I do? Should I bother to write my Donald Trump poem, and let it go viral— whatever viral means to poets? For us, the small journal poets, viral is a magazine with a circulation of 600 copies.
"And what does the election result mean? It means that poets and essayists, playwrights and novelists, song writers and literary scholars, everyone who works with words … we've got to get really loud these next four years. We've to become nasty writers."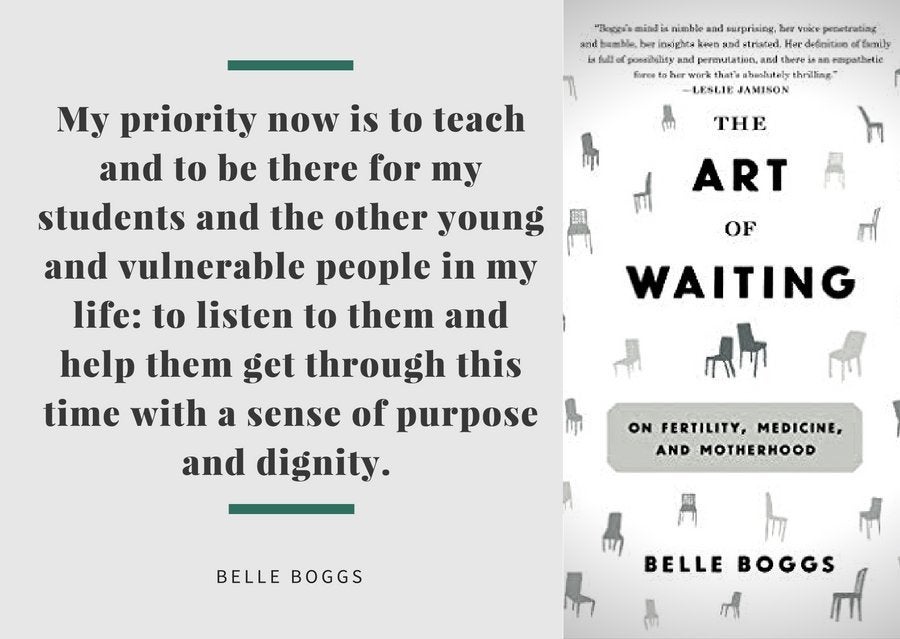 Belle Boggs, author of The Art of Waiting
"I have lots to say about the I-suppose-it's-happening (Is it really happening?) Trump-Pence administration. I'm working on a novel about for-profit education. I write about reproductive rights, and have been working on nonfiction about the futures of young transgender people living in North Carolina in the wake of HB2. I was a K-12 teacher in underserved public schools for years. I was born and raised in the rural South, and I'm trying to stay and make things better here.
"But my students — my smart, questioning, scared, generous students, who are all vulnerable to decisions already promised by this administration — have so many important things to say too. I feel that my priority now is to teach and to be there for my students and the other young and vulnerable people in my life: to listen to them and help them get through this time with a sense of purpose and dignity.
"'This will always be a place of tolerance and welcome. It will always be a safe space,' my daughter's preschool teacher told me Nov. 9. By the end of the day she'd turned to literature, writing a quote from Maya Angelou at the top of Bea's daily report: 'Just like moons and like suns / With the certainty of tides / Just like hopes springing high / Still I'll rise.'"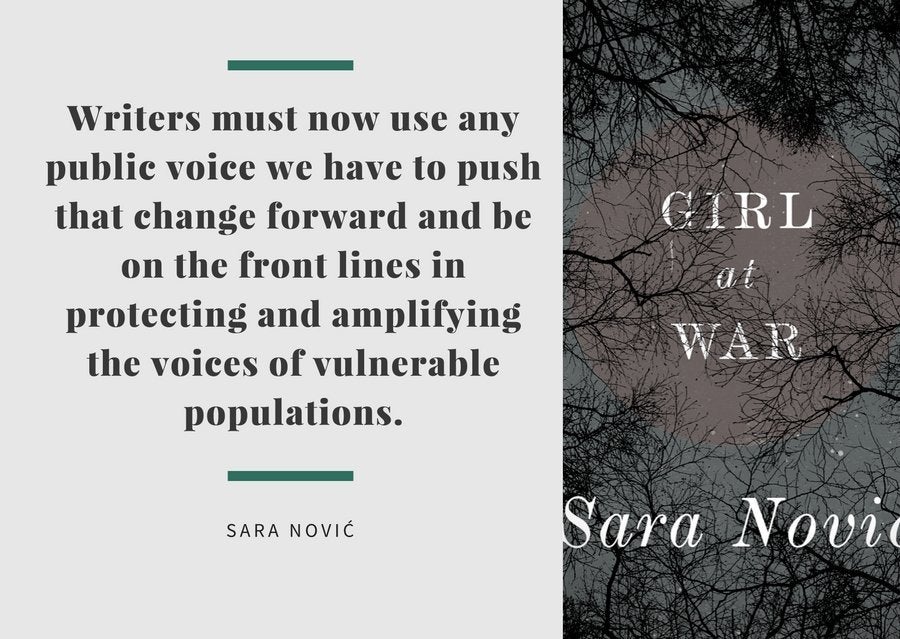 Sara Nović, author of Girl at War
"Writing is always a political act, but I expect that will become even more explicit in light of the Trump administration-to-be's well-documented animosity toward the academy and journalistic practice. Now, more than ever, writing and art is critical for its capacity to educate, transport, and forge bridges of empathy. But we are beyond business-as-usual, and art alone is not enough to induce the mass cultural and political change this country now needs. Writers must now use any public voice we have to push that change forward and be on the front lines in protecting and amplifying the voices of vulnerable populations. Elie Wiesel said it best, I think: 'Neutrality helps the oppressor, never the victim ... Sometimes we must interfere.'"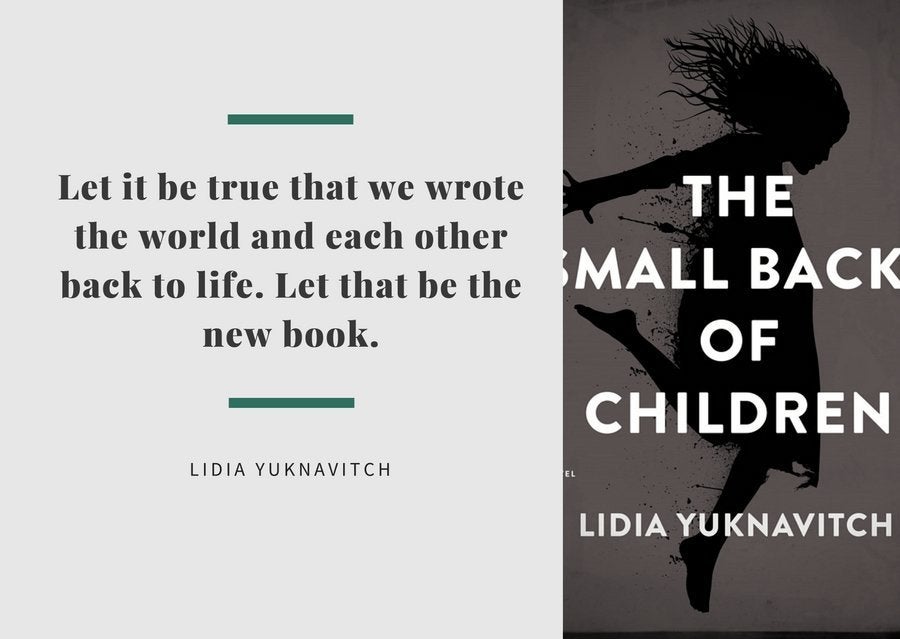 Lidia Yuknavitch, author of The Small Backs of Children
"I hope that we write ourselves back to life. I hope that we double down on what we mean when we say 'writer,' so that the definition explodes and reconstitutes around writing as a socially vital activity, not a market-driven dead zone. I hope that when we step into our writerly lives, we can only come alive by and through each other, by and through our beautiful differences. I hope that 'hope' doesn't come from looking up ever again, but from looking each other in the eyes/I's. I hope we stand up inside our various languages with ferocious love and courage and that we aim for what matters in the world, whether or not anyone remembers our names. Let it be true that we wrote the world and each other back to life. Let that be the new book.
"We didn't get here by accident. This is not a new brutality, it is a very old one, and every time it circles back around in a new form, we have to look again in the mirror and stand up differently ― writing can yet invent new forms of resistance and resilience in the face of brutality.
"And how this is our present tense calling."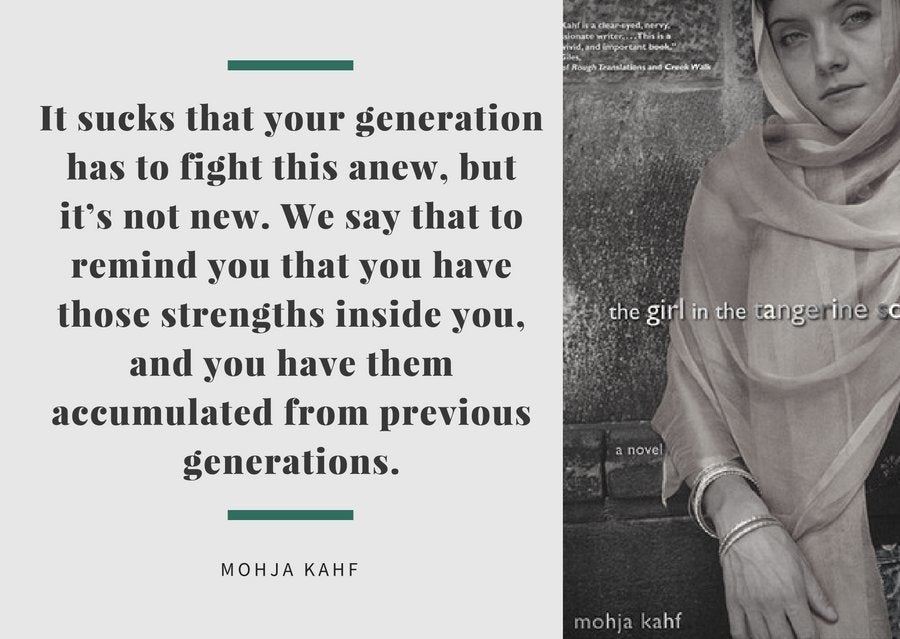 Mohja Kahf, author of The Girl in the Tangerine Scarf
"If we old fogies mention decades of racism, xenophobia, and sexism we have experienced in this country, it's not to tell young folks not to worry. It's not to diminish the bizarreness of this election or the seriousness of the dangers ahead. It's to call to mind the resources we developed and the strategies that produced bits of success, and to remember that we're stronger now with that knowledge. It sucks that your generation has to fight this anew, but it's not new. We say that to remind you that you have those strengths inside you, and you have them accumulated from previous generations. We fought it before with what felt like fewer resources, and look at all the resources you ― we ― have for the path now. You amaze me with your cutting edge tools for this work, your insta-snappa-whatcha ways of organizing. Your vision leaves me breathless. Heave to. We can do this."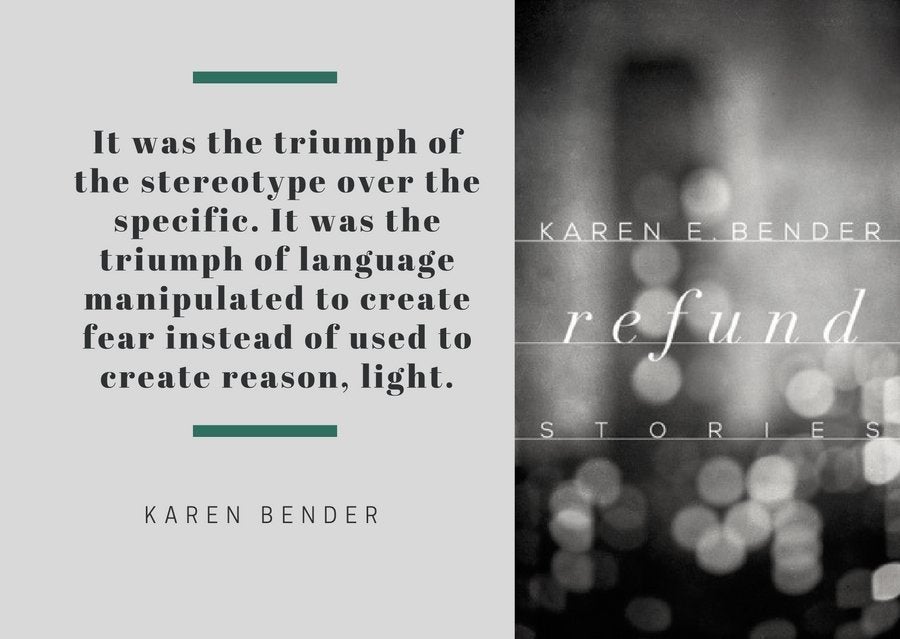 Karen Bender, author of Refund
"I was up all night on Tuesday, trembling with sorrow at the ignorance of this country, and wondering what to tell my Hollins students, who had asked me last week, "Is every election like this?" And how they were, a group of young, very bright, impassioned women, terrified of Trump. And I told them this: This is when you need to write. This election was, I believe, a profound failure of empathy. It was the triumph of the stereotype over the specific. It was the triumph of language manipulated to create fear instead of used to create reason, light. I told them to write. They must express themselves, create their poems, stories, essays, that will reveal their essential humanness to a world that needs to see it. For now is when we need the precision of language, the power of story, to show others who don't want to see or believe it, that everyone is human. That everyone deserves a chance for the pursuit of happiness, for love. And that is what I will believe, every day."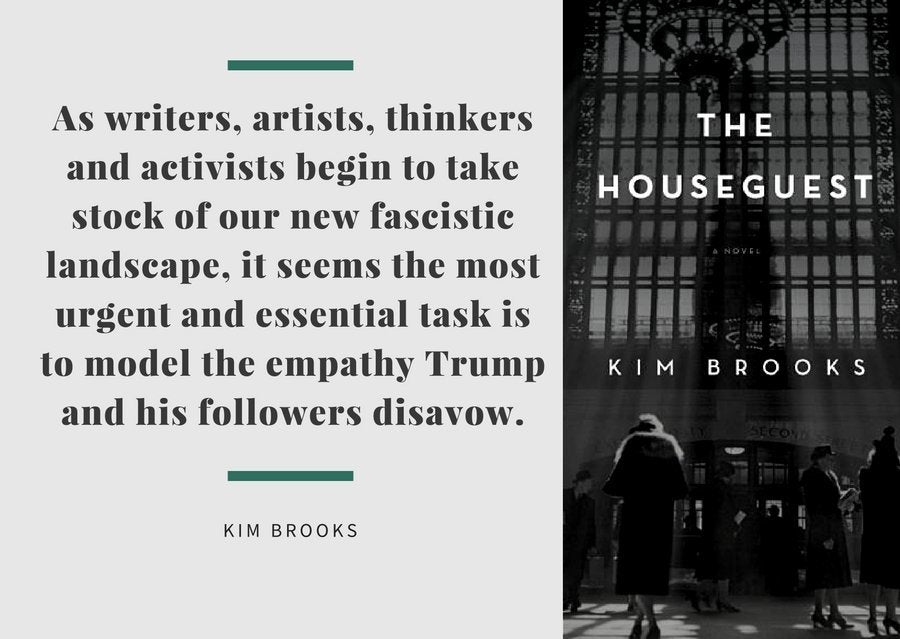 Kim Brooks, author of The Houseguest
"In anxious times ― September 11, the beginning of the Iraq War, nearly all of 2016 ― my go-to source of solace has been Hannah Arendt. As witness to and chronicler of the 20th century's worst atrocities, her voice is both one of warning and of insight. She spoke with a moral gravity that I find immensely reassuring in ways that sometimes border on mystical and can offer guidance to writers in dark times.
"Take, for example the conclusions from her report on the banality of evil. Of Adolf Eichmann, she wrote that 'he was genuinely incapable of uttering a single sentence that was not a cliché ... The longer one listened to him, the more obvious it became that his inability to speak was closely connected with an inability to think, namely to think from the standpoint of somebody else.'
"And later, she argues that the lesson of stories of resistance to Nazi atrocities is that 'under conditions of terror, most people will comply but some people will not ... and no more is required ... for this planet to remain a place fit for human habitation.' As writers, artists, thinkers and activists begin to take stock of our new fascistic landscape, it seems the most urgent and essential task is to model the empathy Trump and his followers disavow, to resist convenient and self-serving cliches of cheap rhetoric, to refuse to comply with or keep silent about policies that undermine our essential values and beliefs, to witness, to stay awake."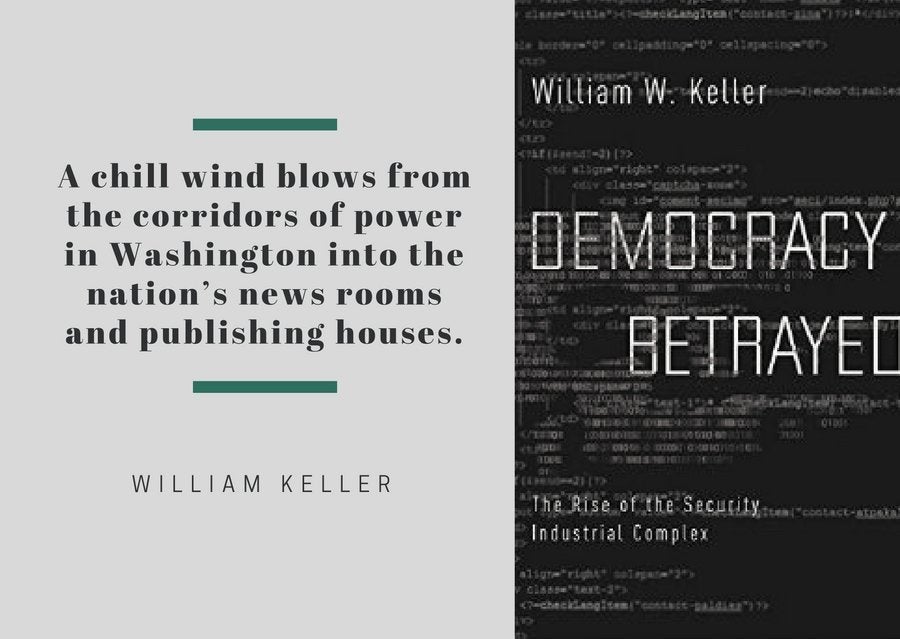 William Keller, author of Democracy Betrayed: The Rise of the Surveillance Security State
"When Trump is president the public will know even less than it does today about national security and government surveillance. Obama was bad enough. He ordered hundreds of top secret drone assassinations and condoned all kinds of covert intelligence activity. Those who tried to write about it found themselves under aggressive legal attack. Just ask James Risen, who lived under the threat of imprisonment for seven years. Trump will be much worse.
"For starters, he won't enforce the Freedom of Information Act. When it comes to classified materials, he doesn't care about the truth. He transformed FBI Director Comey's bungling attempt to influence the election into a torrent of unsubstantiated accusations about Clinton's 'criminal' email account, and threatened to 'lock her up.' Life as a national security writer is about to get rough. The Trump Justice Department is very likely to prosecute anyone who writes critically about security, specifically, anyone who reveals classified or classifiable information from confidential sources. And if Rudy Giuliani — who still hopes to haul Hillary Clinton before a grand jury — succeeds in his campaign for attorney general, national security writers will have to batten down the hatches and pull their punches. A chill wind blows from the corridors of power in Washington into the nation's news rooms and publishing houses."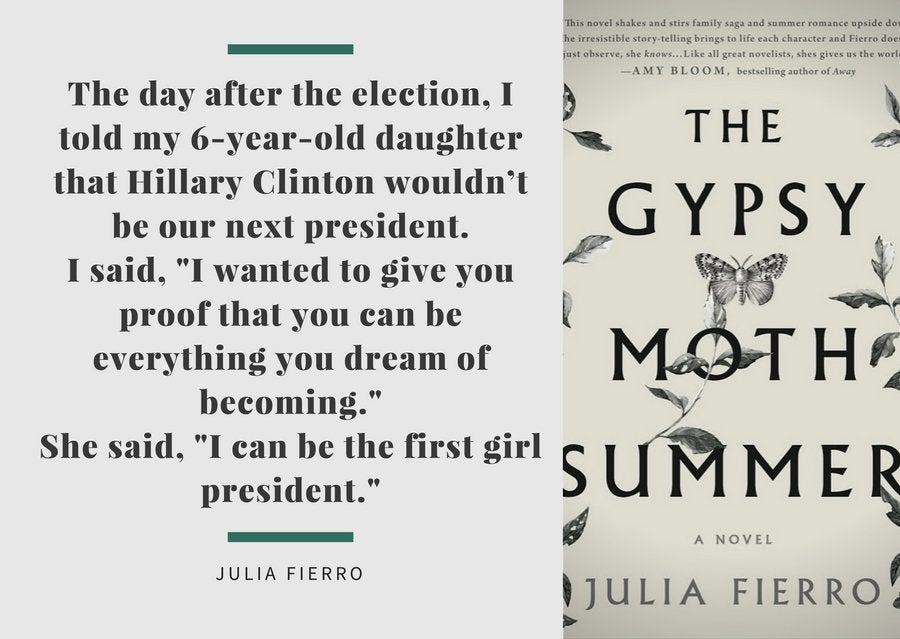 Julia Fierro, author of The Gypsy Moth Summer
"I dedicated my vote to my grandmother Giulia Citarella Fierro, my namesake, who never had the privilege of voting — not in her mother country of Italy, nor in her adopted country of America. It is for the Giulias of all ages that I write. The young girl at the head of her country classroom, recommended for secondary school but too poor to attend. I write for young mother Giulia as well, who set aside her hoe and scythe, her sewing, her seven children, her wooden spoon, to help illiterate fellow villagers by reading their letters aloud.
"Giulia died 35 years ago but I've felt her presence always, through the fantastical stories my father told. Mammarella, he claimed, was the only villager, during weeks of Allied bombing in the liberation, to slip out of the cave where my father, six, and the rest of their village hid for two weeks. Mammarella walked alone into the dark night and returned with sacks of potatoes back so they wouldn't starve.
"Mammarella, my father swears, was so forte that, of all the mothers in that cave, only her breasts flowed milk. 'She fed all the babies,' my father says, and oh how I want to believe his magical tale, and that I came from such a woman.
"I've spent my life in awe of my privilege, which allows me not only to write but to take my thoughts and dreams seriously. There is a great chasm between my life experience and my father's, and the leap between mine and Giulia's is incomprehensible. Giulia, whose fourth child died from a cut on her foot which one dose of penicillin (or, simply, a pair of shoes) would've cured. Giulia, terminating her own pregnancies — there was barely enough food to keep six children alive. Giulia, whose forte made my father a feminist, a development that, perhaps more than anything else, allowed me to become a writer.
"The day after the election, I told my six-year-old daughter that Hillary Clinton wouldn't be our next president.
"I said, 'I wanted to give you proof that you can be everything you dream of becoming.'
"She said, 'I can be the first girl president.'
"The 'proof' had been for me. And Giulia. For girls in a world, whether that be 1920s Southern Italy or 1980s America, where a woman president was unfathomable and expressing your thoughts and feelings felt like a revolution.
"My daughter doesn't need proof. She is the proof."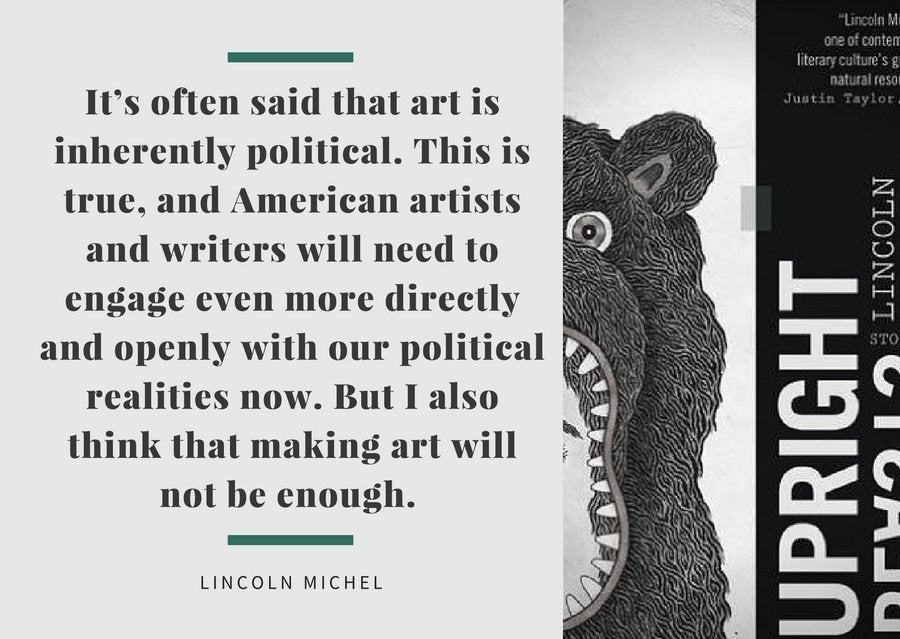 Lincoln Michel, author of Upright Beasts
"It's hard not view this election — not just the final result, but the campaigns and coverage for what has felt like a never-ending season of madness — as a rejection of the values art is supposed to stand for: truth over lies, empathy over bigotry, beauty over ugliness. Even more so, it feels like our institutions are crumbling before our eyes and each day brings a new absurdity or indignity. As I type this, Trump has just announced Jeff Sessions, a man who was considered so racist he was rejected as a federal judge and who called civil rights groups 'un-american,' will be appointed Attorney General.
"What does it mean for writing and art? At the very least, it feels like the artistic landscape has changed in an instant. So much of introspective autofiction or quiet whimsy that had been praised as the important works of our time feels, to me at least, instantly dated. The rise of dystopian and post-apocalyptic fiction across literature, film, and television now feels far more prophetic than escapist.
"It's often said that art is inherently political. This is true, and American artists and writers will need to engage even more directly and openly with our political realities now. But I also think that making art will not be enough. American artists — especially straight white artists — have often been far more squeamish about engaging in politics than their counterparts around the world. If we want to fight for the values we believe in, that will have to change. We'll need to be loud, we'll need to be amplifying the voices under attack, we'll need to be organizing, we'll need to be in the streets."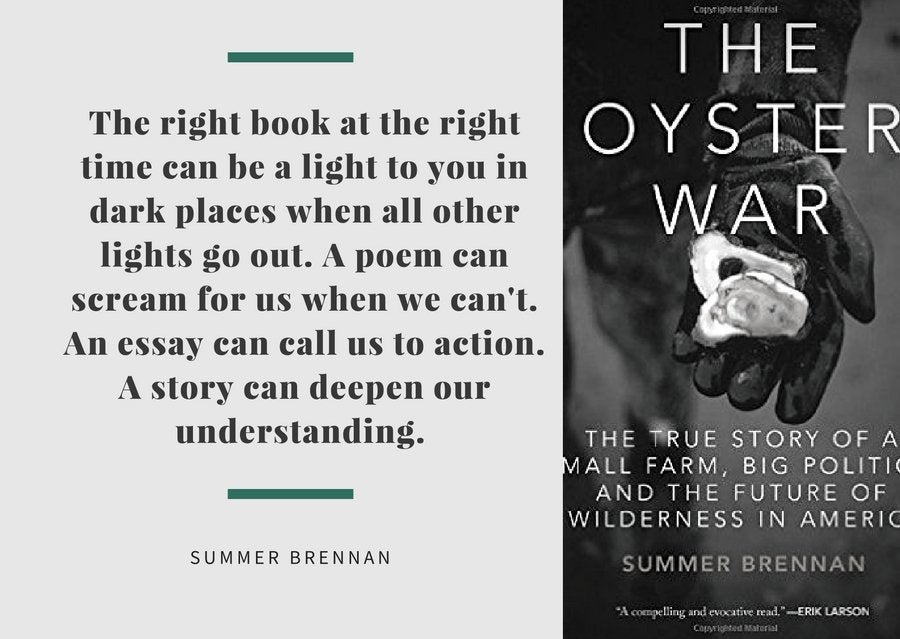 Summer Brennan, author of The Oyster War
"I've said before that the right book at the right time can be a light to you in dark places when all other lights go out. A poem can scream for us when we can't. An essay can call us to action. A story can deepen our understanding. Democracy only works if its people are informed. For those writing truthfully about what happens in the country under a Trump presidency, it will be important to be vigilant about accuracy. Don't exaggerate. Check facts and sources. To quote one of my favorite writers, Rebecca Solnit, accuracy equals respect, and it does, for reader and subject alike. Consider the impact of what you choose to shed light on. A writer is a good thing to be in dark times."
Related
Before You Go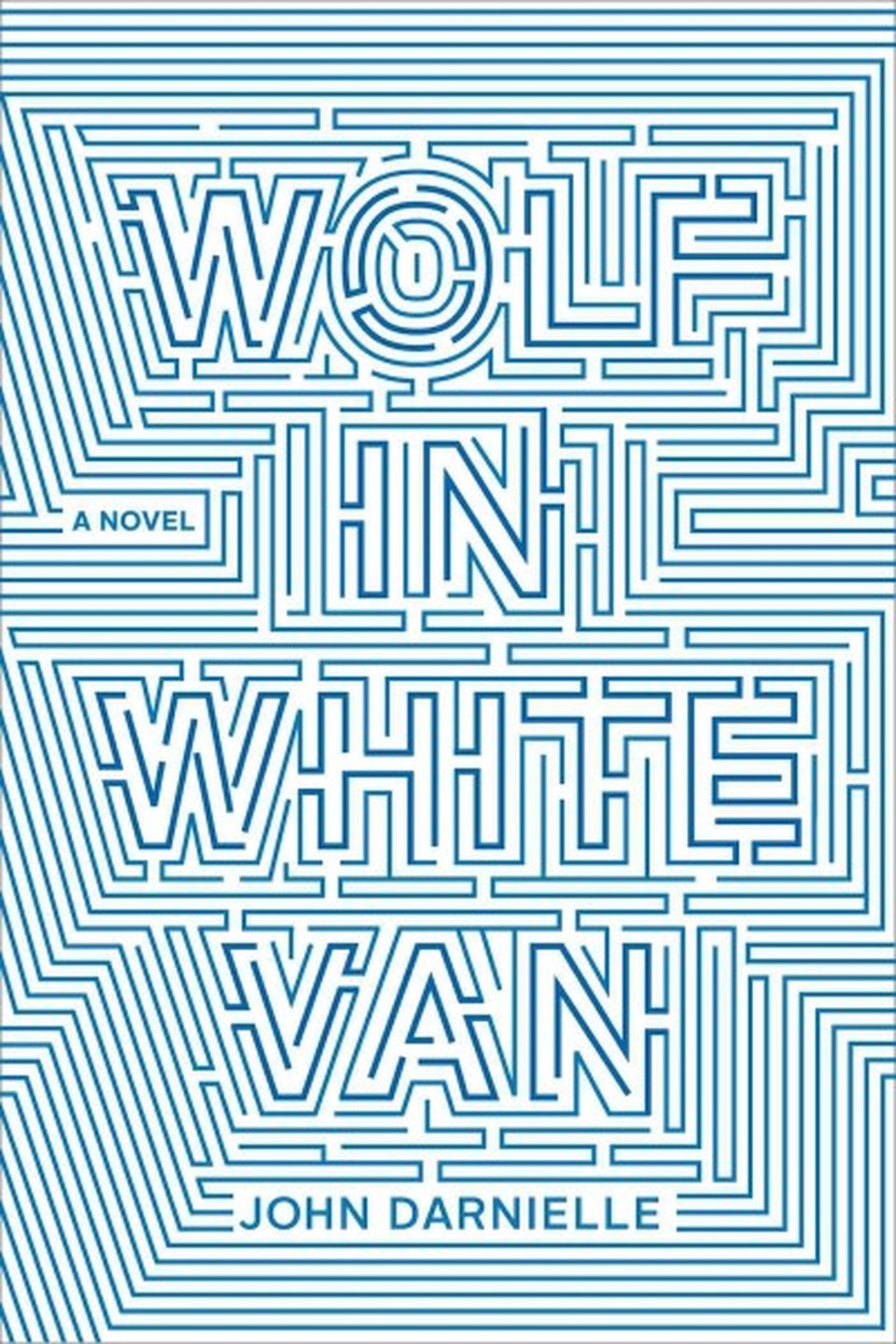 11 Great Debut Novels
Popular in the Community