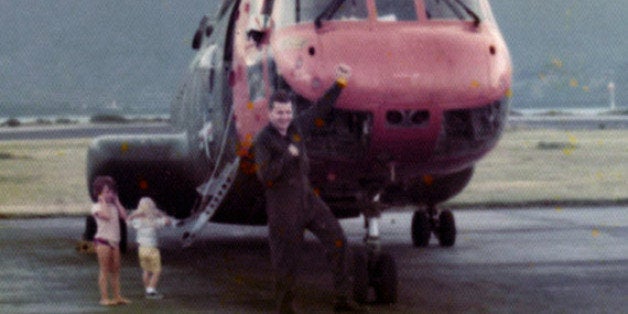 I am the oldest daughter of a United States Marine. Born in the Pink Doctor Building during the final years of a Cold War conflict we did not win, I learned to walk on Honolulu's sandy beaches, waving to the improbable sky hippopotamus that hovered over the sea behind my base house, its tandem rotors thumping rhythms I felt in my bones, its lights flashing red and green, port and starboard, my father's way of signaling his love to my mother and me as we collected blue glass balls that washed up on our beach. The glass balls, my father said, once floated fishing nets in far-away Japan.
My father, USMC Captain Theodore Thomas Long, Jr., piloted CH-46 Sea Knights during the final gasps of the Vietnam War. He earned his nickname, "Machine Gun," when he asked his CO to transfer him from an assault squadron to a unit that flew medical rescue missions. Anybody who knew my father knows he could not have flown a gunship. He was not that kind of guy -- he was the kind of guy who wept every time he read the ending of A Tale of Two Cities, who sang "When You Walk through a Storm" so clear and sweet it gave you goose bumps.
My father joined the ROTC in college, where he majored in Political Science. Dad started his thesis with the intention of defending the Vietnam War and the United States' role in it. Upon researching the subject, he concluded that the war was indefensible. Then he graduated and went to fly helicopters in Vietnam anyway, because that's what you do when you love your country: you support it, right or wrong. And my Dad, the fatherless liberal Democrat Mormon boy from Utah, loved America.
Here is what it means to be the daughter of a United States Marine who served in Vietnam. Your first word is "jet" ("No, helicopter! Helicopter!" my Dad would say). You belt out, "From the halls of Montezuma to the shores of Tripoli" while the other kids are singing "Twinkle, Twinkle, Little Star." You are never, ever allowed to say the word "Army." When you forget to do your chores, your Dad yells, "Drop and give me 20," and you do. On Sundays, the only movies you can watch are the following: Patton, The Great Escape, Victory at Sea, and Chariots of Fire. But mostly Patton. You and your siblings can reenact the entire film.
In sixth grade, on your dad's advice, you read The Iliad, holding your breath: "Sing, goddess, the wrath of Achilles." In high school, you have your first crush on Lawrence of Arabia and begin to contemplate the oxymoronic problem of heroism in the Modern Age. You learn what the word ambiguous means. You learn that things are not black and white. You learn to love America anyway.
In 1991, when you are home on break from college, driving with your dad, who has just been diagnosed with acute myelogenous leukemia (a war he will not win), you find your way blocked by barricades, a parade with tanks and ticker tape to honor heroes of the Gulf War. Your Dad starts to cry. "They spit on me," he says. "When I came home, they spit on me."
Here is what it means to be the daughter of a United States Marine who served in Vietnam. When your father dies at age 50, they bury him near Hill Air Force Base, in the shadow of mountains, beneath the flight path. A bugler plays "Taps." The guns salute. They hand your mom a folded flag. You don't know whether the cancer that killed him was part of a cluster that afflicted Vietnam pilots, or whether it was because he was born in Reno, Nevada in 1944, or whether it was just one of those things.
You love America anyway. Dulce et decorum est pro patria mori.
REAL LIFE. REAL NEWS. REAL VOICES.
Help us tell more of the stories that matter from voices that too often remain unheard.