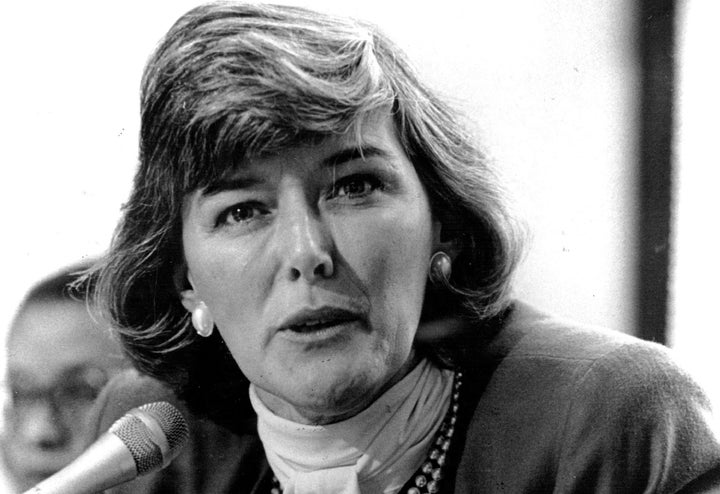 If it wasn't for the persistence of Schroeder and a handful of her fellow female colleagues, Hill may never have been allowed to tell her story directly to the committee. On October 9, 1991, Schroeder and five other Congresswomen were photographed charging up the stairs of the U.S. Senate, to confront their male Democratic colleagues. The image was published in the New York Times -- and it is a powerful one. (Head here to see it.) This event was also portrayed in a scene during HBO's "Confirmation," which aired Saturday April 16. 
All these progressive men on this panel are sitting there sucking their thumbs! I mean, they're in a fetal position!

Pat Schroeder
Late '91 would also come to be seen as a turning point for women's representation in government. The next election year, 1992, was dubbed the "Year of the Woman." Four more women were elected to the Senate and the percentage of women in the House rose above 10 percent for the first time.
In advance of "Confirmation," The Huffington Post reached out to Schroeder, who retired from Congress in 1997. She spoke candidly about what it was like to challenge her fellow (male) Democrats, her prior experiences with Thomas, and why it's so damn important to have women represented in the U.S. government. 
You were one of the Congresswomen who was really vocal and pushed for the Senate Judiciary Committee to allow Anita Hill to testify in 1991. Can you talk a bit about what that was like?
We were trying to get through to the Senators to say, "What is going on? Why aren't you going to let this woman testify?" They really weren't paying much attention. We had organized a group of us [women in the House] to give one-minute speeches at the beginning of the session about it in the House. And then we said, "You know what? It's Wednesday and the Senate Democrats meet for lunch, so lets just walk over there and go in and talk to them about it, face to face."
So, we went over there and knocked on the door. Senator Mitchell, who was then the Senate Majority Leader, came and said, "Oh, we can't let strangers in here." And we kind of lost it. We said, "Strangers, what do you mean? We're your colleagues on the other side." And then we said, "There's all this media behind us, should we go tell them?" He was quick enough to know that was not a good thing, so he said, "Come back this afternoon to my office and talk to me." So we made an appointment, we all went back and talked to him, and he in the interim had gotten a hold of Joe Biden, who was then Chair of Judiciary. And Biden had told him that he had promised Jack Danforth, the senator from Missouri, in the gym, that the hearings would be quick and they'd move right along. [Laughs.]
We were like, "Really? These kind of deals are made in the gym? Well isn't that nice." Meanwhile, the world was out here saying, "What is going on?"
So what transpired then was this big compromise that they would let Anita Hill testify, but they put her on early in the morning, and the other woman [Angela Wright] that had come forward wasn't allowed to testify. And they ramrodded [Thomas' nomination] through. I think if the vote had been a couple hours later, I think we would have totally won it, because it was very very close.
There's a very famous photo of you, Barbara Boxer, Nita Lowey, Eleanor Holmes Norton, Jolene Unsoeld and Patsy Mink from October '91. You're all marching up the stairs to the Senate. How did that photo come about?
So in the House, the press are up on the balcony. We said, well, gee we're gonna walk over to the Senate. And the press followed us over!
In a way, it was one of those incredible change moments for an awful lot of women who sat their and said, "Wait a minute. All these progressive men on this panel are sitting there sucking their thumbs! I mean, they're in a fetal position! They aren't able to deal at all!" And one of the best things we got out of it was two women senators out of California. And we got a lot of women elected that year. I think we got up to a whole 10 percent [women in the House], which was just incredible.
I remember as they were swearing [the women representatives] in, an old guy came up to me and said, "Well I hope you're happy. This place looks like a shopping mall." [And I thought], "Where do you shop?" So, it was a testy time.
Obviously, Hill's testimony didn't stop Thomas from being confirmed, but do you feel that it shifted the conversation in the country around sexual harassment?
Absolutely. Seeing people who had been the lions of the Civil Rights movement, like [former Massachusetts senator] Ted Kennedy and [former Illinois senator] Paul Simon, just melt down on this. And it's kind of like, "Excuse me. Don't we count?"
The other thing, to be honest, is that [former Congresswoman from New York] Geraldine Ferraro and [former Congresswoman from Ohio] Mary Rose Oakar and I each had subcommittees. And we had put our three committees together and had a series of hearings when Clarence Thomas was head of the Equal Employment Opportunity Commission, the EEOC. [Editor's note: Thomas was head of the EEOC from 1982 to 1990, and Anita Hill worked under him from 1982 to 1983.]
And of course Thomas came in and was just so arrogant. He was like, "Equal pay? That's the stupidest thing I ever heard of," and on and on and on.
He was always so dismissive of us, and the hearings were just awful. So we didn't like him. A group of us had had a lot of experience with him, and that was probably one of the reasons we took Hill's testimony very seriously. Because he just came in and treated us like we were snotty little kids.
So, you had the feeling that he didn't have the greatest attitude towards women.
Absolutely. [Laughs.] Yes.
Do you feel the Thomas confirmation hearings brought a greater awareness to the lack of gender and racial diversity in the Senate?
Absolutely. I remember when Barbara Mikulski ran the first time for the Senate [in 1986], sitting down by her on the floor one day, and she just looked exhausted. And she said, "I am so tired of women saying to me, 'Why are you running for the Senate? We have a good man running.'" And they did, they had a progressive male running. And I think for a lot of women, that was the attitude. Women would only run if there was absolutely nobody else to do it. And this whole idea that you would run against a "good man." How could you do that? We only run against "bad guys"! Well, she [Mikulski] won anyway, thank goodness.
But I think all of a sudden, during Clarence Thomas' confirmation hearings, women saw these guys that they had all defined as "good men" not looking so good when it came to women's issues. This is the reason we want women in Congress.
I mean, even progressive men can be sexists.
Yes, they caaaaan. [In a sing-song voice]
Looking back, how do you think things have changed since 1991? Have we made progress?
Well, I think we still have a lot further to go. I don't know, I don't have a meter to measure it. One of the things I found when I was in Congress was that when I would talk about sexism, young women would say, "Oh my mom talks about that," or "My grandma talks about that, but life is different now." And I think Title IX -- thank goodness -- has done so much in opening education, that a lot of these young women think everything's just fine. And then they'd get to be about 25 to 30, and they'd show up at my office and say, "You know what happened to me?" [Laughs wryly.] "Yeah, well, welcome to the club." Title IX doesn't go beyond school, and unfortunately, the world hasn't changed all that much.
REAL LIFE. REAL NEWS. REAL VOICES.
Help us tell more of the stories that matter from voices that too often remain unheard.
BEFORE YOU GO
PHOTO GALLERY
Women In Congress