 Cecilia Singley is one of those people about whom I will always be able to say "I knew her before she was famous." I met her three years ago when she was dating my stepson, she came on a family vacation to my favorite place in the world, the island of Tinos. It was a delight to get to know her -- she is gorgeous, a straight-A student, half French and one of the funniest people I know. Today, she is a model. I think she might actually be the next Gisele... I have always wondered about what it is like to be a model, is it as glamorous as I imagine? Do models really live on lettuce and vodka? Her answers to my questions were quite enlightening...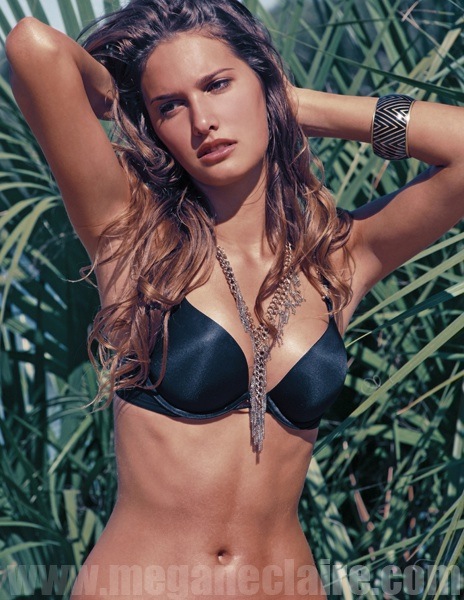 The photo that started it all by Megan Claire.
AP: How did you decide to get into modeling?
CS: Modeling found me! I had some photos done with one of New Orleans' most talented photographers, Megane Claire. Her website was discovered by Ford, who asked her to shoot their girls. She asked them to take a look at the pictures she had just taken of me, and I got a call and a contract that very same day. I was in New Orleans volunteering at a women's shelter when I got the call about being a Ford model, there was such a disconnect between what I was witnessing and the opportunity that fell on my lap, it was odd. I was scared but ecstatic.
AP: Did you model as a child?
CS: No. People would always say "you will be a model" or "you will be an actress," I think partly because of my physique, and partly because I have always been so animated, never shy. I remember once when I was 9 years old and in an Abercombie and they were playing music and I started dancing around, one of their employees said I should model for them. As a kid, that happened a few times, but school was always most important. I never wanted to leave school, so I told myself if modeling was meant to be, it would find me. And it did!
AP:What do your parents think of your career choice?
CS: They are very supportive. I have my own income and am traveling the world... Who wouldn't want their child to take advantage of that opportunity? They also trust me. There is a lot of darkness that surrounds this job, but they know that I have a strong head on my shoulder. I also have travelled a lot when I was a child, so they knew I was going to be ok. Actually, Dad begged me not to go to college right after high school. I had been such a hard worker, dedicated to school my whole life, and he thought I should take some time off to figure out what I wanted to do with my life. He was right. I am seeing this as an opportunity to learn more about myself.
AP: Do you see yourself being a model forever?
CS: I am not thinking about this as a career. It is not stimulating enough for me to do for the rest of my life. It comes with a lot of perks, and this is a great way to learn about life, but I am thinking this will be a two or three year thing for me. Of course, this job can change overnight: you can go from being nobody to somebody in a week. If that happens to me, then who knows... but I do have going back to school in my plan.
AP: Tell me about the lifestyle.
CS: I sleep on someone's couch, I am not really in one place for more than 3 months (in the year I have been doing this, I spent 3 months in Miami, 3 months in Paris, and I have now been in NYC for about 5). I am staying with a family friend -- she is like an aunt, she has been in our family forever. I didn't want to sign a lease that I will leave in two months. There is such a thing as "model apartments," which are managed by the agencies, like group corporate housing for 5 or 6 models together, but that never appealed to me. The hardest thing about the lifestyle is that I don't know what I will be doing tomorrow. I am such a planner, but I can't plan, because usually the day's schedule is announced to me the morning of.
The other really hard thing is that the lifestyle can be excruciatingly lonely, because people come and go so fast and it is hard to build relationships. It's not like you go to work and see the same people every day... When I got my first contract, I was in a very serious relationship with someone who did not approve of my career choice; he thought I was being exploited for my looks. Some guys have a really hard time letting their girlfriends be in front of the camera... I dated someone after that, but then I had to move to Paris, so it was long distance thing, and that didn't work out either. I am really trying my best to stay single... it has been hard, I am a lover, I fall in love quickly!
On the bright side, I am learning so much more than I would be in school. I am learning about real life, and am meeting people that have done things I would not even have imagined possible. I'm not meeting doctors and lawyers...
There are also some amazing perks, such as being invited to the Cannes Film Festival, on ski trips, never really having to pay for a meal. I do love those perks even if sometimes I feel guilty about taking advantage of them.
AP: Do you eat lettuce and exercise like crazy?
CS: I was raised to eat everything. My Mom is French, so there was always lots of fruit, bread and salad on the table. I was taught to include all of the food groups. I eat pretty much whatever I want, although I try not to eat massive amounts of anything. But honestly, I am super low maintenance and I can't say I have ever dieted. It also helps that I enjoy eating healthy food. I do a lot of underwear and bathing suit work, so I need to have some meat on me (relatively!). In terms of exercise, again, I am very low-maintenance. I walk everywhere. I love walking around New York City. I go to castings an hour early so that I can walk there instead of taking a taxi. It saves money, it is great exercise and I get to learn about the place I live in. Overall, I have to say that food and exercise are not talked about a lot between the models...
AP: Any beauty or fashion tips?
CS: In terms of beauty, I am super low maintenance. I try to not wear makeup unless I am working because they put so much makeup during photoshoots that I feel that I need to give my skin a break. In terms of clothing, I live out of a suitcase a lot... I wear a lot of simple clothing like white t-shirts, and a lot of black because it is slimming, and it goes from day to night easily (for example black jeans with ballet flats during the day and with high heels for evening). My typical outfit will be black pants, a tank top with a sweater on top and a leather jacket. I have a pair of heels in my bag at all times, which I need for castings and to go out at night. Right now, my favorite heels are my Dolce Vitas, they look good with everything. I just bought a second pair of the same heels because I love them so much!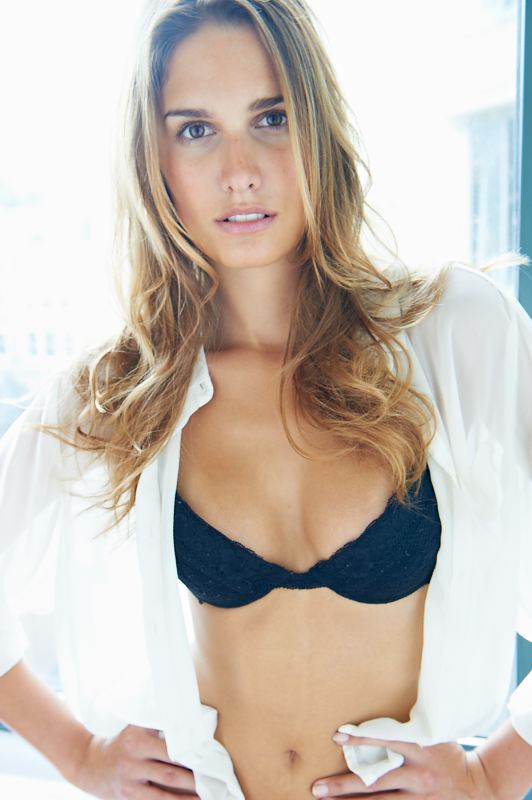 No hair or makeup, photo by Michael Nafzinger.
AP: Tell me about your current agency, One Management, and about the work side of things.
CS: I am on the Women's Board at One Management. There are three people on that board -- the director and two bookers. They all work to book me for shows and photoshoots. I love One because they are a smaller agency, they only have 60 girls in New York City, and really only about 30 are in town at the same time. I am with Ford in Miami and Chicago, and also still have a contract with my Parisian agency.
AP: Do you do photoshoots and runway shows?
CS: Shows really only happen during a very specific part of the year -- i.e. fashion week. I much prefer photoshoots, I really am not a runway girl. I have curves, and I look different than a lot of the typical runway girls, so I don't get booked for those that often. I did do a Chloe runway show in Miami, as well as a couple bathing suit shows... Runway shows actually don't pay as well, if at all. A lot of times, you get paid in trade, which means I get to keep some clothes. But that doesn't really help in terms of paying rent! My father likens runway shows to being a walking coat hanger... I much prefer the photoshoots, which can pay between $2,000 and $3,000 for an 8-hour day.
AP: Where will you be in 6 months?
CS: Who knows! I really have fallen in love with New York City, and I just recently started working with One Management, so I would like to stay put for a few more months. But part of me also is dreaming about going back to Paris. From a work perspective, that was the most successful city for me, I think because in Paris I am different-looking. I am tanned and blond and I have curves... Often I would almost leave castings because I felt so out of place, everyone was so fair, stick thin and brunette! I think personality has also a lot to do with it. Europeans tend to be reserved, whereas I am this funny New Orleanian that happens to speak French. I laugh a lot during castings, I have fun, I crack myself up and I think the French photographers really responded to that.
Related