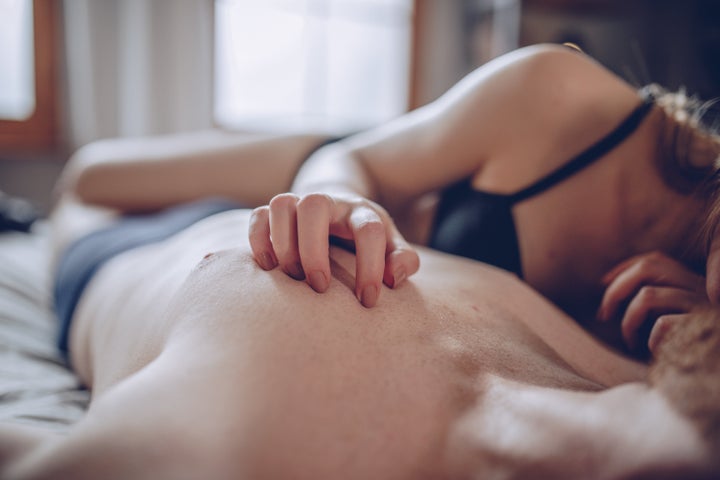 Kendra Holliday is in the business of helping people have better sex, one sexual hangup at a time.
For eight years, Holliday has worked as a sex surrogate in St. Louis, Missouri. What, exactly, is a sex surrogate, you're no doubt wondering?
"A sex surrogate, also called a surrogate partner, is a person who helps others overcome social and sexual issues through hands-on intimacy," Holliday told HuffPost. "It is intimate. It is therapeutic and healing. It is not entertainment."
Clients seek out sex surrogates when they need help with sexual dysfunctions or want to gain more experience. The surrogate usually forms a treatment plan with a sex therapist, who has separate talk therapy sessions with the client. The surrogate engages with the client in a physical, intimate way to build their sexual confidence and make them more comfortable with emotional and physical intimacy, according to the nonprofit International Professional Surrogates Association. (Holliday herself is not certified, though she often works with licensed sex therapists throughout the country.)
"I want people to know they should consider me more like a non-licensed therapist than an escort," she told HuffPost.
The legal status of surrogate partners is undefined in most of the United States and most countries around the world, according to the IPSA. This means that there are generally no laws regulating the profession.
Holliday has worked with everyone from a post-op trans man who wanted to learn how to give and receive pleasure, to 30-something virgins looking to test the waters.
"I find my work extremely rewarding," she said. "While I can't solve everything that has built up the past 20 or 30 years in three or four sessions, I can certainly provide the client with helpful answers and tools to get them on the right path."
Below, Holliday tells us more about her career, how her partner of 10 years feels about her work and what she hopes her clients take away from their sessions.
Take it from the top. What does your first session with a client look like?
Each new client starts with a talking consult. I gather history, and we build rapport. The first intimacy session is an introduction to each other's bodies ― it's building a layer of physical comfort and relaxation. I mainly work at my home office, but I do travel.
The first session is focused on the client and is not about performance or orgasm, but about pleasure and being present. We take turns doing body show and tell, and I conduct body mapping on the client.
Body show and tell and body mapping is done with the lights on. We talk about each other's bodies from head to toe, from hair loss to grey hair, to talking about scars and tattoos and all the things that remind us that the past is real. We discover unexpected erogenous zones, learn about acceptance and showcase our genitals. Ninety percent of the men I work with have concerns about their penis ― functioning, size. I always ask them, "Do you like it? Does it give you pleasure? Yes? See, there's no need to turn a 'good' thing into a 'bad' thing!"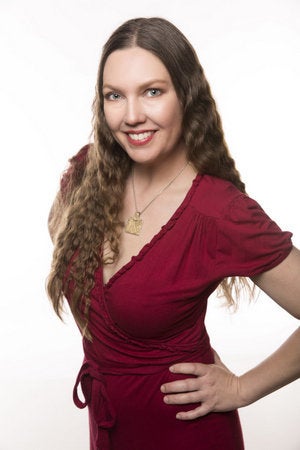 In subsequent sessions, do you and your clients get more intimate and have sex?
We start by laying a foundation of mental intimacy, then physical intimacy. It's important not to rush the process and allow time to focus on different areas, including goal-free sex. Real life sex should be experience and sensation-based, not performance based. I have nothing against porn ― I love it myself ― but sometimes it can convey the wrong message about that.
I usually work with a client for four to six months or four to six sessions.
Do you ever work with couples or women?
I occasionally work with women. I was able to teach a young lesbian who had serious body image issues to embrace her body and not let her anxiety and hangups hold her back from pursuing relationships. She's now been with a loving partner for two years.
I also work with transgender people, mostly trans women, but one time I worked with a trans man on how to give and receive pleasure using his surgically constructed phallus. Each client serves as a new learning experience!
I also work with couples in talking and intimacy sessions. A 20-year married couple came to me because the wife couldn't figure out how to give her husband oral sex, and it was becoming such an issue, they were considering splitting. They hired me for coaching, and I was able to work with them intimately and pinpoint the problem ― she was approaching it in a detached, mechanical style she saw in porn. I taught her how to switch up her mindset so that she was more plugged in, present and sensual in her approach, and within two sessions, their problem was solved.
Do you ever work with virgins? What's the approach you take with them?
Yes, I joke that I am a "devirginizer." I have had the honor of being dozens of mens' first sexual partner experience. It's quite refreshing to work with a blank slate and teach them things at age 35 that I wish I could have taught them when they were 18. Interestingly, some inexperienced men are complete naturals in the bedroom, they just need an opportunity to practice!
"I wanted to be a librarian growing up. I love the idea of being a knowledge broker, and here I am using my body and mind instead of books to teach people about fundamental lessons on life, liberty, and the pursuit of happiness."
What's the legal status of the work you do?
Surrogate work is a grey area in the U.S. I believe I'm the only sex surrogate in the Midwest; most are in California, on the east coast or in Florida. There are no laws protecting sex surrogates in Missouri.
What were you doing previously?
I had an office job! I switched gears and have been doing surrogate work for at least eight years.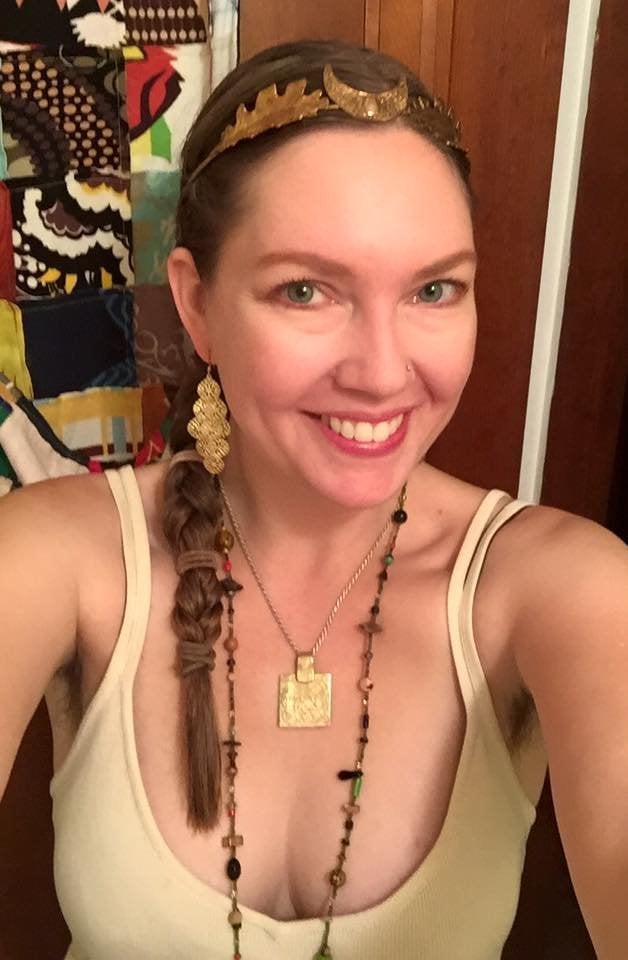 What did you want to be when you were a little kid?
I wanted to be a librarian growing up. I love the idea of being a knowledge broker, and here I am using my body and mind instead of books to teach people about fundamental lessons on life, liberty and the pursuit of happiness.
What have been some of the most enriching experiences you've had with clients?
I have a soft spot for my clients who have had limited sexual experience due to physical disability. I had a client with Muscular Dystrophy who passed away last year at age 26. He had very limited mobility. I was the only woman he had ever been with. He was told he wouldn't live past 20, but when he did, he realized he needed to learn some adult skills. So, he hired me. One time, after a session, I rested my body on top of his, and he began to weep. I asked him what he was feeling, and he said, "This is the first time I've ever felt someone else's breath and heartbeat before." He was one of the most amazing and inspirational people I have ever known.
What does your partner think of your work?
We've been in an open relationship for 10 years. He is extremely supportive of the work I do. He "gets" it and is proud of the difference I make, just as I'm proud of his career. We both share our special talents and wisdom with our community.
What, if any, impact does your work have on your sex life?
I have a very high libido, and I try to pace myself, so my work rarely interferes with my personal sex life. I always make sure my partner's needs are met, but I don't really have time to date others. Sex with my partner is quite different than sex with clients. We share a more relaxed style, different positions and don't use condoms.
What's your goal as a sex surrogate? What do you hope to provide to your clients by the end of their sessions?
Building confidence and providing constructive feedback is key. And having the ability to be hands-on can offer breakthroughs that years of talk therapy can't touch. Imagine meeting with someone weekly and they describe to you how to fix a car, compared to someone who gets right in the shop with you and shows you how to fix it together.
In my heart of hearts, I believe I am providing an invaluable service. I wish it wasn't so special and rare. My goal every time is to welcome a nervous, anxious person and have them leave relaxed, feeling good and empowered. Sex is a very big, serious deal in our society, but it can be demystified through frank communication, compassion, and playfulness.
Support HuffPost
A No-B.S. Guide To Life
Popular in the Community