"When you step out in to the arena, you challenge yourself."
"Pretty. Strong.", an Oxygen docu-series that begins airing on Oct. 6, follows the women of the Bliss as they manage full-time careers alongside playing tackle football. At a Sept. 27 tailgate celebrating the upcoming release of "Pretty. Strong.", four members of the Chicago Bliss talked to The Huffington Post about their experiences playing in such a male-dominated field.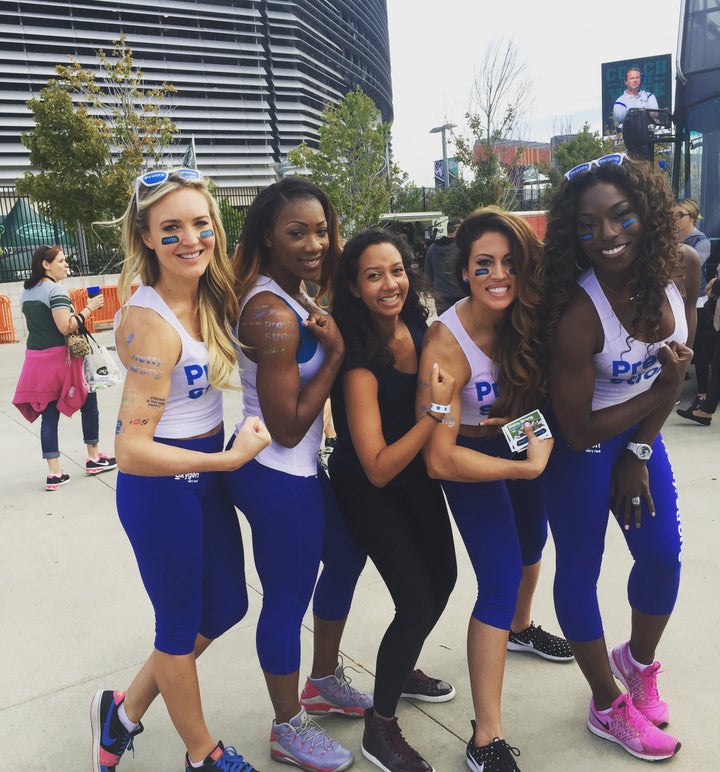 "It's very empowering," said defensive lineman Yashi Rice. "Especially in 2015, I feel unstoppable. I feel that [women] can do anything that we put our minds to."
The women, who have sports backgrounds in everything from competitive cheerleading to college basketball, all expressed excitement at being able to break down gender barriers and inspire other women to follow their athletic dreams. 
"I love the fact that you're able to go absolutely crazy, rage nuts on the field," said wide receiver Alli Alberts. "There's not really another place that a woman's allowed to do that."
"I think it's such an awesome opportunity to be able to play such an aggressive sport, and be actually, breathtakingly beautiful at the same time," said running back ChrisDell Harris. "I'm excited. It's awesome for little girls to grow up and be able to play a professional female sport."
It's hard not to take note of the LFL uniforms, which are very different from the uniforms any male athlete would be asked to wear. In a follow-up email to The Huffington Post, the players shared their thoughts on wearing the famously skimpy uniforms. All four explained that they feel confident and strong in the uniforms, but, as Fagiano put it, "We don't want the focus to be on the uniform, we want the focus to be on how hard we play the game of football!"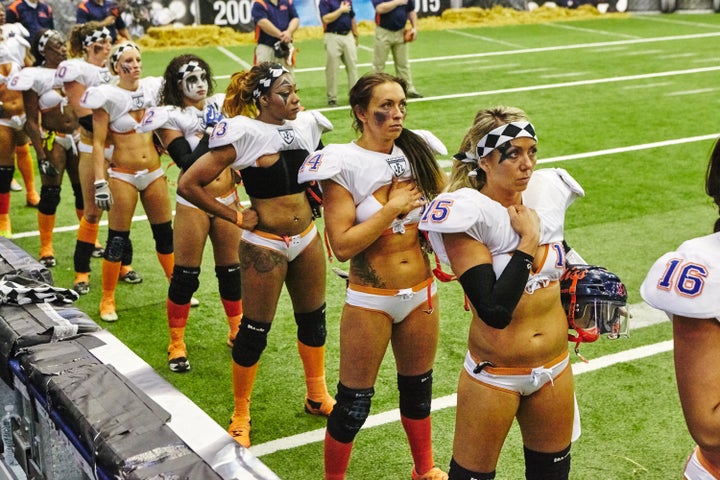 Rice said that when she is wearing the uniform, she is "embracing [her] athletic and sexy side." Alberts shared a similar opinion. 
"I actually enjoy looking good in the uniforms, and it really made me appreciate and accept my body after I started playing," Alberts said. "Now that I've played for a few years, I wouldn't mind having more of a sports bra cut on the top and a boyshort or spandex for the bottom."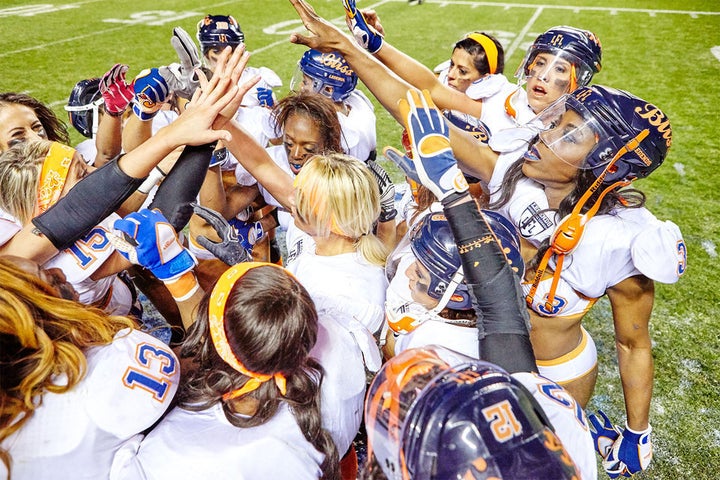 Harris told HuffPost that she was originally worried that her father wouldn't approve of the uniforms, but that he was quickly able to look past the outfits and focus on her skill in the sport. 
"After he came to my first game, it was all uphill from there," she said.  
At the end of the tailgate, the players offered advice to young girls interested in playing competitive sports.
Harris encouraged tomboys to be themselves, and Alberts urged young girls to keep playing against their male peers, because "If you can beat the boys, you'll be the best."
 "Women should never be afraid of any failure," Fagiano added. "Don't give up. Never stop."
PHOTO GALLERY
21 Photos That Showcase Women's Athleticism
Calling all HuffPost superfans!
Sign up for membership to become a founding member and help shape HuffPost's next chapter