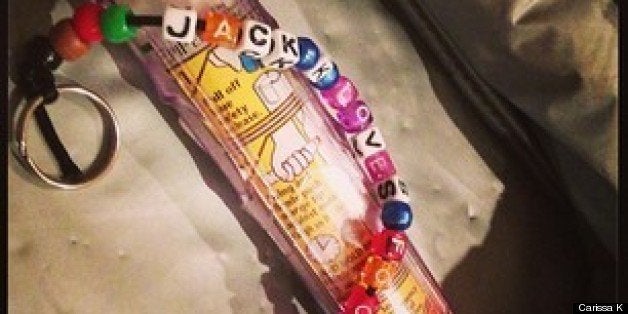 My son is a funny, kind, curious 9-year-old kid who likes to draw, swim, learn about whales and play Legos and tag with his friends... oh, and he happens to have food allergies. Let me be clear on the phrasing; he's not an allergy-kid. He's a kid with allergies. While they are very much the largest consideration during his daily life, food allergies do not define him.
In an ironic twist, if you ask him to define himself, he'll say he loves food. In his lunchbox he carries an epi-pen and a key chain that he made that says "Jack K. Loves Food." It doesn't matter to him that dairy, egg and all nuts aren't included in that food because they have never been an option for him. He doesn't miss them because he's never known any differently.
He was rushed into intestinal surgery when he was 3 days old. After a full recovery, he went into anaphylaxis when he had formula for the first time at 15 weeks old. So our household has been dairy, egg and nut free for nine years now, and as parents we've also never known any differently.
And that's what this story is about. Not curing, treating, studying, diagnosing or even living with food allergies. It's about parenting with food allergies. While my son is a child with food allergies, I on the other hand, know that I am one of those allergy-moms. The reason for the distinction is because it seems to me that kids are more accepting of food allergies than adults are.
Fortunately, my son is socially and emotionally okay with his food allergies. At this age, he seems to approach his allergies with the appropriate level of seriousness and respect, yet not be frozen in fear over them. Other kids have been supportive and matter-of-fact about his allergies and even look out for him during lunch and playdates. As we have all heard and read in various studies, allergies are on the rise with today's generation of kids. Food allergies have always been a part of their world. Many children's musicians sing about food allergies and popular cartoons have characters with allergies. In fact, thanks to Disney's Prep & Landing, our kids think Santa has a nut allergy and leave him safe cookies.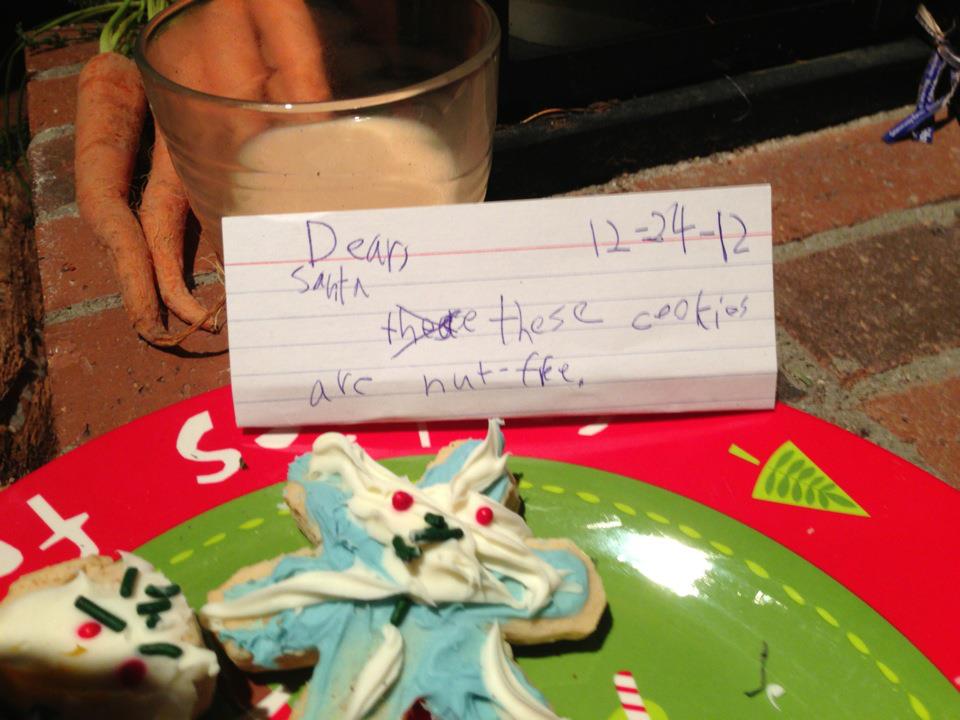 But not us adults. Food allergies are pretty new to us. Most of us never grew up with a friend or sibling with food allergies. Unfamiliarity leads to a misunderstanding and a missed tone about food allergies. So while our kids seem to get it just fine, there's a great deal of mental reconditioning and a real shift in mindset that needs to happen for us adults.
We all know that we parent best when we parent together. So I'm providing the below perspectives on parenting with food allergies so all of us can better understand what the collective we is all about and keep all of our kids -- your kids and my kids -- happy, healthy, supported, loved and safe.
1. As the parent of a child with food allergies, it makes us crazy when people make any sort of assumption about food allergies other than this one assumption -- a food allergy is a life-threatening condition that causes children to stop. breathing. immediately. It's very real... and it's very scary.
2. As the parent of a child with food allergies we want you to know that this is not a lifestyle choice. While it's admirable that some people choose to eat healthy and be aware of the ingredients in their food, we aren't standing in the grocery store aisle reading the label on everything that goes into our cart as a hobby. We're studying those ingredients to make sure there's not an obscure ingredient that could kill our children. (Did you know that caramel coloring is made out of dairy? Are you familiar with the difference between sodium lactate and potassium lactate?)
3. As the parent of a child with food allergies there is not a playdate or school activity that our child will attend without us having a discussion with the hosting parent, event chaperone or teacher first. Every event my child has ever participated in (ever!) from t-ball to school to summer camps has always been preempted with a medical conversation first. We know we're perceived as high-maintenance parents. And we feel badly about that because the level of diligence we're forced to have about the subject of food allergies may not be consistent with the level of diligence our personalities would normally reflect.
4. As the parent of a child with food allergies we have laid awake at night, wondering if we'll be able to spot the signs of our child's throat closing. We've been told that anaphylaxis can happen in less than two minutes, so not only do we wonder if we'll be able to identify this emergency, we wonder if our child's teacher, babysitter, grandparent, recess monitor, friend or coach will know when our child can't breathe.
5. As a parent of a child with food allergies we have laid awake at night, wondering if our child will ever be able to attend a keg party in college or share a random kiss. And if he does, who will carry his epi-pen?
6. Speaking of which, as the parent of a child with food allergies we leave the house remembering the basics like phone, wallets, keys -- and epi-pens. We know not to leave them in a car that is too hot or too cold and we always carry at least two, if not seven. Even with insurance, they are $25 a pop, so we treat them with the utmost respect for the year that we have them before they expire. But that's all ok, because those little devices carrying a shot of adrenaline could save our child, or at least sustain them, until the ambulance arrives.
7. As the parent of a child with food allergies, we sit outside every birthday party or sports practice while other parents leave.
8. As the parent of a child with food allergies, we balance the emotional impact of being a helicopter parent against the medical threat of having our child go into anaphylaxis when we're not around. We feel guilty and scared of both.
9. As the parent of a child with food allergies, we have never relaxed, sat back and actually enjoyed or tasted a meal in a restaurant. Never. You see, we spend those meals playing and replaying the emergency plan in our head while quietly observing our child's breathing as he enjoys his meal.
10. As the parent of a child with food allergies, we regularly attend medical appointments in big time children's hospitals where we can't help but see other patients and deeply suffering families. And upon this realization, we are humbled and grateful and reminded of just how fortunate we are that we are the parents of a child with only food allergies. While our child has a life-threatening medical condition, it is manageable. And as long as we have help from you and others in managing it, our child is alive -- and that's really something!
So yes, living with a constant threat to his life is quite a big weight for my 9-year-old son to carry on his small shoulders. And he carries that weight pretty well. But he will never carry that weight alone. As his mother I carry it, just as his father carries it. His sisters carry it and his grandparents carry it. His aunts, uncles, cousins and friends carry it. And just by reading this, you too have lightened his load. So thank you for reading. Thank you for taking a moment to try to understand. And thank you for helping to keep all of our children safe.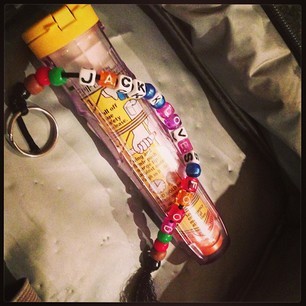 Related