As part of our Blended Family Friday series, each week we spotlight a different stepfamily to learn how they've worked to bring their two families together. Our hope is that by telling their stories, we'll bring you closer to blended family bliss in your own life!
Christine Amour-Levar is used to people giving her the side-eye when she tells them about her living arrangement. The mom of four is remarried but lives in the same apartment building as her ex-husband.
"Most people look at our setup and think, 'How bizarre. Why would anyone want to live this way, in such close proximity to an ex-husband or ex-wife?'" Amour-Levar told The Huffington Post.
"The answer is simple: It takes a village to raise a child," she said. "There is much wisdom in this old proverb and it's something we as parents have taken to heart in these formative years of our children's upbringing."
Below, Amour-Levar tells us more about her unique blended family.
Hi Christine! Want to introduce us to your family?
We are a family of six living in Singapore: There's my husband Steve, me and our four children: Yasmine (12) and Malcolm (10) from my first marriage and Louis (5) and Angeline (3) from my marriage to Steve.

All four children live in our home while my ex-husband, Mike, still lives a few floors above us. The older children consider their father's flat almost an extension of our home and zoom up the elevator several times a day to see him when he's in town. (He travels often for work.) When it's his weekend, there aren't many changes to our kids' daily schedules. My two younger children often accompany the older two to visit their "uncle" upstairs. They feel equally at home there and occasionally they all have dinner together. In their eyes, he is an important member of our family.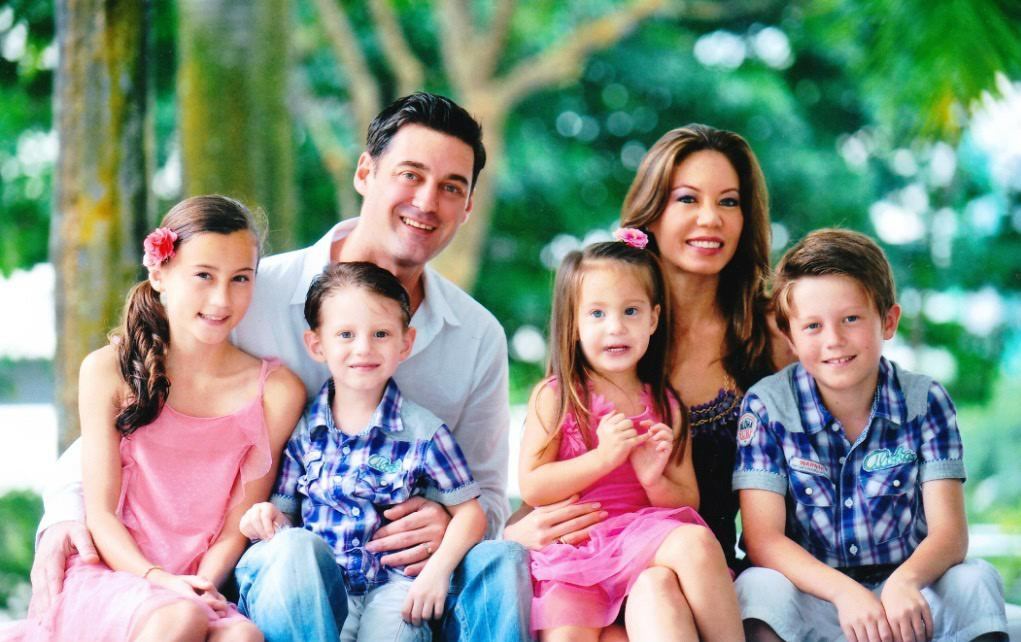 (Photo courtesy of Christine Amour-Levar)
How does Steve feel about your ex-husband living so close?
It's funny because when we met six years ago, Steve was 34, single, never married and just out on the town for a good time. On our first meeting, little did he know that I had a 6-year-old daughter and 4-year-old son waiting for me at home-- and an ex-husband living in a different flat in the same building! I just had to explain the situation to him: When we split up after 10 years of marriage, my ex and I consulted a child psychologist who suggested living in such close proximity to each other would be the least traumatic situation for the kids -- so that's what we did.
Luckily, both men have been able to put egos aside for the love, happiness and well-being of the children. That's what's at the heart of our family's genuine partnership. It's not uncommon to see my husband and ex-husband chatting by the pool while the children happily paddle and splash about. It's a scene that a few of our neighbors had to adjust to at first!
How do you make such a unique living arrangement work? There must be challenges.
We live close but we are very conscious of maintaining each other's privacy. Respect is a huge part of it. When my husband, ex-husband and I interact or speak about each other in front of anyone -- especially the kids -- we do so with the utmost respect and consideration. The children feel this and take their cues from it. One day my son Malcolm even said, "When I grow up and become a famous professional football player, I will buy a big house where all of us can live together!" And by "all of us," he said he meant his father, his stepdad, his mother, brother, sisters and all the grandparents, including step-grandparents and nannies!
What would you say are some of the biggest challenges of stepfamily life in general?
In our case, I am the mother of all four children but there are two very involved fathers in the picture. Juggling the various relationships is sometimes a little challenging. My ex-husband and I parent our older children very closely and consult each other often on important decisions but my husband is also very committed to helping us raise them. Steve is keenly aware and respectful of my ex-husband's opinions as it relates to the two older kids, but he also has a point of view regarding how they should grow up and behave. It can be challenging!
What advice do you have for parents who are struggling to keep the peace with their exes?
I know it's not always easy. It requires a certain type of individual who can look beyond the petty differences of opinions, the bruised egos and the emotional uncertainty that comes with any divorce. Ultimately, it's about putting the children first and your feelings a distant second. Just remember: It's the children's fragile feelings that need to be placed at the center of the situation, not what you're feeling personally.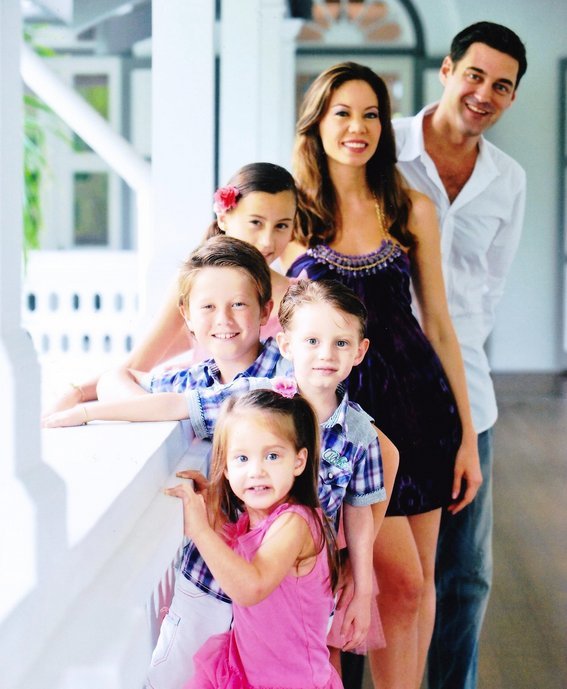 (Photo courtesy of Christine Amour-Levar)
Keep in touch! Check out HuffPost Divorce on Facebook.