Let's not get controversial right from the outset. This isn't a story of politics or labor; I am going to tell you about an eye-opening and breathtaking experience unlike one that I have ever had the pleasure of enjoying.
To celebrate my final year at the University of Florida and final college spring break, I decided to enroll in a program with Volunteers for Israel, a partner of the main organization, Sar-El. This American-Israeli partnership allows for men and women from the United States and other countries around the world to take part in one, two, and three week ventures as volunteers for an organization that works with the Internal Defense Force of Israel.
I joined an interfaith group of college students on a journey halfway across the world to the Holy Land, a site of unparalleled beauties and contention alike. After a night in Tel Aviv, we met in the Savidor Central Railway Station with Patricia, our group's official contact and representative. She introduced us to our madeer, the man charged with taking care of us during our stay, Jonathan Ezra, or Youval.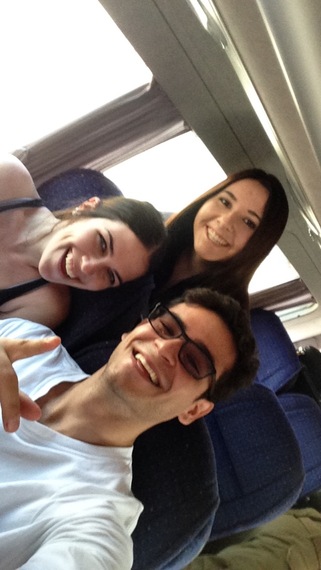 Youval is a early in his 20s who showed us the Israeli way and became our first and most memorable friend of the trip. He stuck with us throughout the entire trip and saw us off with a promise to reunite during the summer in New Orleans. Leaving the Central Station early, we made northward towards Haifa, passing through Caesarea and stopping at the franchise Moses before continuing onward. At the gas station beside restaurant, I bought a few chocolate bars of Elite, the famous Israeli pop rocks chocolate.
After a quick two hour drive, we arrived at our base in the North, a gorgeous landscape neighbored by a scenery of hills and mountains. Upon our arrival, we were presented the barracks that would be accommodating us, along with a civilian uniform resembling those of the IDF soldiers. Ours were tagged with blue ribbons on the shoulders that read, "Sar-El" in English and Hebrew.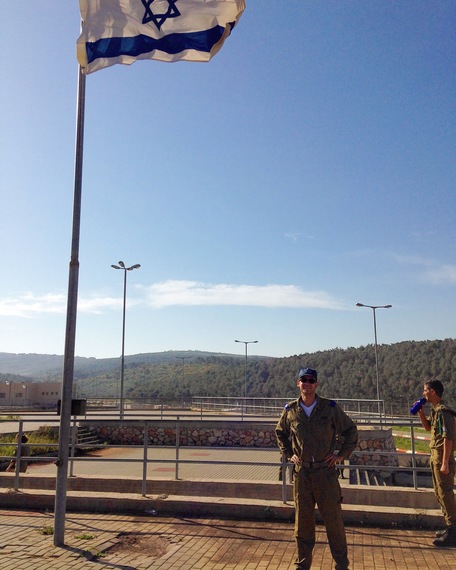 We were given a tour of the base and made friends with some soldiers before heading to a daily early dinner between 6 and 6:30 PM. After enjoying dinner of army pasta and surprisingly delicious pastries, we headed back and continued getting to know the soldiers that we would be sharing a home with for the next couple of days. The meals over the next couple days were substantial and enjoyable, introducing us to the very basics of Israeli cuisine such as a standard daily breakfast and Malawach.
Among them were two soldiers that I became particularly good friends with, Ivan and Yonael. Ivan is a Russian-Israeli that spoke with a stereotypically thick accent and Yonael a large Israeli native with a kind heart from Nahariya, a village in the North near Haifa. Both soldiers count the days until their time in the service is up with zealotry, as do most Israeli soldiers.
The mandatory service demands for all 18 year olds to serve in the Israeli Defense Forces, signifying that most soldiers, with the exception of commanders and those with military careers, are just around my age, a college student of 21 years. Their livelihood and high spirits could be felt through their interactions with us, a group of young Americans that attend a school famous for its social and night life. The classic attitude of young guys trying to pick up a foreigner was not lost on them; this was something regularly practiced throughout the trip, albeit with no success.
Over the next couple of days, I worked with the some soldiers in the Armored Corp, storing away vehicles that had remained out in the open since their return from Gaza nearly two years ago. We toiled in the sun, taking frequent breaks in order to sustain the soldiers' constant cigarette smoking. Our duties mostly consisted of moving, storing, and cleaning the enormous pull-over bags that contained armored personnel carriers and trucks. While usually mundane work, it felt good to be out in the spectacular Israeli "winter" of 79°F, energized by the mountain wind and glowing sun overhead.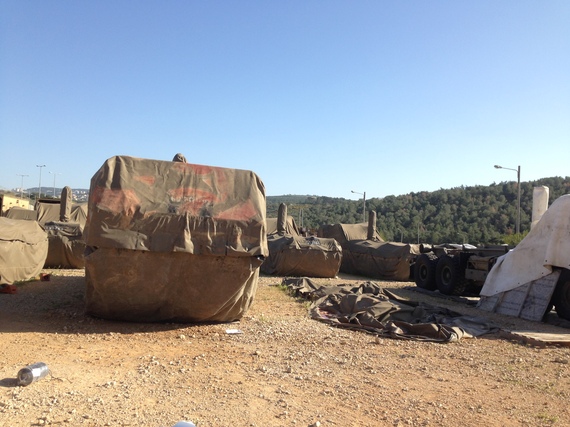 During these hours of work was usually when I had the most interesting conversations with a young solider, Omer, an Orthodox Jew and chain smoker who had the most serene attitude of anyone on-base. Our discussions involved the differences between our lives in Israel and the U.S., his time in the army, and what I did back home as well as music and politics. Our diverse talks and the insight gained from them was one of the most enjoyable aspects of my journey.
The experience was one of pure exceptional enjoyment I would never have had the pleasure of participating in had I not heard of Sar-El and VFI from University of Florida Hillel. I also had the chance to wander around Israel after my days in the army, visiting Tiberius, Jerusalem, the Dead Sea, and Tel Aviv. Those days contributed to my encounter with the Holy Land's extensive beauty and the daily experience of local Israelis and Palestinians.
The program is certain to attract criticism given some people's judgement of the state of Israel, and it is their right to do so. I respond by simply stating that I am obligated to return once again to the Holy Land, to reencounter the Land of Palestine and Islamic treasures of Jerusalem. For the time being however, I reflect on how this alternative spring break opened my eyes to a small portion of the Middle East and Israel. I would undoubtedly consider making the trip once again, if nothing else, to have a second chance of gaining a deeper insight into what the life of an IDF soldier consists of.
I expect to return soon, hopefully to explore Israel even further and a larger portion of the region and its wonders in Egypt, Jordan, Lebanon, and the rest of the Middle East. Until then, the thought of the homemade falafel and shawarma will have to sustain me.
Related
Popular in the Community