The Johnny Manziel party-rock roadshow hit Los Angeles this month. He's causing quite a fracas wherever he goes, but the latest victim is Nicholas Goodwin, the owner the beautiful-looking West Hollywood home viewable above. 
According to a demand letter obtained by The Huffington Post from Goodwin's lawyer, Manziel used an alias on April 4 to rent the house for $2,400 per night for two days via Goodwin's rental company, LA Exotic Life.
But Manziel wasn't upfront about who he was. Goodwin told HuffPost that Manziel and his friend Ryan Silverstein (better known as OVO Ryan, one of Drake's friends) contacted him late at night claiming to be a man named "Travis," even going so far as to send Goodwin a picture of the purported Travis that wasn't either of them. 
As Goodwin said, the alias was necessary to secure the rental because "nobody would be willing to rent to Johnny Manziel given his reputation."
Goodwin dealt with Travis "directly," and was told that only three people would be staying in the home. If Travis wanted to have people over, Goodwin told him that it'd cost an additional $5,000 per night for a maximum of 15 guests. Well, three people turned into a whole lot more, as two consecutive all-night ragers occurred. Surveillance footage captured an estimated 40 to 70 people partying with Manziel. 
"It was a late-night check-in, and they deceived me. None of my houses are there for partying. I was deceived," Goodwin said. 
On the last night of Manziel's binge, comedian Kathy Griffin, a neighbor to the rental home, called Los Angeles police to complain about the noise coming from Manziel's party. When Goodwin arrived at the house on April 6 to ensure his noon guest checkout rule was abided by, he found Manziel "seemingly incapacitated" on a couch at 2 p.m.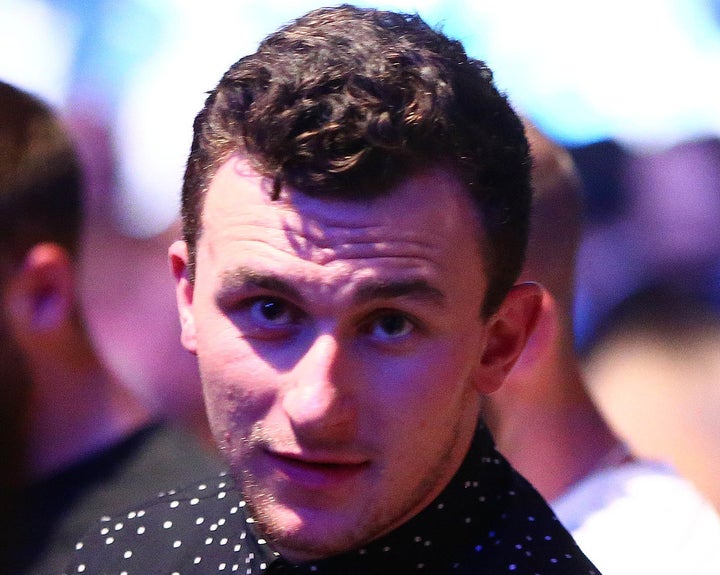 Photos obtained by Page Six show the "Hangover"-like aftermath of the two-day party. Alcohol bottles were littered across surfaces, mushroom remnants were left on a table, and entire lines of what appears to be cocaine can be seen on one glass table. 
The few photos of the home, however, show a very limited scope of the damage that Manziel and his friends caused.
"They destroyed this place. The photos don't do it justice. My assistant was taking the pictures with Manziel still around, and she was afraid -- he's a strong NFL player, after all," said Goodwin.
Goodwin claims that, at the time, Manziel didn't take the damages very seriously and thought he could just brush it off. The amount that he's now liable for, however, isn't an amount that one can take lightly. Goodwin's demand letter asks for $31,580 in damages to be paid within 10 days, or else he'll sue for that amount plus $1,500 in lost revenue for every night that it takes to repair his property.
Here's a breakdown of Manziel's party damages:
Burn marks from cigarettes and marijuana on living room carpet: $8,000

Wine stains in master bedroom carpet: $8,500

Broken glass table: $2,400

Broken bathroom door: $650

Broken glasses: $30
Tack another $10,000 in event fees for two nights worth of ragers, plus another $2,000 in attorney's fees, and Manziel's checkbook is about to take a $31,580 hit. The full demand can be seen below:
Calling all HuffPost superfans!
Sign up for membership to become a founding member and help shape HuffPost's next chapter
BEFORE YOU GO
PHOTO GALLERY
Acrobatic NFL Catches