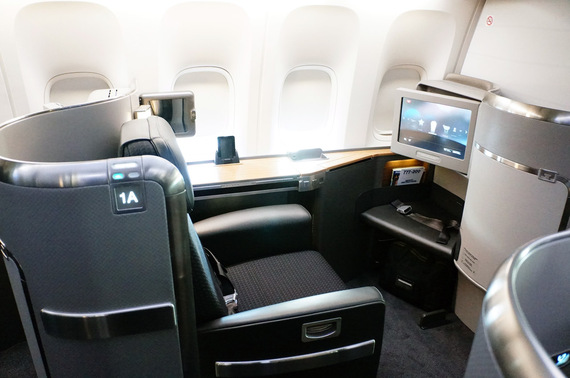 I'm not going to make you wait until the end of my column to tell you that it is
FANTASTIC!
As a travel writer, I don't fly first class, or even business for that matter. I pay for my fares anywhere. I pay for hotels, food, anything a tourist would pay for.
As I was flying from Miami to Paris on American Airlines last week, with a planned stopover in Charlotte (NC) - thanks to the mystery (to me) of booking a ticket with miles and having to conform to all sorts of strange strategies that credit cards and airlines plot to make you go the way they want you to go.
Anyway, waiting at the departure lounge in Charlotte, a call came from the door agent asking for volunteers to fly the next day instead, as the flight was overbooked, as it often is, and the airline was short of seven seats.
I felt my feet moving in the direction of the counter, almost as if they had a life of their own. The promise of a voucher for $725 to redeem for a future flight, an upgrade to first class for the same flight the next day, a night in a hotel airport with vouchers galore for drinks (they want to make you forget), food, snacks, a shuttle to take you there. It all felt like a happy hour offer.
There was very little hesitation (ok, none) on my part to take the deal - after all, what would a day late in Paris do to me? Absolutely nothing! I just had to tell friends and family that I did not make it into that flight, and they would have to wait one more day for my presence to be ... present. Big deal, barely anyone knows where I am on any given day anyways.
Lucky me, I only had a carry-on spinner suitcase, one of those that fit in the overhead bin. That was one of the conditions to get the offer = no checked-in luggage. I understand that, it's a pain for the airlines to have to deal with stranded pieces arriving before or after you.
After one of my bags once went to India and Canada, when it was only supposed to go from New York to London, I never again checked-in any suitcase. I always travel light; I have clothes in several countries, really.
So a dentist from the Paris' suburbs, a young couple from Algeria, a retired American couple, a Dutch backpacker and me found ourselves in a hotel shuttle taking us to our final destination for the day.
Back at the airport (again with the usual free shuttle) on time for the 6 p.m. flight, I aimed straight to the kiosk where a boarding pass gets processed. With my first class paper in hand, I proudly walked through the FIRST CLASS security line - no waiting. I felt like a princess from a foreign land!

Whoa! A good start. At the airport, American Airlines has a very plush lounge for its upper class passengers. Food, drinks, food, drinks, repeat. Why do they feed the lucky ones so much, those are the ones who can afford food, right? Anyways, the armchairs were ultra comfy, the ambiance was velvety, nothing to do with a normal airport departure space. The music was spatial. The coffee excellent. This proves that when money is not an issue, even airports can have good coffee.
American Airlines does not call its first class first class, it calls it business class - could not see why. The merged American Airlines and USAir is almost completed and they will be both part of the OneWorld Alliance, but until then, the word first class is not uttered. But really, that is what it is.
After the special security line zipping you ahead of other mortals, you can board the plane at your own leisure, with your stomach full, ahead of other passengers, starving and thirsty, who all look at you like they want to murder you. I understand.
The first class cabin (yes, I will keep on calling it first class) is wide and spacious, the walls seem even whiter than in economy, the lights are nicer, more flattering to the skin. Okay, I am getting carried away.
The seat is a seat, yes, but it is also a flat bed, a TV lounge, a dining table, an opera house, with pillow, blanket, and sleepers. I was alone in my very own space with a window, no neighbors, in absolute privacy.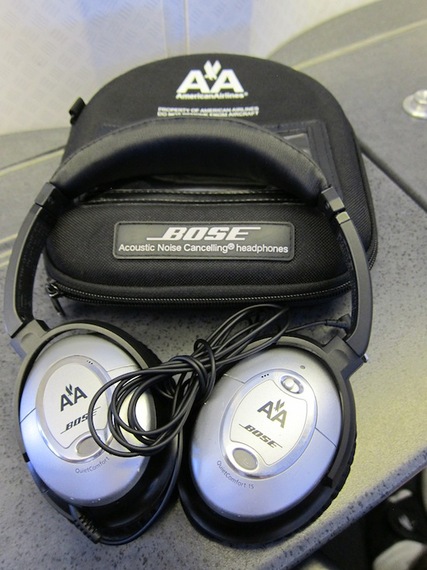 The headphones are by Bose, and they also serve as isolation tank. When you put them on, the surroundings disappear into a blank noise, I mean silence. Suddenly there are neither irritating voices nor annoying sounds. I knew right there and then that I would be able to sleep on that flight.
My stewardess ( I believe we have to say flight attendant) came by to say hello, showed me a few buttons to push for the various features of my seat, took my (jean) jacket to hang it with business suits in a special closet somewhere. Might have been the first time this jacket was hanged.
Before the plane even took off, I was asked what I wanted to drink, and when I said just water with a lemon twist, that is the drink that was served to me for the entire flight, refills after refills without having to ask for it. The lemon slice made it each time too. Some service.
My vegan meal even made it too! I had requested one for my original flight, and the order followed me into the upper class. A huge green salad was fresh and absolutely not wilted. The food was served in china with silverware and a linen napkin, on a white tablecloth.
The French warm crusty bread was really French, trust me on that. Asked if I wanted dessert, the choices were chocolate lava cake (how do they make the center still hot and liquid?), or fresh exotic fruits, designer ice cream, or cappuccino cookies with cream. Tada!
When it came to watching a movie, the screen was large and had several positions so no matter if I was seated or lying down, the best possible angle would always be there for me. The sliding seat was wide and totally flat, and long enough to accommodate a 6-foot tall person.
This is something I would be willing to pay for if I could afford it - always travel first class, there's nothing like it. The flight was filled with refills, snacks, and then a scrumptious breakfast before arriving in Paris. Omelet with spinach, fresh-squeezed OJ, rustic coarse toasts with marmalade, a side of organic oatmeal. Did I want anything else? Why? Would they have it if I asked for it?
The detailed attention and the refinement of this flight was a pleasure, and everything was just perfect. The fact that I could sleep for 6 hours almost like in my own bed was marvelous.
The only thing I was a little upset with was the bathroom. Nothing bigger or better than in economy class - that was a let down. I was expecting a luxury pod with toiletries from Sephora or maybe even Guerlain, with real towels and a better basin. Nope. None of that, just the usual cramped space where you don't even want to use that toothbrush that came with your little beauty case at take off.
But I loved that flight, and I recommend it if you can spare the dough. Now if an airline (American or other) wants to fly me first class on a regular basis just to review the amenities, I'll be happy to oblige. One must always dream.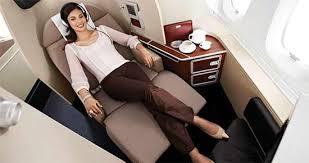 Oh! The gentleman dentist even got some Champagne with his breakfast eggs.
Questions or Comments: sidoniesawyer@gmail.com
Visit my website for more stories.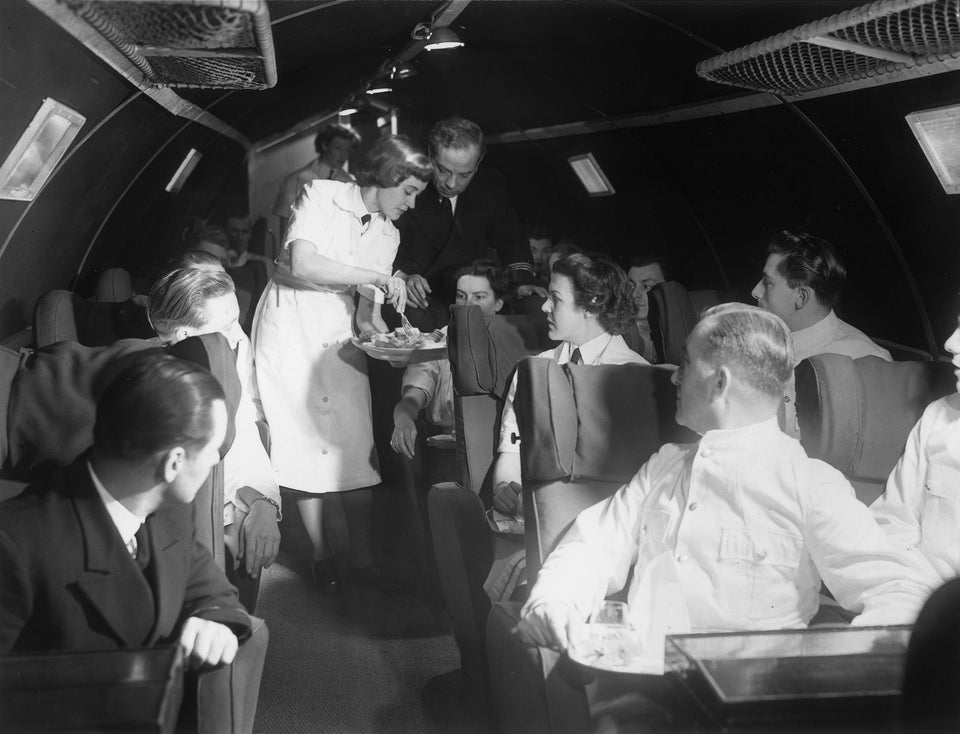 Vintage Air Travel Photos
Related