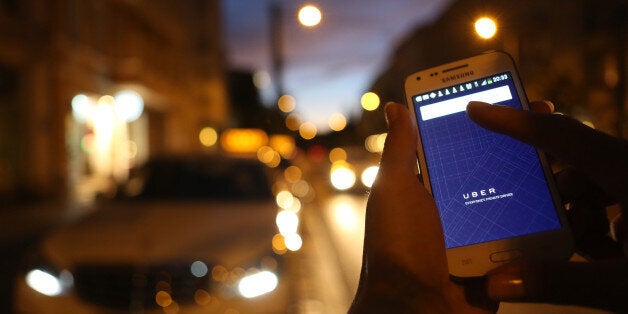 I was a Community Manager on the East Coast for Uber for almost a year (February 2013-December 2013). After being out for about nine months, I've had a chance to reflect on my time there. I've also been encouraged to, due to the number of people who've reached out to me, asking how it was, since they themselves are considering applying.
This makes sense. It's smart to talk to someone who works at a company before deciding to work there. It's even smarter to talk to someone who currently works there and someone who used to.
So let me tell you what it's really like working for Uber:
1. The Team Is Extraordinary
The people at Uber are fucking awesome. There's no other way to put it. They're astonishingly smart, motivated, talented, warm, friendly, and very hardworking. Uber is extraordinarily picky about who they hire, and they do a good job of bringing in brilliant people.
For me, my peers were the best part of the job. They not only had my back most of the time, but they were super fun. For the most part (not all the time, but the vast majority of the time), I felt like I could reach out to anyone there, and they'd make time for me.
As a rule, people at Uber are generous and bighearted and intelligent and sharp and creative and cool.
For the most part, Uber is a pretty flat meritocracy. They're ready to listen to anyone, if what they say is of value. Good ideas are noticed, respected, and implemented. There are obviously some politics (I don't believe any large organization of human beings can totally avoid that), but it's not the predominant company culture.
Instead, they're extremely focused on metrics and analytics. Your success is largely based on your performance in terms of numbers, not whether someone likes you or you're someone's cousin or you've been there longer.
3. It's a Crazy Awesome Ride (pun unintended)
There's nothing like being on the inside of an insanely popular and insanely high-growth tech startup. Uber's growth is unbelievable. I've never seen anything like it. The weekly all-team meetings, held via Skype since Uber is now in 100+ cities all over the world, are awe-inspiring. It's unreal watching baby cities grow into monster cities, or small teams blossom into huge ones. Working for Uber is like being on the inside of a real live game of SimCity.
It's an incredible feeling to know that you're part of it.
4. People's Reactions To, "So, What Do You Do?" Are Awesome
It usually goes down like this:
Rando #1: "So, what do you do?"You: "I work for Uber."Rando #1: "What!??! That's so cool!"Rando #2: "I love Uber!"Rando #3: *just looks at you in awe*
Really, really stressful.
I did an informal poll while I was at Uber, asking people in different departments and different cities: "On a scale of 1-10, how stressed were you at your last position, and how stressed are you at Uber?" I routinely got answers of 2-6 pre-Uber, and 8-10 at Uber. One guy said, "At my last job, maybe like a 4. At Uber? Normally... 8. This week? 11."
At Stanford, we had a saying that students there are like ducks on a pond. On the surface, they look like they're effortlessly floating along; under the surface, they're paddling like mofos, their hearts going a million miles a minute just to keep up.
That's Uber. Everyone looks like they're doing fine, but they're really working 80-100 weeks and even then, constantly feel like they're behind. Working for Uber is a sprint, with marathon hours.
Uber is still in the awkward gangly phase of a burgeoning startup. The thing is, it's not really a startup anymore. It's a big company with things like corporate values and policies and rules and guidelines. So expectations of employees are really high, but without all the support that comes with that.
As a CM (Community Manager), it was hard sometimes to rally all the things I needed help with, without pissing people off. I was dependent on teammates in design or engineering who were all the way across the country, many of whom I'd never met in person. It was nerve-wracking to not be in control, especially when I had time-sensitive needs and there was limited communication. I often felt powerless, but when I pointed this out I felt like I was just looked at as a complainer. A similar problem was echoed by others around me, those who experienced parts of Uber as rigid, not always willing to make the right systemic changes due to wanting to go at a breakneck pace all the time.
At Uber, you're not always going to be given everything you need, to do the job you're expected to do. The right systems simply aren't in place yet; it's all still being built. Things can be stressful or difficult, but without the recognition that they are, which can be challenging to deal with. It's easy to feel alone, even while you're surrounded by amazing people.
There Is No Work/Life Balance
At Uber, you work nights, weekends, and holidays. Some teams split it up so you get some real time off during the week/weekend, but that's rare (FYI, some of this may have changed, since things at Uber shift so rapidly, but I doubt it. It's ingrained in the culture). What's not rare is to sign on to Hipchat (the way the entire company stays in touch) at 11 p.m. on a Saturday night, and see lots of colleagues online, working, as well. Fortunately, you can work from home, and most teams are pretty flexible about that, but it's still important to understand that you will be working *all* the time.
Uber does a good job about being upfront about this; they describe it to potential new hires as "the Uber lifestyle." You're expected to pitch in and do whatever it takes to have your city succeed, no matter when or how long it takes, and everyone hired is willing to do so.
Joining Uber is like joining the firm from that John Grisham book... The Firm. Once you're in, you're in. Think of it like getting into the military, only cooler and you probably won't die.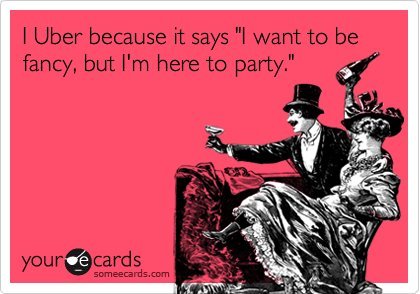 So, would I recommend working for Uber?
It depends on who you are and what you want.
If you're young and hungry with few attachments, it's a great option. For someone single, just out of college who just moved to the area, not wanting to get into a relationship or hang out with a lot of people outside the company, it's practically ideal (practically). You'll meet incredible people and be part of a strong culture. You'll constantly be working, but you'll never be bored and you won't mind as much because most if not all of your friends will be at the company.
However, if you're already somewhat established in your life (mid-to-late 20s, early 30s, or in a relationship), it's going to be hard. It will be 'normal' to spend your entire workweek working until 9 p.m. or 10 p.m. every day, then work an all-day event on Saturday, for Uber. You'll miss seeing your friends and family, and resent the constant feeling that you're not doing enough, despite working so much. This may wear on you over time, and eventually you may burn out.
As for me, my story has a happy ending (not that kind, but it's still good). I'm happier at my current job than I ever was at Uber. We're OpiaTalk, a tech startup in the eCommerce space, out of Baltimore. We help retailers make the most of their organic traffic -- our social commerce widget turns browsers into buyers, hyper-converting traffic and driving opted-in leads at 4-5x industry average. Our team rocks, and I'm proud to be our Director of Communications. (I'm the crazy one in the brown dress):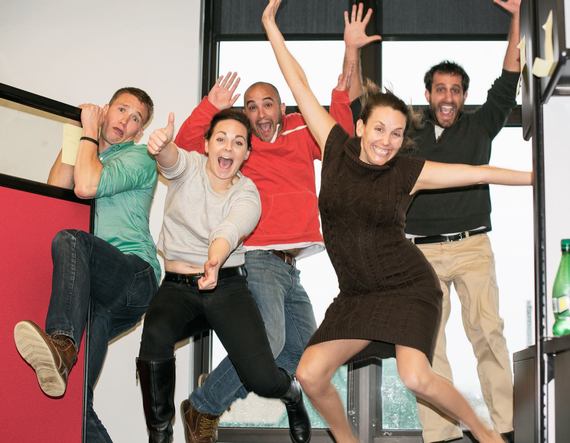 Now, I wake up excited about my job and I also have real weekends, which has me feeling rested and ready for the week. During my time off I feel like I'm truly off, which is pretty much the best freaking feeling ever. At Uber, I constantly fantasized about leaving; it was never sustainable. OpiaTalk is sustainable because I work hard, and I have a life outside it.
Finally, I really wasn't in the right role at Uber, and my manager wasn't willing to work out a way to put me in one better suited to me in a timeline that worked. At my current job, I play to my strengths, and I feel truly supported by my boss. Shoutout to you, @TomPopomaronis: I love you, your mentorship, your humor, your entrepreneurial fire, your drive, and your heart. It's why I'll stick with you through anything, and why I'm pumped to be on the team you've built, that we continue to build together. Thanks for including me and for believing in me.
-----------I thought long and hard about whether to publish this. My hope is that it came across the way it was intended: as an honest and thoughtful distillation of my own experiences and observations of what I still see as one of the coolest modern companies to come out of the United States.
You want to talk about disruption? Uber has actually disrupted the tech/transportation industry. The world is literally different because of this company, and I say that as a young woman who is guaranteed a safe ride home in most cities where she goes. #Gamechanger. I also respect how Uber helps empower an entire generation of drivers with safe, flexible jobs -- an opinion based primarily off my own one-on-one discussions with countless drivers about what Uber allows for them and their families.
Here's the truth: Some jobs fit your personality, and some don't. Some company cultures fit you; some don't. Sometimes, yes, it's important to stick with a position for your own professional growth; other times sticking with it just leads to suffering. I'm grateful I had the opportunity to work for Uber for a variety of reasons, including gaining a better understanding of where I truly belong and how I want my work life to feel. That was an invaluable lesson, even if was a painful process.
I can't tell anyone what to do; I can only offer up my perspective. I hope it was Uber helpful.
Related
Popular in the Community