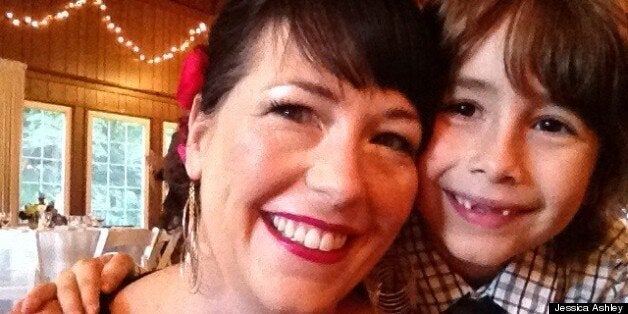 If you ever leave me and turn me into a single mother, I will totally kick your ass. I was joking when I said that to my husband as I stepped into our apartment, loaded down with suitcases and a toddler and exhaustion of managing a Labor Day weekend away on my own. I'd like to say I was intuiting a fracture in our home life, or maybe that the humor was a preparation for the avalanche that would fall, not slowly. But weeks later, when my marriage was crumbled at my feet and I could no longer hold on to my son and myself and still pick up all of the pieces, I realized I was already a single mother.
Some friends and people who backed away steadily from it all may say that it takes leaving a marital home or finalizing a divorce to become a single parent. The term is certainly not one I wanted to claim -- I heard that in my sarcasm at the end of a long and lonely summer. But once I did, once I saw what I had to do and how quickly I needed to move to save both my son and myself from more pain, betrayal and uncertainty, I felt the earth solidify underneath us.
That was more than five years ago, and now I have officially held the title of single parent for twice the amount of time I was a married mom. Once I left and saw the situation more clearly, that I was doing nearly all of the parenting the whole time I had a husband, it shifted how I saw single mothering. It has not been easy. Or simple. Or all bliss. But I love the family I've made, the home we've created and the kind of mother I am always becoming.
Here are the some of the very best lessons I've learned, re-learned, made up, studied, been advised of and run with in the years I've been a single mama.
I am not sorry. Only grateful.
A few years ago, as I drove through my neighborhood, I saw a woman pushing a baby stroller through piles of fiery autumn leaves. It sparked a memory of walking with my own newborn, whispering to the universe for all I thought it would take to make me happy -- a big writing job, a safe and bright home, a happy child who laughs and reads, and many other small and significant wishes. It occurred to me, watching this other mother walking her own path, that I'd made all those things happen. And separate from the accomplishments to tick off with a decisive Sharpie checkmark, I was overwhelmed to realize that I am happy. Very happy. The relief of that realization filled me up.
I wouldn't wish divorce or separation or years in family court or having to explain why Mommy and Daddy aren't together anymore to any mother. I didn't wish this path for my child. It has not been simple or swift or without tears. Yet, I am happier and healthier and have a bigger life than I ever could have dreamed in those begging moments of early motherhood. And while a big, emotional story in my son's narrative will likely always be that his parents are no longer together, I am not sorry for him or for the choices I made to end my marriage. Instead, I am thankful for the grace of moving through the hard parts to a much better place. That's a blessing we both carry, even when we don't always know we already have it in hand.
Not all families look the same.
As quickly as I could, I moved my son out of a co-op where there were no other divorced families, where we all fit into tidy, homogeneous class, race and religious categories. The school he has been in since is full of diverse families. There are families with two mommies, transracial children, single parents, those who speak several languages, kids with hyphenated last names. This community has supported my son; it paints a big, beautiful, crazy picture of the many ways families are. When he confidently told his pre-K teacher he has three homes -- our house, the one he shares with his dad and his grandparents' place a few blocks away -- I knew we were in a good place. Now that my boyfriend lives in the same city, our family photos have changed again and experience has helped us embrace that evolution.
No one else has to get it.
I've got lots of well-intended advice from friends and strangers and blog readers and people my mom has run into at Costco who have a message to pass on to me. Much of it begins, "Well, if I wasn't married, I would..." and is followed by a criticism or big opinion about How It Should Be to Single Parent. We all have a guiding compass, and we don't always know how the winds of custody agreements and finances and a puking child at 2:00 a.m. and mistakes and instincts will change the course for someone else. Once I gave up feeling like I had to listen to all the outside advice, I got a lot more confident about how to keep us afloat on my own.
I trust myself to come up with the right answer to the hardest questions.
The most difficult questions have come from a tiny voice in the dark just before sleep comes -- We're not going back home, are we? Did Daddy stop loving you? Will I ever have a brother or sister? How can I stop missing you so much when I'm gone? -- and as much as I've read and asked and prayed on and outlined in my head, the right responses for that moment have just come if I let them. The questions and my answers have changed over time, but if I don't worry so much about each word, I trust that deep love and compassion and care for my boy will guide the sentiment. And he will hear that most of all.
You can make goodbyes better with glitter and crayons.
When we packed up the last of our stuff from the home we'd lived in with my son's dad, it was a hard day. We hadn't resided there in nearly a year, but saying goodbye to the apartment was about more than the rooms. It was a farewell to that time in our family. To mark the moment, we marked the walls with chalk while we shared memories of each corner. Devising personal rituals, sometimes funny and often sentimental, have helped us make those transitions smoother.
The cure for almost anything is jamming out in the car.
The cure for everything else is yoga. The daily grind for all parents can be exhausting and enveloping. But visitation makes time precious, and those few minutes of releasing stress, having fun and being silly or still are critical. Cranking Carly Rae in the car, finding our own namaste for a bit before bed, having a five-minute dance party in between Saturday chores have made almost any tense situation so much better.
I have to be money-wise.
And outsource as much as I can afford. I left a marriage that was not only emotionally wrecked, but was in financial ruin. I had no idea how much debt we were in and how many bills had gone unpaid. I had to take immediate ownership for my part in that (even when I put it off to my then-partner to not-handle), get the money stuff in order and turn my own credit around. Becoming financially solvent and educated has been a long and empowering process, but the urgency of being the sole income-earner has made it a priority. I've also gotten wiser about what my time is worth and how I want to spend the days when my son is with me and when he is not. At the good advice of another working mom, I budget grocery delivery, monthly housecleaning, an occasional babysitter, TaskRabbit errands, and whatever other tasks I can outsource to reliable people.
You get to write your own story.
Sometimes on really huge paper. On the night before my divorce was finalized, I explained what was happening to my son. After 18 months of legal wrangling, the judge would declare that the marriage between his father and me was dissolved.
"I just wish the judge could know the story of our family," he said, his 5-year old baby face framing eyes of a much more sage boy.
"Let's do that," I said to his beautiful, bittersweet idea. I pulled out a huge roll of paper and markers and we drew out the story of how I met his dad, when we moved, how we loved fiercely, and that it changed. My son's first penned words were scribbled on that paper, and it is still tucked behind his dresser as a reminder that there are chapters unfolding all the time.
How I choose to explain our family's life -- or rather, lives -- to my son, and the opportunities I provide for him to say what he's seen, felt and known is where all the beauty settles. Yes, there have been tears. Of course, there have been arguments. No, it has not all been crayon-scribbled roses and grasping hands stained with markers. All parenting is a messy picture. All of parenting is a lot.
What I've learned as a single mother, however, is that it is all on me to frame it as the chance to be more of myself than I saw in the confines of my other life. Are we going to dance? Will we see the world? Will we trust again? Will the tough questions get responses? Will we be heard and loved and embrace change, even when it is not easy? That's all on me.
It's feeling blessed for the amazing, funny, stretching moments when the world expands beyond the living room, our old house, the definition of family we had, the person snuggled beside me on the couch. It's falling in love with my child over and over again, with myself as a mother, with the opportunities, all in the midst of things seeming to fall apart. Where things crumbled, new life grew up. And isn't that the best lesson of all? That under the rubble, there are seeds of something wilder and more beautiful than the seemingly solid mountain would ever let you dream.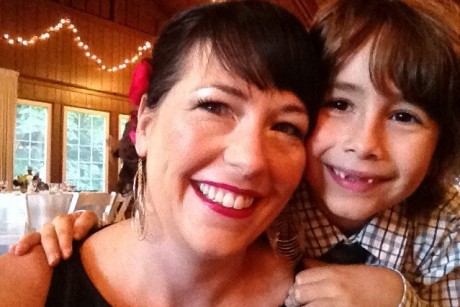 For more posts in our What I Know About Motherhood series, click through the slideshow below.
Related