As I enter my sixth year of recovery and sixth and final year at The George Washington University (GW), I thought I'd take the time to write what I've learned throughout my time as a Colonial. My recovery from addiction and mental illness started in April 2011, as a senior in high school. Recovery has gotten me to and through high school graduation, college graduation, and (hopefully) graduate school graduation in May 2017.
For those of you that don't know, GW Students for Recovery is the group I've called home for the past 4+ years. It started off as an informal support group for those in recovery from addiction. The group has since evolved into an award-winning pillar of the GW community that provides invaluable support to students living with mental illness and addiction. It brought me from planning my suicide as a freshman to a recipient of the George Washington award this year at commencement. Here's what being a GW student in recovery has taught me over the years:
1. At GW and throughout higher education, there's a massive knowledge gap around behavioral health support for students
Prevention, Treatment, and Recovery. The knowledge seems to start and end at prevention. For years, institutions of higher education have funneled large portions of student affairs budgets into prevention offices. It has not worked efficiently, and in my opinion it's a massive waste of resources. Tobacco use and risk perception might be headed in the right direction, but that's not the case for other drugs such as marijuana, prescription pills, and alcohol. As perception of risk decreases, the rate of use increases. 1 in 4 students are still experiencing mental illness, and they aren't getting the help the need. These problems aren't unique to GW, and are a fundamental problem that contributes to the reality of what our college culture is today.
I don't think most universities are equipped to take on treatment, nor should they. In my opinion, referring out to external care providers is the right move to make. However, the way we handle a transition process back to campus after treatment is terrible. This is where the knowledge gap around recovery comes into play. When college students leave treatment, there needs to be a continuum of care regardless of whether they go right back to school or return home before coming back to college. Recovery support services need to be established and embraced in a lot more communities across the country if these students are going to have any shot at success after receiving treatment. That's where the problem lies, and that's where a solution arises.
2. A thriving collegiate recovery community is a realistic solution to our flawed college culture
I whole-heartedly believe that a thriving, sustainable, inclusive, and integrated collegiate recovery program at colleges and universities nationwide would fundamentally change the culture of higher education. The potential for university-wide change as a result of these recovery communities is real and it's powerful. What I'm talking about isn't a group that other students call "the sober kids", "the rehab crew", or "the crazy ones". In order for this dream to become a reality, these programs need to be engaging, empowering, and appealing to the community at large.
For me, I didn't embrace the recovery process until I saw just how great life could become. I began to laugh, save money, get healthier, (hopefully) look better, realize career opportunities, and moved away from death and towards a life of recovery and wellness. Similarly, universities and their student body won't embrace the collegiate recovery process until they see similar benefits: retention, graduation, higher student success and satisfaction, larger sense of community, improved health and wellness, and the amazing accomplishments that students in recovery continue to demonstrate. Through this, we have a very real chance at changing the culture of college in America and beyond.
3. GW students in recovery, especially those in SFR, are extraordinary people and inspiring friends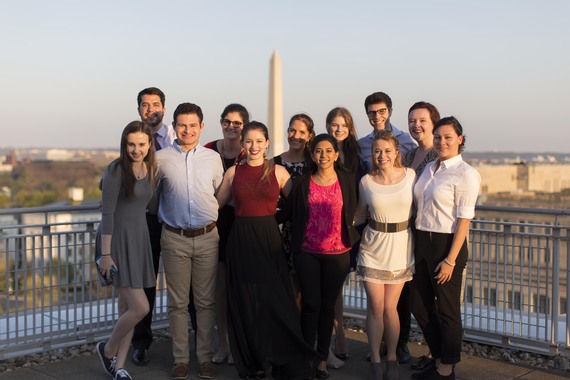 I love the phrase "recovery rockstar" because I don't know how else to adequately describe some of the students in recovery I've met over the years. Family, staff, faculty, allies, and community supporters- you all are fantastic as well, but there's a special place in my heart for students in recovery. Throughout my time at GW, I've met between 50-60 fellow GW students in recovery from mental illness or addiction. Unfortunately, some of the most amazing ones were unable to stay at the university past their first or second year. That's tragic, and hopefully by hearing their stories you'll realize why I'm so passionate about ensuring others don't have to fall down a similar path.
It started with Javi, who was my best friend and roommate before returning home to Puerto Rico just two months into college. He got accepted into almost every Ivy League school, but came to GW for the financial support. It continued on with Ali, who was living in the Virgin Islands and left GW during her sophomore year. We played root beer bong in my old dorm and ended it with a water fight. Will came to meetings for a few weeks before being forced to leave GW. We talked about life in the School of Business, and in his short time with SFR it was clear that recovery was clicking with him. Zoe heard about SFR through a GW Today story about depression, and basically ran the inaugural Raise High for Recovery Day before leaving GW. I don't want to know who the next name on this list will be, and we have a team working to make sure we don't have to.
4. The administrators at GW do not get enough credit for the work they do supporting students
Greg Rheault, Mark Levine, Alexis Janda, Seth Weinshel, Danielle Lico, Robert Snyder, Tim Miller, Andy Sonn, and Peter Konwerski are some of our university staff supporters who don't get enough credit for what they do for the student body. They have families, work long hours, wear many hats at GW, yet all have found time to support GW Students for Recovery and find ways to get this student population the attention they deserve. There's not enough space to describe everything they've done, but know that we all sincerely appreciate your support and thank you for your commitment to the university's mission of furthering human well-being.
5. The GW SFR Serenity Shack is pretty damn awesome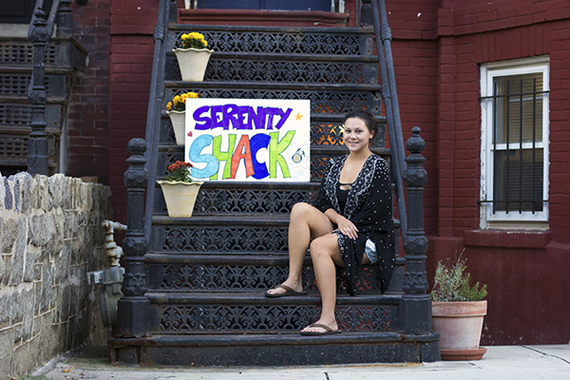 In case you have no idea what I'm talking about, see this article from The GW Hatchet. Renovated in fall of 2014 to be used as a recovery space, GW Students for Recovery has hosted weekly recovery support meetings at the Shack for the past 18 months. A recent "Colonial Crowdfunding" campaign by GW SFR accompanied by further renovations is allowing the Shack to soon open a brand new back room that will be furnished and used as a study space.
This means a lot, and undoubtedly shows the university administration's dedication to those in recovery. Space is a rare commodity at many universities, but with GW's location in the heart of DC and the limited space we have access to, it's even more valuable on our campus. As I mentioned in the previous takeaway, the university administration does not get enough credit for the work they do. This is the best example, as our recovery space on campus is one of the top spaces of its kind throughout the country. Give it a visit if you ever get the chance!
6. There's a fundamental problem on how things get accomplished at GW, and it could and should change
People compare higher education with government in terms of the bureaucracy that's undoubtedly present in both. A chart in this video was shown to me in an introductory course on American Government. It shows that no matter what most of the country thinks, Congress passes the legislation that they want to pass. Sometimes I feel that same way at GW, but I really hope not. The university does make an honest effort to bring student voices to meetings with the Board of Trustees or President Knapp, but are they actually listening? It's one thing to want a student face but do they actually want that student voice?
There are mornings, afternoons, and nights where I can't wrap my head around how we don't have a full-time staff member at GW running our collegiate recovery program. Our competitors have them, the research shows its effective, even the return on investment makes it smart from a business-standpoint! For many things that get accomplished at GW and at other schools, it seems like the groups with the most money or influence are the only ones who are able to make things happen. Well, students in recovery aren't going to be the loudest voices on campus. They aren't going to be the biggest group because of how many are forced to leave school to seek better support. There's a clear problem, and a realistic solution: stand together, speak up, and support collegiate recovery. "There's two primary choices in life: accept conditions as they currently exist, or accept the responsibility for changing them".
Calling all HuffPost superfans!
Sign up for membership to become a founding member and help shape HuffPost's next chapter