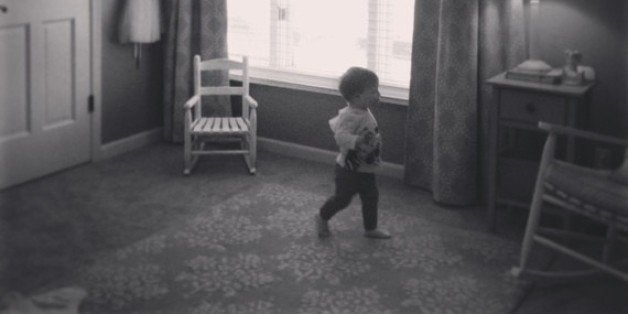 So, a funny little thing happened a year ago. I hit the "publish" button on a simple post I had written about the fleeting joys and hardships of motherhood, "Mommy, Somebody Needs You." It turns out that it wasn't really a little thing at all. It was big. Like, freaky big. Yes. My post went "viral." Weird, right?! Crazy? Cool? Empowering? Maybe. Terrifying? Yes. You know that dream where you show up at school in your underwear? Kind of like that. Millions of people have read "Mommy, Somebody Needs You." So, what does that mean? Well, first of all, it means that millions of people have looked at a picture of me in my pajamas. I hadn't even brushed my hair! I didn't know anyone other than my friends would be viewing this post. But, that's OK, I guess. That's a picture of a real mom, any mom, every mom, at 4 a.m.. On her feet, hair unkempt, a child in her arms and big bags under her eyes. It's not glamorous, but it is real. These moments are the "substance of life," as one reader described to me. But, they are just fleeting moments gifted to us. Gifts indeed, but ones we don't always look forward to opening in the middle of the night.
I've learned from sharing "Mommy, Somebody Needs You" that there are a lot of downright-mean people out there. The anonymity of the Internet gives people power or perhaps the illusion that their words don't hurt another human being. Or, even worse, they want to hurt someone they don't even know. But, I don't want to talk about them anymore. I learned that their words don't matter. Regardless, for all the things it was and wasn't, sharing my post was an honor. I am truly humbled to have made millions of mommies and daddies hold their children a little tighter, a little longer. How could a few words typed up here in Indiana have reached all the ends of this giant earth, and somehow made it seem so small? It is heart-warming to read through the messages and emails from people all over the world who took the time to thank me. Thank me? Thank you! Thank you for reading my blog! Thank you for calling your 80-year-old mom to tell her you love her. Thank you for spending a few extra moments rocking your baby. Thank you for telling your wife you have never shown her how much you appreciate her. Thank you for reaching out to your mom after a 10 year estrangement. Thank you for proving that regardless of our race, religion, Facebook status, or country, that the 'love for our children' is a universal language.
The true irony of it all, was that as people all across the world were reading "Mommy, Somebody Needs You," I was all alone with my little baby. My boys were trapped down at my in-laws' after a March ice storm and my husband was stuck in Texas for business. For three days and three nights, it was just me and my little baby. And as I watched my number of views climbing on WordPress, the snow and ice fell. It was so surreal, millions of people were looking at a picture of us, and reading words from my heart, but I was still just lounging around in my pajamas. Just us two, wrapped up together in wintry central Indiana. I had never felt more exposed, and simultaneously, more isolated. It was, and still is, the only time I have ever spent with just her, and three of the last nights she needed me during the night. It was truly magical and haunting at the same time. The power and strength of the internet terrified me, but all I felt was safe and warm in our little hideaway.
Many things have changed since one year ago. My little baby won't let me hold her for even a second in my arms. She is off exploring the world, and the stairs, the dishwasher, and the pantry. She sleeps through the night. She tries to put on her own shoes. She wants to act like she doesn't need me anymore. And I would give anything to stand on my tired feet again, alone with her in the night. Because, that's it. It's over. Sure, she needs my arms when she is sick or hurt, but it's not in the helpless, aching way an infant longs to nestle into your body. he cozy room from the picture in that post belongs to a different mother now. We moved to a new home and sometimes I miss the old "nest." I wonder if that new mother notices the beauty of the snow in the night or listens for the barn owl.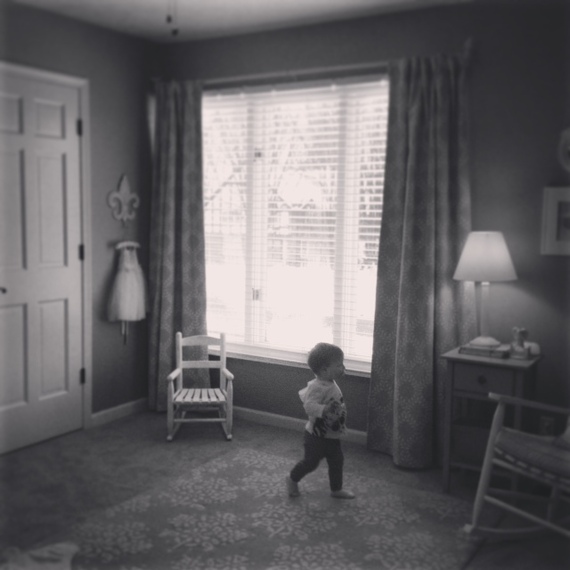 So, my friends, if there is anything I have learned in another long and short year of being "needed", it's that no matter what else you have to do...
Hold them as long as they will let you.
In the blink of an eye, they will be wriggling out of your arms. And, before you know it, you will be called just "Mom," and then sometimes "Megan" and then "Grandma." They are growing up. By the day, the hour, even the second. This morning may have been the last time my baby called her big brother "Da chi." That may have been your last time sitting in the carpool line. Tomorrow may be the last time your pre-tween son lays his head on your shoulder. And we may have just been too busy to notice. We may be so consumed with the craziness of life, that the "substance of life" just slipped through our fingers.
So now the gift I will give myself is the daily reminder to slow down. Embrace the long days and hard nights. Find small joys in the duty of being "needed." Complain only occasionally. Give without expectation. Show my parents that I need them still. Admit that as my babies grow and grow, they may need me less, and I may need them more. That day will come soon when my boys don't want to hold my hand anymore. And I will long to feel those chubby, grimy little fingers against mine. So today I will let the hugs and the smiles and the tears on my shoulder be a gift I want to open. And, tonight I make this promise to my children...
They say, "If you love someone, let them go." And I get that. I understood it when I was a child. But now that I'm a Mommy, I can promise you that, although I will let you grow up, I will never let you go. And when I can't hold onto you with my hand, it will be with my heart.
If you are reading this, you know what I mean. So hold on tight! It is an honor and a gift to be needed.