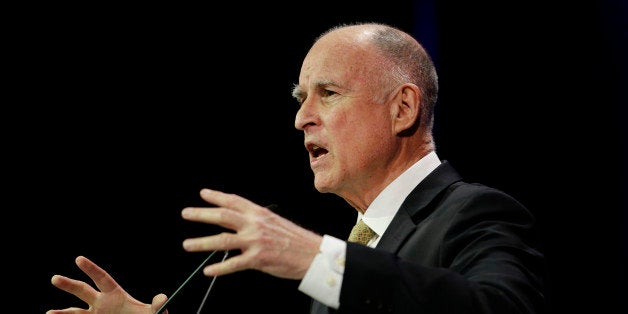 With less than eight weeks to go till the California primary election, Governor Jerry Brown holds a commanding lead over the multi-partisan field in the latest Field Poll. Brown is at 57 percent. Far right Republican Assemblyman Tim Donnelly, currently best positioned to make it out of the new open primary into the November general election run-off against Brown, is a very distant second at 17 percent.
Moderate Republican hope Neel Kashkari, the former U.S. assistant Treasury secretary best known as coordinator of the Wall Street bailout, is mired in a distant fourth place, at only 2 percent. He's actually behind the Republican mayor of Laguna Hills, whose name escapes me at the moment, who has 3 percent. Despite a lot of publicity, Kashkari hasn't moved a bit in the polls since last year, as you can see in the Field Poll report.
Ever since former Lieutenant Governor Abel Maldonado dropped out, the Republicans have had no gubernatorial candidate with more than a shred of credibility as a candidate. Maldonado was never going to win and only got in trouble when advisors convinced him he had a shot by attacking Brown -- spuriously as it happened, by presenting a would-be Willie Horton (yes, a cliched scary-looking black guy) who had nothing to do with Brown's policy -- on his money-saving prison realignment policy of moving low-level offenders from state prisons to local jails. After that disaster, Maldonado tried to regroup, but his campaign subsequently imploded. He finally dropped out, saying that Brown is "a good governor," though he would be better.
As a veteran center-right state senator who did a fine job as Governor Arnold Schwarzenegger's appointed lieutenant governor, he had enough knowledge and credibility to be taken at least somewhat seriously. His race, relative moderation, and mostly appealing personal story would have helped the Republicans begin healing their Prop 187-derived wounds with Latinos and given party pragmatists a modernizing presence at the top of the ticket.
Now that already rather faint hope that the party would present a face at the top of the ticket this year that at least points toward a positive future is down to the inexperienced Neel Kashkari.
Months of a fairly well-publicized exploratory campaign followed by months of a declared campaign haven't moved the needle at all for Kashkari in the polls.
Kashkari says he will close the gap with the underfunded Donnelly with advertising. But the reality is that his fundraising is at the level of a potentially successful legislative candidate. Since the last filing period ended on March 17th -- by which point he had raised $1.3 million and had $900K on hand, Kashkari appears to have raised something under $200,000. At this rate, Kashkari won't be able to afford any statewide television buys or much in the way of direct mail.
Unless there is some sort of heavily funded "independent expenditure" campaign helping Kashkari by taking down the extremist Donnelly, it is going to be very difficult for Kashkari to slide into second place in California's open primary, which he must do if he hopes to carry the Republican standard in November. It takes a lot more than a few million dollars, assuming Kashkari can somehow put that together, to turn a relatively unknown candidate into an appealing statewide figure.
Otherwise, California Republicans are going to be hard-pressed to avoid having their ticket led by a fringe Tea Party type. Which could cause a collapse of support down-ticket. The most important Republican hopes this year are to win a handful of swing legislative and congressional races to avert a two-thirds Democratic majority in both houses of the state legislature and prevent a diminishing of the current Republican majority in the U.S. House of Representatives.
One might say that this is only what California Republicans deserve. This is, after all, the party which less than eight years ago had a California governor re-elected in landslide fashion, then proceeded to make plain its preference for Texas Governor Rick Perry's hard right ideological red meat over Arnold Schwarzenegger's urging of a more centrist course in a turning point fall 2007 state Republican convention in Indian Wells.
So, with 57 percent in the current poll and a 59% job approval rating vs. only a 32 percent disapproval rating, Brown's current standing looks like a floor for his vote this year. If he gets just half the undecided vote, he's into the high 60s. That would put Brown above George Deukmejian's 60.5 percent re-election showing in 1986 and Earl Warren's 64.9 percent re-election win in 1950. Only Warren's unprecedented nomination by both major parties in 1946 would have yielded a larger victory in the modern era.
MSNBC analyst Steve Schmidt, who directed the 2008 John McCain presidential campaign and managed Arnold Schwarzenegger's landslide re-election as California's governor in 2006, recently talked about a potentially powerful Brown candidacy for president in 2016 with a strong story to tell..
We'll see what Hillary Clinton does. Most signs are that she intends to run and would begin at least as a prohibitive favorite. But there are many slips twixt the cup and the lip and the number of questions about her tenure as US secretary of state is not diminishing. Her book on just that topic, as yet untitled, has just been slated for June 10th publication.
Intriguing as presidential prospects might or might not be, and Brown said early this year that a fourth presidential run is not in his plans, the governor needs to stick the landing, as it were in his fourth and final term in order to maximize his mark on California. Which is certainly do-able, but requires time and focus. And yet, talking back in the '70s about how the "power curve" works, Brown noted that if you are big in the Maryland presidential primary, you will be big in the California State Capitol.
Of course, one can think of as many reasons not to run for president as there are for the proposition. We'll learn a lot in this year which is still unfolding.
REAL LIFE. REAL NEWS. REAL VOICES.
Help us tell more of the stories that matter from voices that too often remain unheard.