Striding confidently across the stage of Merkin Concert Hall, casually holding his flute, Aleksandr Haskin crouched, daring his audience to follow him. Jethro Tull sprang to mind. Simultaneously serious and playful, Aleksandr became the Pied Piper. I have never heard a flute played with such energy, such precision, such passion. Presented as part of the Young Concert Artists Series 50th season -- all under the director of the indomitable Susan Wadsworth, who I have previously profiled, this 26-year-old Belarusian musician took New York by storm.
Haskin is fresh from his debut at the Kennedy Center in D.C., where the Washington Post described him as "a musician of exceptional power and dramatic skill, completely in charge of his instrument." I agree! When he started the program with Ian Clarke's contemporary piece, "The Great Train Race," I could hear the two locomotives racing against each other (Click here to view).
With child-like intensity, Aleksandr produced sounds I have never heard produced by a flute, tapping and blowing his instrument to create new sounds for a new century. As he coaxed new sounds from his flute, the audience leaned forward to watch his elusive but highly practiced techniques.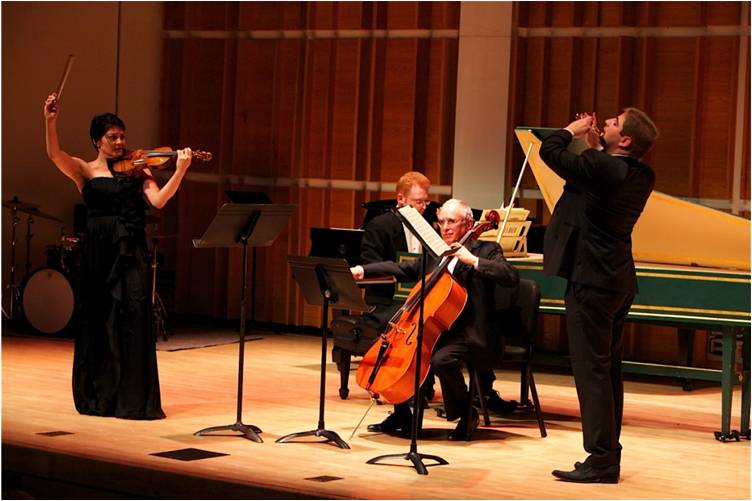 Trio Sonata in C Major featured the violin, cello, and harpsichord. Photo courtesy of Matt Dine.
The second piece, "Trio Sonata in C Major," thought to have been composed by Bach for two centuries, featured the violin, cello and harpsichord playing along with the flute. Recently, it was discovered that instead of Bach, the piece was more likely composed by one of Bach's students. Here, Aleksandr played a far more conventional flute, and serenity replaced the teasing in his eyes from his opening piece.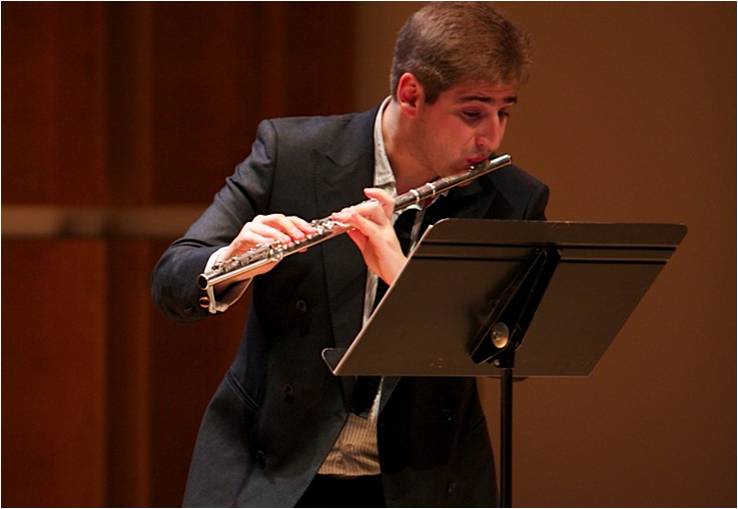 Aleksandr Haskin speeds through "The Great Train Race." Photo courtesy of Matt Dine.
His playfulness soon returned in the second movement, as he allowed his body to float along with the vibrant melody. Sasha (as he is called) enjoys playing and exudes a strong joie de vivre that captivates his audiences, making the listeners follow his every nuance. What fun! What joy! Bach's "Trio Sonata" was a wonderful hors d'oeuvre for the musical meal to follow: music by Wolfgang Amadeus Mozart.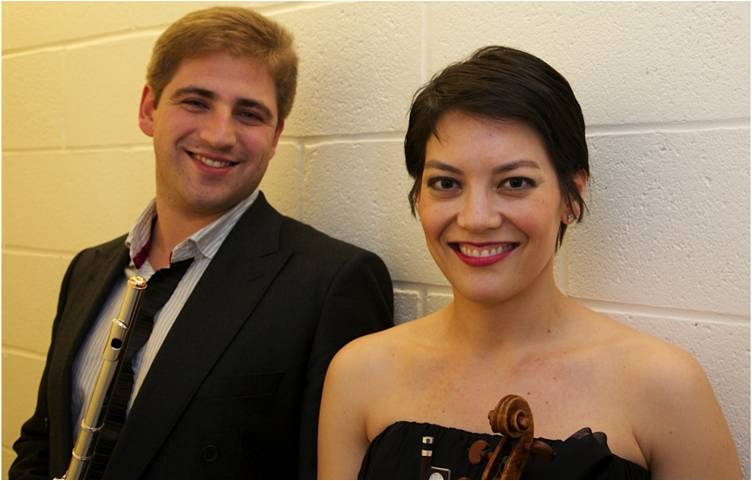 Sasha was joined by renowned violinist Anne Akiko Meyers. Photo courtesy of Matt Dine.
Sasha was joined by one of Young Concert Artists' stellar alumni, the fabulous and renowned violinist Anne Akiko Meyers. Looking stunning in a black ruffled designer gown, her brilliant playing and the luminous sound of her Stradivarius violin added a thrilling dimension in a vivacious duet with Haskin, accompanied by harpsichordist Steven Beck and cellist Robert Martin. Martin is also a YCA alumnus, who is co-director of the Bard Festival and President of the Bard College Conservatory of Music (link).
Often, classical music attracts an older audience. The brilliance of Susan Wadsworth's performers is that they attract a multi-generational following. Her alumnus Anne, for example, was in the newspapers recently when she purchased her beautiful $3.6 million dollar Stradivarius violin, thought to have originally belonged to Napoleon Bonaparte. She joined Sasha on stage, as so many other appreciative YCA alumni have done, as a gift to the mentoring organization on its 50th anniversary.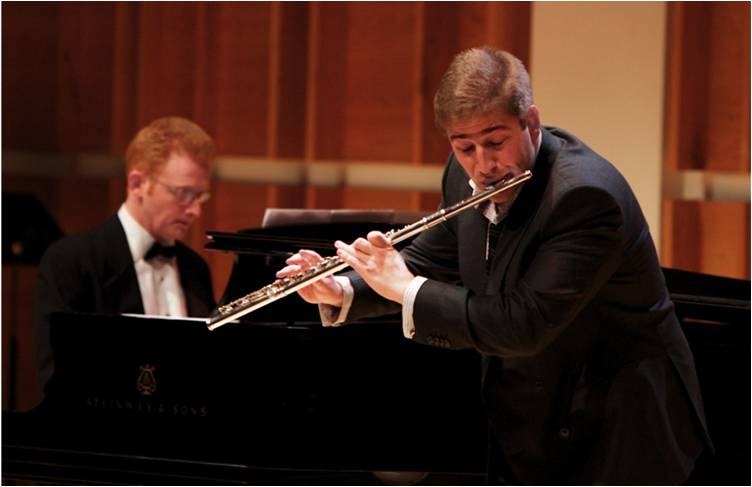 "Rondo in D Major for Flute and Pianoforte." Photo courtesy of Matt Dine.
"Rondo in D Major for Flute and Pianoforte" rapidly became a conversation. First, the piano spoke, then the flute, and soon both began to speak excitedly at the same time. The flute then soared melodiously with Sasha's intensity center stage as he seemingly danced with his magic flute.
Often flute performances make me feel like I am drowning is sweet bubble tea. Sasha's upbeat, exciting performance made me feel like I was white water rafting! As I am not a flute expert, I turned to Juilliard flute faculty member and renowned flutist Carol Wincenc who called him a "phenomenon."
I jotted down during his performance, "With wide, brown eyes and expressive eyebrows, the performer's fingers caressed the valves of his flute." I spoke at length with Sasha after his performance and he expressed the intense passion he feels when he plays.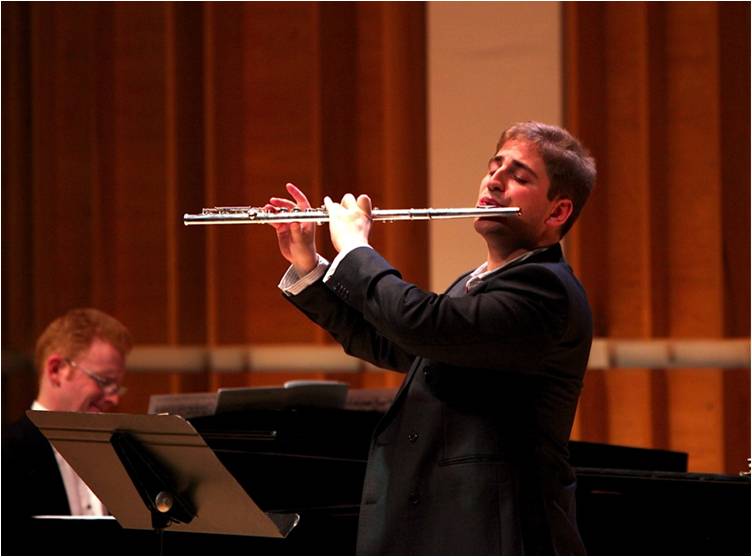 Performing Henri Dutilleux's "Sonatine for Flute and Piano." Photo courtesy of Matt Dine.
Henri Dutilleux's "Sonatine for Flute and Piano" gave Sasha more material to work with. As he focused on this music, scales flew to the ceiling and then crashed back onto the floor in a crescendo of notes. Moving forward, pausing, Sasha seems to delight in particularly energetic endings.
Next on his program was "Jazz Trio" by Claude Bolling, written for the famed French flutist Jean-Pierre Rampal. Suddenly Sasha's flute was swinging, soaring above, below, and around the percussion, cello and piano notes. From classical to jazz to rock, this young European's body language evoked and communicated the music compellingly. Sasha delights in entertaining his audience.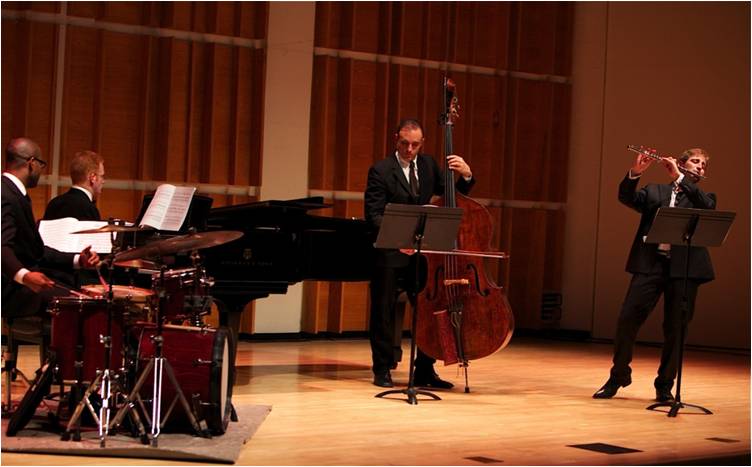 Percussion, cello, and piano met flute in "Jazz Trio." Photo courtesy of Matt Dine.
The gifted musician's final piece -- "Zoom Tube" -- went where few flutists have ever gone before: the best piece of the evening. Alternatively clicking and shushing, it sounded like he was playing Swahili. If Jethro Tull were Swahili, this would be how he would sound. This experimental piece, again by Australia's Ian Clarke, took the audience to a new level. They reacted with amazement as the traditionally conservative instrument exploded into shouts, whistles and even kisses. Sasha's triumphant finale left the audience on their feet clamoring for more.
Aleksandr Haskin plays Ian Clarke's "Zoom Tube," complete with shouts and whistles.
The audience wasn't disappointed. Sasha returned to the stage, and in a tribute to YCA's half-century founder and director of a half century, played an encore called "Song for Susan," to Susan Wadsworth, who has perhaps done more than anyone to shape the careers of young performers globally in the last fifty years. Indeed, Aleksandr Haskin will soon be noted around the world following his brilliant New York City debut on the stage of the Young Concert Artists.
Sasha, who has studied at Yale, holds a doctorate from the Tchaikovsky Conservatory in Moscow. Winner of the 2009 Young Concert Artists International Auditions, he is currently flutist of the Qatar Philharmonic in Doha. He has performed at Kennedy Center in Washington, Teatro alla Scala in Milan and the Great Hall of the Moscow Conservatory.
Born in Minsk, Sasha has a great future ahead. Belarus has given the world the poet Cyril of Turaw and kvass, a soft drink made from malted brown bread. It has now given us this inspired flutist, who is on a trajectory that will continue to carry him to the far capitals of the world.
The event reminded this listener of the importance of supporting the arts. To contribute to Young Concerts Artists, Inc., under the leadership of Susan Wadsworth, go online or call 212-307-6655.
REAL LIFE. REAL NEWS. REAL VOICES.
Help us tell more of the stories that matter from voices that too often remain unheard.