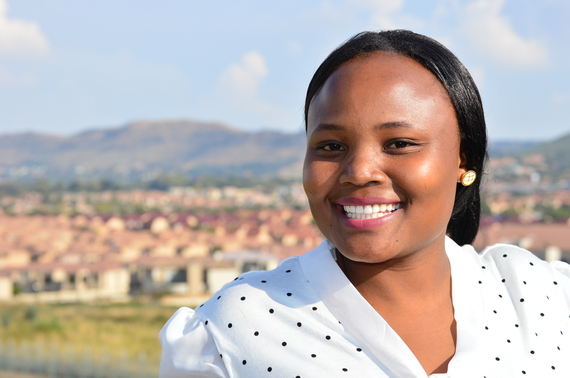 Why do some people, often against all odds, succeed in life, while others do not? One popular theory is that they have "grit" -- defined by leading psychologists as "perseverance and passion for long-term goals." In other words, they have a lot of stamina and self-motivation. On a recent trip to South Africa, I learned another way to think about what drives some people forward -- called Ubuntu. Its literal Zulu translation is "human-ness" -- but its philosophy reflects a spirit of interconnectedness, community, and mutual support. As South Africa's Archbishop Desmond Tutu explains it: "You can't be human all by yourself." According to Ubuntu, our humanity -- our ability to make a difference -- is realized through our generosity toward others.
During my visit, I met 23-year-old Lebo, a remarkable young South African woman who has struggled mightily to overcome setback after setback. Yet listening to her story, I realized she has persevered not solely through her own "grit" but through the support of a community of caring adults. Her deep commitment to improve the lives of other young people like herself has also been driven by the Ubuntu philosophy that what you do for one individual ripples out to benefit others.
Lebo's young life appears to be a series of crises and disappointments. She and her sisters were uprooted time and again as her parents struggled to support their family. Lebo's father, who lost his job working in the mines soon after Lebo was born, suffered from chronic schizophrenia. He often disappeared for months, and then years, leaving her mother, Julia, the sole breadwinner for her three young daughters. Today, Lebo's family lives in a sprawling informal settlement of makeshift wooden houses and dirt roads on the outskirts of Johannesburg. There is no electricity or running water. Yet this resilient 23-year-old, who has struggled so hard, will soon become the first in her family to graduate from college, an astonishing accomplishment.
Even in the midst of her chaotic childhood, Lebo was surrounded by people who supported her at critical moments. One of her grandmothers took her in on many occasions when Lebo's parents couldn't care for her. When she was in high school, Lebo's 10th-grade teacher took her aside. "She told me how important my education was, and how hard I needed to work in school if I wanted to go to college," she remembers. Lebo had never considered college as an option in her life. Now she did. When her application to a nearby university, Monash South Africa, was initially turned down, a minister and his wife who had befriended Lebo introduced her to a young community organizer. Under his guidance, she spent the next year gaining new skills, regaining her self-confidence and becoming a teacher herself. "It was the first time, working with young people, that I realized I could make a difference."
In fact, making a difference has become the central passion of Lebo's life. When she was accepted at Monash the following year on a needs-based scholarship, Lebo jumped into her academic studies but made time to participate in the campus-sponsored Saturday school tutoring program for local youth. The following year she became the liaison officer between the campus and the nearby community. Next she was elected by her peers as the community outreach officer, helping to manage the work of over 800 student volunteers on campus. She used the small stipend she was paid to help support her family.
One day over lunch Lebo began talking with two close friends about why so many young people were dropping out of school. "We have young people who fail not because they aren't clever but because they aren't motivated; they don't understand that good grades really mean something." To address this challenge, Lebo and her colleagues launched Tomorrow Starts Today, a weekly program dedicated to helping 9th graders from the informal settlements gain the skills, confidence, and career guidance they need to stay in school and contribute to their communities. Lebo wants the more than 90 young people who have enrolled in the program so far to benefit from the same kind of encouragement she has received throughout her life.
Education, for Lebo, is the only way to improve conditions for impoverished families. "I've seen how my own experience has impacted my sisters and how much more motivated they are to continue their studies. It's made me realize," she says, "that if you educate one person, you educate the whole family, and the whole community becomes transformed." Speaking about her long-term goals, Lebo says: "I want to be a sister not just to my own sisters, but to young people across Africa."

Lebo surely has that inner "grit" to remain focused on her goals ahead. But to me, her unwavering commitment to empower other young people is driven by her belief that no matter what the challenge, being human means helping to transform a family, a community, a society. Lebo's own definition of Ubuntu: "Serving others; it's where growth begins."
This week, Lebo travels to Miami, Florida, to receive the "Here for Good" award from Laureate International Universities, whose global network includes Monash South Africa. It will be the first time she will be on a plane. But Lebo is no stranger to taking that leap into the unknown.
Calling all HuffPost superfans!
Sign up for membership to become a founding member and help shape HuffPost's next chapter