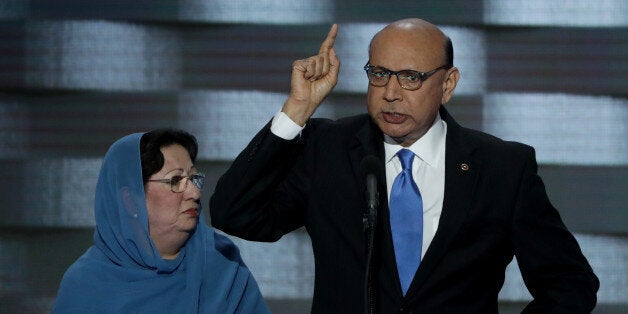 Like millions of Americans, I was enthralled by the presentation of Khizr Khan at the Democratic National Convention. It was not only a highlight of the convention, but also a moment particular to the changing America of the 21st century.
Yet at the same time, Khan's story is classically American: an immigrant wanting to bring his family to this country, "not," in his words, "because of religion, but because of its values."
Generations of immigrants of different faiths and backgrounds have been attracted to this country exactly because of these values -- the freedom to choose one's life, to think as one likes, to observe one's religion as one chooses, or not to follow any religion. Immigration has indisputably been an engine of American economic success and inseparable from American ingenuity.
Indeed, what is classic in Mr. Khan's story is how quickly this immigrant family integrated into American life. Khizr Khan attained an advanced law degree and became an attorney. Their middle child, Humayun, joined the army out of high school and, later, while preparing to enter the University of Virginia Law School, he was called up to serve in Iraq.
Humayun's story, his service, and his heroic and tragic death on behalf of his country in Iraq in June 2004, resonates so powerfully because every American can identify with it -- because we are a nation of immigrants.
It wasn't the fact that the Khan family is Muslim that is the core of this tale, though the Khans clearly are proud of their Islamic faith. It is the fact that they are Americans who believe in America and who made the ultimate sacrifice for the country they loved.
For us at ADL, this event had particular significance.
First, it spoke to our long understanding of the value of immigration to this country. Back in the 1950s, ADL worked with the young senator from Massachusetts, John F. Kennedy, to publish his work A Nation of Immigrants. The values presented by Khizr and Ghazala Khan at the convention were the very values embodied in JFK's classic book -- that we are all immigrants in one way or another, all contributing to making America what it is. It is this feature of our society that makes us exceptional -- what makes us American.
Second, back in 2010, we sought to convey the kind of message so powerfully delivered by Khizr Khan when we honored a different Muslim American who had given his life for his country. Kareem Rashad Sultan Khan was a New Jersey born American Muslim who volunteered to fight in Iraq. Laid to rest in Arlington National Cemetery, Kareem was killed by an improvised explosive device in 2007 and was posthumously awarded the Purple Heart. His mother Elsheba accepted the honor on her son's behalf at our annual "In Concert Against Hate" at the Kennedy Center for the Performing Arts in Washington, D.C.
We recall this only to point out what should be self-evident -- that Army Capt. Humayun S. M. Khan is another of many stories that need to be told about American Muslims' sacrifice and contribution to our country.
It has been heartening to see the response to his remarks from many politicians as they have stood up on behalf of the Khans. They and many others realize that scapegoating of Muslim Americans not only threatens the fabric of our society, but weakens us in our battle with Islamic extremism by playing into the tropes of ISIS recruiters that seek to portray the U.S. as an enemy of Islam.
While the fight against stereotypes is a collective responsibility, it has been a significant part of ADL's mission since our founding. My hope is that in the wake of this episode, in this effort we have won many new allies who recognize that in order to be for ourselves, we must stand by one another.
History shows that one of the strongest generators of prejudice and stereotyping is fear: fear of the unknown, fear of the other. In the case of Muslim Americans, that fear is often conjured by invoking anxiety about terrorism. Indeed, Khizr Khan's remarkable presentation reminds us that, when it comes to the overwhelming majority of American Muslims, that fear is not only misplaced; it is unfair, dangerous and un-American.
Surely, the threat posed by Islamic extremism is real. Self-proclaimed Islamic extremists have employed terror and shaken communities around the world. We have recently seen unspeakable violence perpetrated in Brussels, Baghdad, Tel Aviv, Istanbul, Paris, Nice, San Bernardino and Orlando.
But, as the American President Franklin Delano Roosevelt said in the face of a much grander threat, "the only thing we have to fear is fear itself." He explained that "nameless, unreasoning, unjustified terror which paralyzes needed efforts to convert retreat into advance." What we need at this hour is to draw on that great American reserve -hope- that has sustained us through so many difficult moments in our past and is the surest guide to our future.
Humayun Khan was an American hero, but his story is not an exception to a rule. His family's story is far more representative of Muslim American aspirations than the phantasmagorical stereotypes so often used to portray Muslims.
More than anything else, we can only hope that the attention appropriately accorded to Khan's remarkable speech and the heroism of his son will deliver a powerful blow to those in this country who would seek to blame an entire people, religion or ethnicity for the terrible deeds of the few extremists.