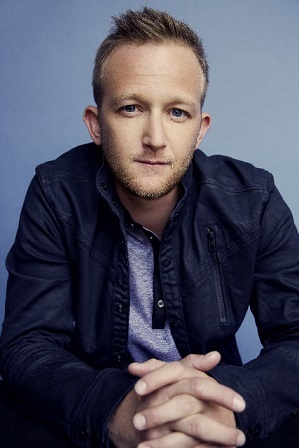 Eric Ladin can be seen in theaters now in Annabelle, the spin-off of The Conjuring.
Twitter: @EricLadin . Photo by Dawn DiCarlo.
You've seen Eric Ladin's mug plenty of times and probably laughed, as I did. That's a trick, people! That's how Eric gets you to fall in love with him! Or admire him. So I fell for it, whatever. You did too.
Eric is currently in theaters as Detective Clarkin in New Line Cinema's feature Annabelle, the spin-off to last year's The Conjuring. But oh! He also stars in HBO's Boardwalk Empire as J Edgar Hoover. He recently starred in AMC's Mad Men and The Killing. He will star opposite Bradley Cooper in the upcoming Clint Eastwood feature American Sniper releasing early next year on top of being cast in the upcoming HBO comedy The Brink. Whew! That was a mouthful!
You play Detective Clarkin in your latest film release, Annabelle, which is the spin-off of the hugely successful The Conjuring. Tell us about your audition.
I did audition for the role with casting. After reading the script and watching The Conjuring I decided it was a project that I would love to be a part of. John Leonetti's work as a Director of Photography on The Conjuring is great. And I felt like he had the ability to execute this story as a director successfully. As for the role of Detective Clarkin, it's really less about the fact that he's a detective and more about his attempt to show compassion for this family who has been through a terrible event and seen awful things. As to why they chose me...I would hope it was because they believed that I was the best for the job.
Name one thing you regret.
I don't have many regrets in terms of my career. Sure, there are decisions or choices that I would like back, but I think those are things to learn from. They will help me as I shape my career moving forward. It's hard to move forward and succeed if you carry a lot of regret, so I will continue to try and acknowledge my mistakes and learn from them, but not allow them to hold me back.
Please share your name and family history.
The last name Ladin was originally Ladensky. It was changed when my father's grandfather came to the US from Poland around 1915. I started building a family tree about two years ago but haven't had the time to continue. I need to get on that. It's fascinating.
What's the difference between working on a network series vs. cable series?
Network television and cable television are two different business models. Of course, they are both trying to put the best product on air as possible, but the network is beholden to the advertisers. Their shows need numbers and that is usually the deciding factor on whether or not a show continues. Cable on the other hand usually doesn't have the same expectations in terms of viewership so shows with smaller audiences can usually last longer. In addition, many cable series are able to show nudity or use adult language. his obviously allows for a different type of story telling. I am a fan of many types of television both on network and cable, but so far in my career I have gravitated towards the stories being told on cable, so that's where I have spent the majority of my time.
What's all the hoopla about with Veronica Mars? Also, think way back and tell us a behind the scenes story from your episode where you played Derrick's Brother.
Wow, that is WAY back! I hate to say it, but I don't remember much of anything about that episode other than I was in a wheelchair. And they shot in San Diego, which was great because I was able to see some friends down there.
What's your diet and workout schedule?
I keep a pretty healthy diet. I eat everything, but try my best to limit the amount of bad stuff like sugar, etc. However, everyone needs something sweet every once in a while, right? As for my workout schedule, it depends on the role that I am playing. I will adjust based on whether I am trying to put on weight or take off weight. For American Sniper I was doing a lot of eating and a lot lifting to put on weight, whereas now for The Brink I am adding cardio back into my routine so that I can trim down and stay lean.
What kind of kid were you in high school?
I was pretty good. I didn't really have the time to be bad. I was at school all day and then rehearsal for whatever show I was doing till the evening.
Now that you have two small sons, how do you juggle your acting career with family life? Are you more selective with the roles you will audition for / accept or do you still go on everything sent to you, even if it will take you across the country? Going to take the boys to any Trojans or Lakers games?
The process of choosing roles of course changes as a career grows. Now I choose my roles based on a number of things starting with story, filmmaker / producer and role. Whether or not I feel challenged in a role or whether it's a role that is buried deep inside that I want to explore. However, no matter the role or project, I always decide with my wife. She knows me better than anyone and often finds things in projects that I might have missed. As for juggling family and work, I have become more selective for sure. My wife and I have a three week rule, in other words we don't go more than three weeks without seeing each other. Of course with the kids that becomes harder, but we have been able to manage thus far. Ultimately, though this is the career that I have chosen and one of the drawbacks, often times, is extended travel away from family.
No Trojan or Laker games for the boys yet, but I think Maxfield will be ready next season. For now, he'll just watch them on TV with me.
How did you get into doing voiceovers for games? Explain the process.
Years ago, with no experience as a voiceover artist, I marched into the VO department at my agency at Innovative and said, "This sounds crazy and I'm sure you'll say 'no' but I'd love an opportunity to do voice work." They said yes and I read for everything from commercials to games to animation. Games and animation are what I've found success in. For 'Left 4 Dead 2', I only did the voiceover work and that was over four three-hour sessions, without ever meeting the other actors. For 'inFamous 2" I did both the voiceover and motion capture along with the other actors in the game over an 18 month period. Because you work out of order and without the whole script, it's harder to prepare the same way you would for TV/film. I relied very heavily on the director and makers of the game to help through the process.
Do you prefer guest starring roles or recurring roles on a TV Series? What's the difference?
A guest staring role is typically one episode and you're done whereas a recurring guest star comes back for multiple episodes. Of course with a recurring role you have more time to explore the character and more opportunity to work on it, but there are many guest star roles that are written very well and one episode is all you need to tell the story. Size and type of role would most definitely be a factor when making a decision but ultimately it would come down to the role and the series it was on.
What made you take the leap to move from Houston, TX to Los Angeles? Where and how did you meet your wife?
I moved to Los Angeles in August of 1997 to attend the University of Southern California. Once I graduated in 2001 I decided to stay in LA to pursue my dream. My wife coincidentally is from Houston as well and grew up about 10 minutes from me, but we never met until we were introduced to each other in a bar on Sunset Blvd, in Hollywood. Go figure!
Anyone ever tell you you're goofy?
Daily. I love to laugh and love even more to make people laugh. Goofy comes along with that trait.
Do you get the same Starbucks drink every time?
Venti Dark Roast Drip. Every time.
Well, interesting you ask as I've just made a change. I am VERY into my tech, a geek in that regard for sure. I use Mac computers; a 13" MacBook Pro at the moment but due for an upgrade. I am thinking about a MacBook Air and until last month I have always used an iPhone. I switched to the Samsung Galaxy S5 recently so I'm in a bit of an adjustment period.
Anything else you'd like to say?
As for work, I am very excited about The Brink, a new series for HBO that I am shooting now. It's a comedy, which is a change of pace for me and will air in 2015.
Away from work I spend a lot of time working with UNICEF. I am a Steering Committee member of the Los Angeles chapter of UNICEF Next Generation and a co-chair of our Annual Masquerade Ball which will be held at the Hollywood Forever Cemetery on Oct. 30th. We are raising funds for access to safe and conflict free education for the children of Syria. Every child deserves the right to education. More information can be found at http://www.unicefusa.org/supporters/donors/nextgen
Calling all HuffPost superfans!
Sign up for membership to become a founding member and help shape HuffPost's next chapter