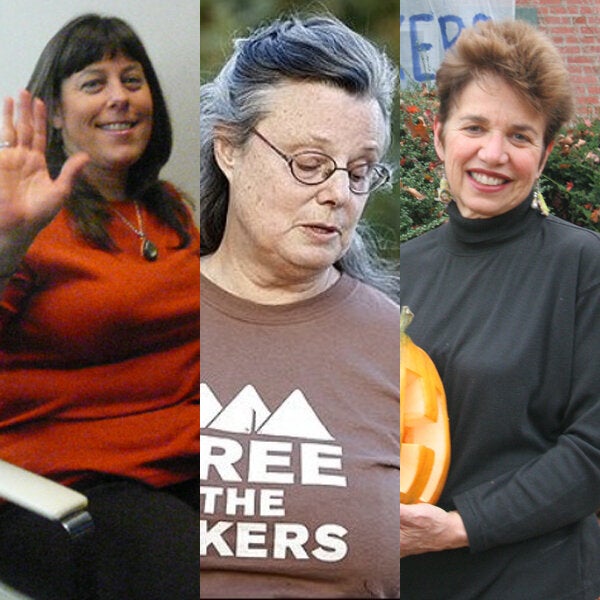 Shane Bauer, Sarah Shourd and Josh Fattal were detained by Iranian border guards on July 31, 2009. Their mothers are Cindy Hickey, from Pine City, MN; Nora Shourd, from Oakland, CA; and Laura Fattal, from Elkins Park, PA.
"When will we see our kids?" That's one of the questions we have for President Mahmoud Ahmadinejad, who is on his second visit to the United States since Iranian forces detained our children on the border with Iraqi Kurdistan, where they were on a hiking vacation. In the nine months since then, our children - Shane Bauer, Sarah Shourd and Josh Fattal - have been almost completely cut off from their families and the wider world. We've written to President Ahmadinejad each time he has come to New York begging him to bring our children with him. While he is here, we wait for visas that we've been promised so we can at least visit Shane, Sarah and Josh in Evin Prison. We'd like to ask President Ahmadinejad where the visas are. We would also like him to tell us why our children have been allowed to call home only once, for a few brief minutes, and have no access to their lawyer. Or why Swiss diplomats who represent U.S. interests in Iran have been granted consular access only three times. On the last occasion on April 22, the first such visit for nearly six months, we learned that our children's despair is such that they are contemplating a hunger strike. Sarah has a serious gynecological condition that needs specialist care and is suffering from depression. The isolation, strain and uncertainty are damaging the physical and emotional welfare of Shane and Josh as well.
To say we are sick with worry does not begin to describe the range of emotions that we feel each day. We feel guilt and frustration at our utter powerlessness to help our children. We're angry that our hopes were raised when President Ahmadinejad said in September that he would make sure the Iranian judiciary expedited our children's case and ask for them to be treated leniently, only for nothing to happen. We feel the constant ache of separation as we mark the passage of time by the changing of the seasons - from summer, to fall, to winter to spring and, in a few weeks, back to summer.

We know that tensions between Iran and the United States have grown since Shane, Sarah and Josh were detained. But we continue to hope that Iran would rise above politics and treat the case for what it is, a consular matter, and release Shane, Sarah and Josh because it is the right thing to do. The authorities there have no grounds to keep them any longer. Undocumented entry is at most punishable by a fine. It's the only real allegation Iran can level against them, and even that is unproven. Iran clearly knows that, since they have been questioned only once in the past six months. So we are left to conclude that by punishing our children - and us too - Iran's leaders somehow believe they are punishing the U.S. government or gaining some form of leverage.
We have always believed that the people of a country sometimes stand very separate from their governments. We've taught our children never to judge individuals by the actions of their politicians and to be compassionate, respect the law and celebrate our differences, not fear them. One of the ironies of our situation is that our children live those values. Shane, 27, is a journalist who has written sympathetically about the lives of Palestinians. Sarah, 31, works on women's rights and empowerment through education. Josh, 27, is a committed environmentalist and educator. They actively opposed the U.S. invasion of Iraq and take issue with many of the foreign policies pursued by successive American administrations. Yet the simple fact that they were born in the USA seems to be the only thing that counts for the people who will determine their fate.
Next Sunday, May 9, is Mother's Day in the United States. As that day approaches, many mothers are asking: "I wonder if we'll see the kids?" We're asking the same question. President Ahmadinejad, please finally give us the answer.
Related
Popular in the Community