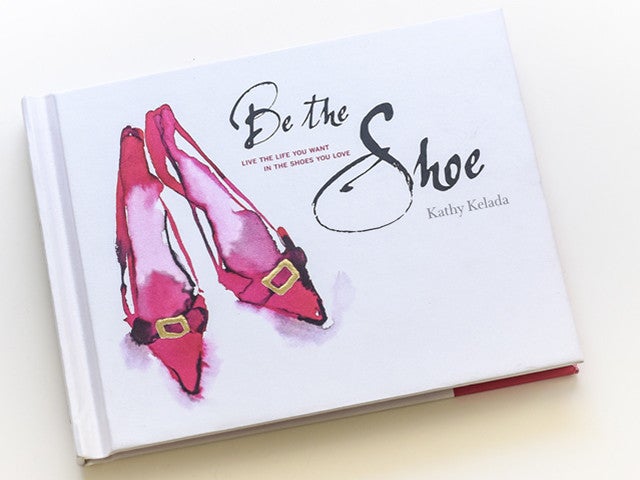 I'm writing this barefoot because it's 92 degrees in New York and I'm sweltering. But if I were GOING to wear a shoe today, it would definitely be of the flip flop variety. Of course, I don't have any flip flops because I don't go to the beach (Unless bribed or forced.)
Kathy Kelada, the author of BE THE SHOE, provides a fresh and fun perspective for every woman into their own lives and inspires them to pursue their personal goals with style, ease, and the right pair of shoes.
An inspiring and entertaining journey of self-discovery for modern women, BE THE SHOE is the result of keen observation into human nature. BE THE SHOE gives women of all walks of life, an immediate way to see themselves and identify their "shoe profile" through their relationships, money, work styles, strengths, and their vulnerable Achilles heels – all with the flair and creativity that make the book a perfect gift and great to share at girls' nights and brunch gatherings.
You're the author of BE THE SHOE, a book which provides a fresh and fun perspective for every woman into their own lives, and inspires them to pursue their personal goals with style, ease, and the right pair of shoes. Why did you choose SHOES!
Well, the answer to this has always seemed obvious to me. Our shoe size is the one thing about us that doesn't really change throughout our adult life. Yes, we may go up or down a half size, but basically, a size five will never be a size nine! We can count on that - it's a constant. We may go up or down in our dress size, we may go through personal changes, good or bad, in our lives, etc… but we can look down and be reassured that we still recognize ourselves. So we use our shoes as an outer reflection of the inner us.
What was it like writing a book?
Well, I had a lot of fun writing the book. I have spoken to so many women through the years and heard so many stories, that I felt very supported while I was in the process of writing it. It took about five years though, since it was not my full time focus. Ultimately, I self-published. I intended to go through the traditional channels and I did have a few offers, but they just didn't see my vision and I was crystal clear on what I wanted: The size of the book was very important to me (I wanted it small enough to fit in your handbag so you could take it to lunch and show your friends!) The flip page was non-negotiable because I wanted the book to be interactive. I felt it needed to be clear and simple so that you could pick it up, read a bit, and come away with the message.
And finally, I wanted it to be beautiful, like a treasured pair of shoes so the Italian silk cover and the embossed buckles were a must! These were basically all NO's with traditional publishers so I said fine, I'll do it myself. As for the illustrator, I wanted illustrations that enhanced the emotional connection I hoped the book would convey. I saw Bridget's watercolor illustration of blue shoes on a blog that I follow, and knew immediately that she was the ONE. I never pursued anyone else from that moment on. She lives in London so I contacted her via email and made arrangements to meet her for the first time at a London Airport while I was traveling in Europe. We sat and exchanged ideas and the deal was sealed. From then on we worked via Skype and email with only one other face-to-face meeting (over tea) in London throughout the whole process. She is an amazing artist and she just keeps inspiring me.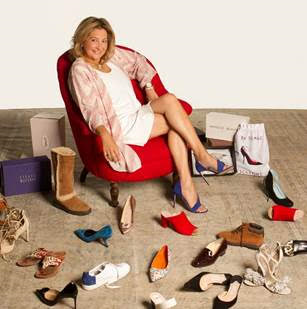 How did you come up with the 14 core Shoe Profiles ranging from a Strappy Sandal to a Clog, and everything in between?
Actually, I started out with about 40 styles and 40 different personalities and it just seemed too cumbersome. So I kept folding them into other styles (like a cowboy boot is really a low heeled boot) and ended up with these 14 iconic styles. They really represent women well and I think everyone can find themselves in at least one shoe! Many women tell me they have trouble choosing just one, but I reassure them that while we may put on several different shoes to get through our days, there is one true shoe that resonates when we are making decisions or choosing a partner, etc. That's why I included clues into how each shoe personality responds to different parts of their lives: their relationships, their finances, their workplace, and their fashion.
How many pairs of shoes do you currently own? Do you find yourself gravitating toward a few of the same shoes for everyday wear?
Well, let's just say, I have a LOT of shoes!! I am a strappy sandal so I have to admit, it's hard for me to pass by a great pair of shoes without trying them on! I own plenty of sneakers, boots, flats, pumps, --well, you get the idea. I don't have any clogs, furry boots, work boots or loafers, but that is VERY strappy sandal of me, don't you think?
I have three pairs of shoes: black NIKE sneakers, Dr. Martens sandals and Converse sneakers that are too pretty to ever wear (I just stare at them and drool.) What's that say about me?
You are very clear about who you are! You've got your style down and it obviously fits your life. I always encourage people to step out of their comfort zone and try something new. You never know where it will lead you. Maybe a great pair of distressed low-heeled boots or a pair of platform loafers are in your future?? Also, I totally understand the need to covet a pair of shoes even if you're not going to wear them. I have my share of beautiful shoes that don't see the light of day very often. I often feel bad about that…I tell myself, take them out for a spin and see how it feels. So maybe it's time for you to take those Chucks out for a walk! [FROM ILANA: Kathy — No no no, I... I can't! I'm just not ready! (crying). Help... help... help me...]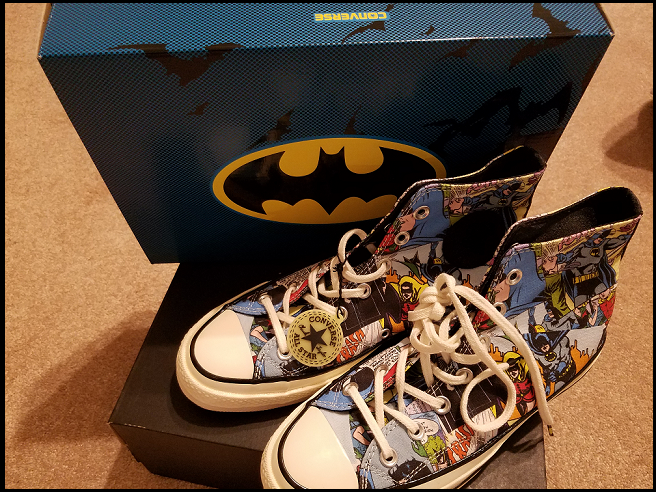 You are a life coach. What exactly does a life coach do?
A life coach helps you get from where you are now to where you want to be. I always say, there's a difference between a dream and a goal - and that's a timeline… by the way! If you look at a life challenge as a mountain, I help break it down, so you're just facing a series of speed bumps - (much easier to roll over and a lot less traumatic.) It's a very practical approach that allows me to be a cheerleader for my clients. I help them define the path they want to take and then give out advice and encouragement for their progress. It's very interactive and we definitely become a team. I love this work because transformation can be really exciting!
Tell us about your childhood and growing into your career. Were there aspects of your growing up that pointed to where you are now?
My mother was very inspirational to me. She spent her life helping others and always led by example. She told me there was nothing I couldn't do as long as I was willing to work hard to get it. I have always embraced change! In fact I usually choose it over consistency. At some point I realized I was good at change and that maybe I could help others do it without so much fear. My work as a stylist was basically helping others project the person they wanted the world to see and when I started life coaching and giving classes in life planning, it was the same principle. There is nothing better than helping others find their passion to start living their lives with intention and purpose. That has always been my goal in my own life and I have encouraged my two children to do the same. They are my proudest achievements! They both live life with passion.
What are your long-term goals?
I would love to see Be The Shoe reach more women and watch them use this shoe language to connect with each other. I look forward to speaking about the book and carry its message to women groups and book groups or frankly, anyone who's willing to listen.
I'm about to launch a notepad and greeting card line that uses quotes and art from the book. I think they'll be fun companion pieces to give as gifts along with the book for your girlfriend's birthdays, bride's gifts to her bridesmaids, your mom, your sister, your bff, etc.
And I'm spending the summer writing my next book... stay tuned!
What are your thoughts on the current United States Administration? Any guesses on some of their shoe profiles?
Well, I don't think I'll comment even though I have a lot of thoughts about that... Due to the lack of women in the current administration, it's difficult to comment on their shoe profiles, but Ivanka is covering a lot of ground these days and no question, she's a pump!
Anything else you'd like to say?
The important point I'd like to make is that I wrote this book for women to have fun with. It's beautiful to look at, fun to read, and at the end of it all, there is a message: Own who you are and step into your life. And if you don't like the shoe you've become, change it! Be the shoe you want to be and live the life of your dreams!
Related
Popular in the Community