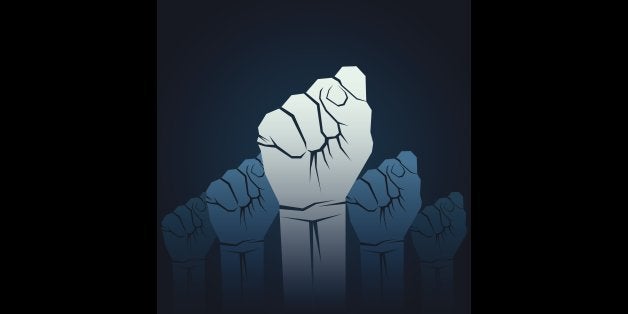 If legendary labor activist Joe Hill were alive today -- and some contend that he is -- he would have plenty to say about the state of the American worker. And the country, if it listened, would have plenty to learn.
Hill, who was executed in Utah 100 years ago this month, was an unapologetically radical union organizer whose rough-hewn songs and poems matched the brutal working conditions endured by tens of millions of Americans in the early 20th century. While his lyrics might at first sound anachronistic to contemporary audiences, their underlying spirit speaks directly to the experiences of far too many in our often unforgiving 21st century economy.
"Would you have freedom from wage slavery... Would you from mis'ry and hunger be free," from Hill's 1913 anthem "There Is Power in a Union," could easily have been inspired by the thousands of truck drivers who haul goods to and from the nation's largest port in Los Angeles. Misclassified as independent contractors, these port truck drivers are organizing and going on strike to protest their misclassification and rampant wage theft projected at $850 million annually. After 40-to-50-hour work weeks, it is not uncommon for these drivers to receive "negative paychecks" - they actually owe money to the trucking companies that employ them due to unlawful deductions.
Hill, who first came to prominence as an organizer in San Pedro, CA - the same place where today's port truck drivers toil in sweatshops on wheels - might well be taken aback by how little things have changed in the last century. In his day, he helped instigate a strike among San Pedro's badly exploited immigrant dock workers in his role as a leader of the International Workers of the World union.
His response would no doubt be as unequivocal as his advice to friends just before his execution: "Don't waste time mourning, organize." If that seems overly simplistic, consider this analysis from Nobel Prize-winning economist Joseph Stiglitz: "You must get others to join you, to work with you, to organize with you, to fight with you. It is only you who can raise the voice of ordinary Americans, and demand what you have worked so hard for."
Stiglitz understands -- just as Hill knew in his time -- that without a powerful labor movement able to organize large numbers of workers, there simply is no way to reverse the country's high levels of economic inequality. This is true even at a moment when much of the American labor movement has needed to expand its organizing strategies to combat gilded-age income inequality, including audacious efforts to raise the minimum wage to $15 an hour, sit-ins by cafeteria workers in the United States Senate, and the embrace of worker and day-laborer centers. As former U.S. Labor Secretary Robert Reich recently declared, "If we want average Americans to get a fair share of the gains from economic growth, they need to be able to unionize."
Any other conclusion is naïve at best, and delusional at worst. Or as Hill wrote in his 1910 song "The Preacher and the Slave," warning workers not to be fooled by false promises in this world or the next:
You will eat, bye and bye
In that glorious land above the sky
Work and pray, live on hay
You'll get pie in the sky when you die (that's a lie)
Hill's clear-eyed view of power still resonates today -- so much, in fact, that the centenary of his death is being celebrated across the country. In addition to shows and theater performances, a new volume of "The Letters of Joe Hill" has just been released, with a foreword by musician Tom Morello (Morello's sold-out tribute to Hill will take place at the legendary L.A. club The Troubadour on November 17). As Morello has said, "Joe Hill's influence is everywhere. Without Joe Hill, there's no Woody Guthrie, no Dylan, no Springsteen, no Clash, no Public Enemy, no Minor Threat, no System of a Down, no Rage Against the Machine."
If Hill's legacy is alive and well, so are the dire circumstances that animated his life and work. And to that, Joe Hill would surely say, as he did in his classic 1910 anthem: "Workers of the world awaken. Break your chains, demand your rights."
America, are you listening?
Popular in the Community