Truth be told, I was always more interested in the people that I worked with than the work I did. I found myself asking anyone I could, at both of the large companies I worked for, "what makes you tick?". I was interested to know if accountants loved numbers, or if they really wished they could be doing something else (it was a mix of both). I would often sit in meetings and look around the room and wonder why the topic at hand (pick a topic!) seemed so existentially important to everyone else in the room but me. I'd had conversations with many of my colleagues about what was really important, and about the meaning of work (the usual reply was "I don't look at it like that; I look at it like work, but if I had it my way, I'd be doing [insert dream career here - and it's rarely the work function the person is actually performing]." I noticed a lot of people talking about wanting to be anywhere but work, but working for a paycheck.
The year was 2010; I'd been working in financial services for 12 years. Though my career path had been moderately rewarding, I was beginning to feel this "tug" inside — faint, at first, but whenever I tried to ignore it, it became more pronounced — this sense I couldn't shake that I wasn't doing what I was meant to be doing. I wasn't living out my purpose. I wasn't living the highest, fullest expression of myself. I wasn't doing what [insert God, or the Universe, here] was asking of me.
Michelangelo once famously said, "I saw the angel in the marble and carved until I set him free." Where was my Michelangelo moment? Was something inside of me trying to be set free?
I wanted to explore this tug I was feeling so I began a journey of self-discovery. I journaled about the elements of my day that left me feeling energized, and the ones that zapped my energy. I learned about, and later became certified in, the Myers-Briggs Type Indicator®. I worked the process in a great book called The Pathfinder. I completed StrengthsFinder and a Strong career Inventory.
At one point, a MBTI Career instrument I had taken and the Strong Career Inventory matched, both indicating individuals with my same type and similar interests were happiest as cosmetologists. Interpreting these two instruments as if they were astrological charts, I enrolled at the Aveda Institute.
After a few weeks in, not only did I find it near-impossible to control my mannequin's hair, but something didn't quite feel right. I felt the tug again, this time pulling me right out of cosmetology school. I dropped out after a month.
I didn't allow myself to look at leaving cosmetology school as a failure for two reasons: the first - I would have always wondered "what if?" had I not enrolled. The second - I realized, for me, cosmetology wasn't about the hair. It was always about connecting with people. Armed with this "why didn't I realize that sooner?!" information, I continued to explore how this knowledge could manifest in terms of my career and my higher purpose.
Fall, 2014. As my focus and intensity in discovering my purpose picked up, the Universe in turn rose up to meet me. Three things happened in quick succession that led me to my higher purpose:
A good friend called me, explaining she had a problem and, though she wasn't sure how much I could help, something told her to reach out. I listened intently as she explained the situation. I asked questions that encouraged her to reflect. I read back her energy levels ("well, you sound super excited when you talk about option A, but you sound like you're dragging your feet through the mud when you talk about option B."). I helped connect the dots between different things she said. At the end of the conversation, my friend said, "I know exactly what I'm going to do! Thank you so much!" And I thought, "what did I do, really? I held up a mirror and gave her the space to explore her choices." This wasn't the first time a friend or colleague had approached me in a similar way, but it had happened enough that I journaled about that latest experience. That "thing" I could do for others led me to the field of Professional Coaching.

On September 19-20 of that year, I attended Oprah's Life You Want weekend here in Washington, D.C. During this 2-day event, I and thousands of other attendees meditated, journaled, soul-cycled, and listened intently to inspirational talks given by Elizabeth Gilbert (Eat, Pray, Love and Big Magic), Life Coach extraordinaire Iyanla Vanzant, Pastor Rob Bell, Mark Nepo (The Book of Awakening), and, of course, Ms. Winfrey herself. The tour weekend was life-changing for me, and the commitment I made to myself that day has been one of the biggest drivers in aligning my career, purpose, and passion. I had the good fortune of briefly meeting Ms. Winfrey after her speaking engagement, and the commitment I sent into the Twitterverse from that weekend - "to give energy and make people feel good by becoming a Coach!" - was something that carried me through a major career transition over the next year and a half.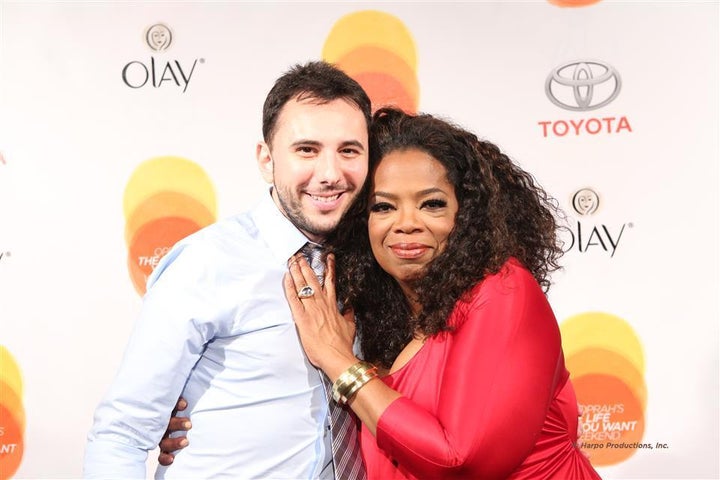 After researching accredited Coaching programs, I had the good fortune of learning about the graduate Coaching program at Duquesne University. I believed Duquesne would be an excellent choice because I earned my undergrad degree there almost fifteen years prior. I spoke with Sr. Susan English, co-director of the program, and while she informed me while it was too late to enroll for that fall's term, she offered to pair me up with a personal Coach to see how I might like it (incidentally, Sr.'s religious order, the Benedictine Sisters of Erie, PA, is the same order Joan Chittister belongs to; Joan is a celebrated speaker on women's rights and issues confronting the Catholic Church and the modern world, and would later be featured on an episode of Super Soul Sunday with Oprah).
After both receiving Coaching from a gifted Coach (Jane Rahenkamp!) in the Duquesne program and working through one last discover-your-purpose book of exercises called Roadmap for good measure, I decided to enroll in the Duquesne program the following term. During my first intensive weekend at Duquesne, I learned about the science behind Coaching, how Coaching and therapy differ, the importance visioning and mindfulness meditation play in Coaching, and how to ask powerful questions of my clients. It was like learning "the secret" behind the book The Secret - the science behind how what we focus on actually expands and can be made manifest in our lives.
Driving from Pittsburgh back to D.C. after that first intensive weekend, I experienced something I've experienced under a handful of times in my life, and, as something essentially indescribable, what can only be described as the "hand" of God reaching into my heart and offering, "this is exactly what you're supposed to be doing." The confirmation I had so doggedly been pursuing for five years had found me. This was my Michelangelo moment.
The next eight months were months of intense discovery; to say there is a magic that happens during Coaching is an understatement; I've been a part of Coaching sessions where clients' entire Presence shifted to one of self-confidence when they were able to claim their positive attributes outloud. I've also been fortunate enough to facilitate a LifeDesign workshop where one of the participants stood up and said they'd finally made the decision to adopt a child, tears streaming down their face. The benefits of Professional Coaching are increasingly well-documented from a client standpoint, and with each interaction, the clients I serve are actively designing - and moving closer to - the life they want. What I didn't expect was how much I learned about myself with each client I coached...part of the magic of Coaching!
Six years after my initial "tug", with individuals and with teams, I now have the pleasure of reaching out to and helping the very people I had spoken with time and time again during my financial services career: everyone who knows there's something more they're called to be doing and aren't sure how to get there or even what that might look like (to be clear, more closely aligning career with purpose and passion doesn't necessarily mean leaving an organization; in fact, it's a win-win for both the employee and the organization when people are doing what they love).
If this describes you, don't ignore the tug. As Paulo Coelho says, "when you want something, all the Universe conspires to help you achieve it."
Popular in the Community