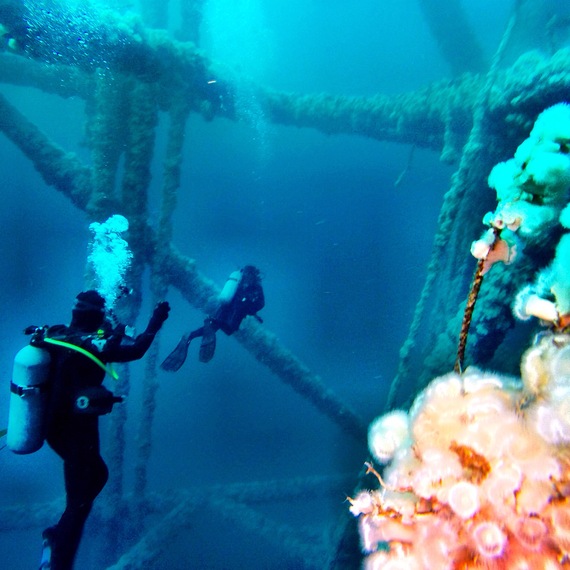 Platform A is the site of infamous 1969 oil spill in Santa Barbara. The environmental effects of the spill were immediate and dramatic. Not only effecting marine life, birds and the environment, but also destroying any trust previously established between offshore oil and gas development and California residents. Now, over 50 years later, when offered the opportunity to return to Santa Barbara to explore platforms A and C, Amber Jackson and I dove at the chance! We fearlessly plunged into platform A's underwater world with a mission to capture the vibrancy of offshore oil and gas platforms acting as an artificial reef, using GoPro cameras.
Our day started out starkly different from our previous visit, the water was mirrored and calm like glass and the sun, even at the early hour of 7 a.m., was already blazing hot. We were once again greeted by barking sea lions and a large school of leaping common dolphins, a sign we took to be a good omen. Without delay, we eagerly clambered into our gear and took a giant stride off into the blue alongside our first site, platform A.
What a difference a clear day makes -- the entire structure, from leg to leg, cross-beam to cross-beam was visible as we free fell down to a depth of 88 feet, established buoyancy and looked the 100 feet down into the abyssal depth. It was as if we were suspended upon the skeletal remains of the Empire State Building, floating effortlessly from one anemone encrusted cross beam to the next. Every once and a while the awesome enormous beams gave a great shudder, as if shivering along side us in the chilly 54 degree water, as a vibrating crew-ship pulled up along side to deliver supplies to the platform.
Amber and I immediately noticed several differences during this dive, that we had not experienced on Gina, only further broadening our knowledge of how diverse the habitat on each of these structures can be. Fish swarmed and darted amongst the beams; enormous male California Sheephead, which are born female and morph into males based on various environmental conditions, curiously peered from around beam joints, and banded tree fish darted up and amongst the mussels tightly clustered along the structure. Although we had seen fish on platform Gina, the numbers we encountered there were certainly not this dense and diverse.
Our dive on platform C yielded an experience, just as ethereal and awe-inspiring as platform A. On this dive we were greeted by the alien-like sight of a giant Fried-Egg jelly and a Spanish Shawl nudibranch, who, despite his brilliant orange and purple colors, was nearly camouflaged by the competing invertebrate life along the beam.
Amber and I were able to take away a deeply different experience on our dives on platforms A and C. We were encouraged by the life that we saw there, which only furthered our resolve to bring to light what lies beneath these steel structures; an alien world, not often glimpsed by the public eye, but one that most certainly deserves our attention.
Follow us on this expedition via Instagram @Rig2Reefexplorers and check out our teaser trailer here.
REAL LIFE. REAL NEWS. REAL VOICES.
Help us tell more of the stories that matter from voices that too often remain unheard.