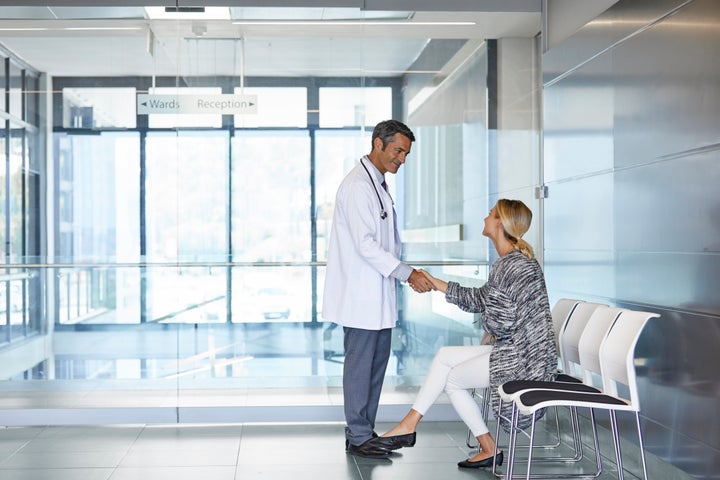 I am a gastroenterologist who specializes in caring for and advocating for patients with inflammatory bowel disease (IBD), which includes Crohn's disease and ulcerative colitis. I also have a niece and a nephew who live with IBD. But it was my grandmother with Crohn's disease who directed me to go meet her doctor when I first started medical school at the University of Chicago. From this initial meeting with Dr. Joseph Kirsner, a legendary gastroenterologist and scientist, my career began to take shape. It has been through my family members and my relationships with my patients that I have come to live with IBD too, and share the urgent need for medical advances and cures for the disease.
As a physician who sees patients but also conducts research, my job is made up of many parts. I perform meaningful research and guide the pharmaceutical industry in developing new therapies to change the lives of my patients. But many don't know that I spend more than half of my time in the clinic or hospital taking care of patients. I truly love my clinical encounters and working with my patients the most – it is when I am thinking as someone's doctor that I have had the most insightful thoughts about the disease process and how we can, and must, make more progress fighting these conditions. It was Dr. Kirsner who taught me that everything we do in the laboratory should revolve around the patient who is suffering. This is what motivates us but also what leads to the most profound progress.
So much of IBD is unknown, which is frustrating to patients and physicians alike. The longer I do what I do, the more humility I have in the face of these illnesses. But I have learned much from my patients both by seeing the wide variation in human responses to disease, and also by seeing their amazing resilience in the face of the unknown. Some of my patients who have the most severe forms of IBD inspire me in their ability to remain optimistic and take the challenges of illness and transform them into advocacy and action.
Working with my patients has shown me that controlling the inflammatory process is only a part of the bigger picture of how IBD affects those who live with these diseases. While I encounter my patients for less than one percent of their day-to-day lives, I recognize that the other 99% of their time is spent living with a chronic problem that for many of them extends to every aspect of their lives. Imagine every social event or holiday celebration that you attend and how it almost always revolves around eating! Think of all the times during the day that you feel hungry or thirsty, and decide to eat a meal, have a snack or have a drink. Then imagine if you were unsure if you could do that without pain, urgency or discomfort. Add to this the perception that the disease process is uncontrollable or unpredictable, and you can start to imagine how these conditions affect people with IBD. The most basic parts of sustaining life – eating, drinking, and being social – can be very difficult.
However, more often than not, I find that patients are not fearful, daunted, or intimidated by these challenges. When patients are treated well, not only do they live their lives, they thrive and excel. I attribute this to the way the human spirit overcomes adversity, and also, in a very real way, the major advances that have occurred in our medical and surgical therapies for IBD. I have attended the weddings and baby namings of many of my patients. Those life events are even more amazing when the back-story of overcoming IBD is part of the journey.
When I speak to patient groups and audiences, I have noted that the faces in the audience have changed over the years. When I first began this work in the early 2000s, it was common to see people in the audience who had suffered the ravages of chronic, dangerous steroid use, or had stunted growth. Now, while the audiences have grown larger and the prevalence of IBD continues to rise, the numbers of those suffering these profound effects is dwindling. Do not get me wrong, there is so much more we must do! However, I'm happy to say that patients who are diagnosed in 2018 have available to them more CD and UC treatment options.
Sure, we have major challenges. We still need to disseminate the knowledge about advanced IBD care to more care providers, diagnose patients earlier, improve access to expertise and affordable therapies, and continue unabated to study these conditions with a sense of urgency so that the next great discoveries are not delayed. But I am completely confident that if we work together – patients, doctors, nurses and advanced practice providers, dieticians, mental health professionals, research scientists, advocates and more – we can conquer these diseases. The future is very bright. My grandmother and Dr. Kirsner would be proud to see how far we've come.
Dr. Rubin and Takeda Pharmaceuticals are proud to raise awareness of the strength and resilience of the IBD community. For more information, please visit www.crohnscolitisfoundation.org.
David T. Rubin, M.D., specializes in the treatment and assessment of digestive diseases. His clinical expertise includes inflammatory bowel diseases (Crohn's disease and ulcerative colitis). Dr. Rubin performs clinical research related to outcomes in inflammatory bowel diseases, with particular interest in prevention of cancer associated with these diseases. He is also interested in new therapies for inflammatory bowel diseases, better screening tools for colorectal cancer, and the genetics of inflammatory bowel diseases.