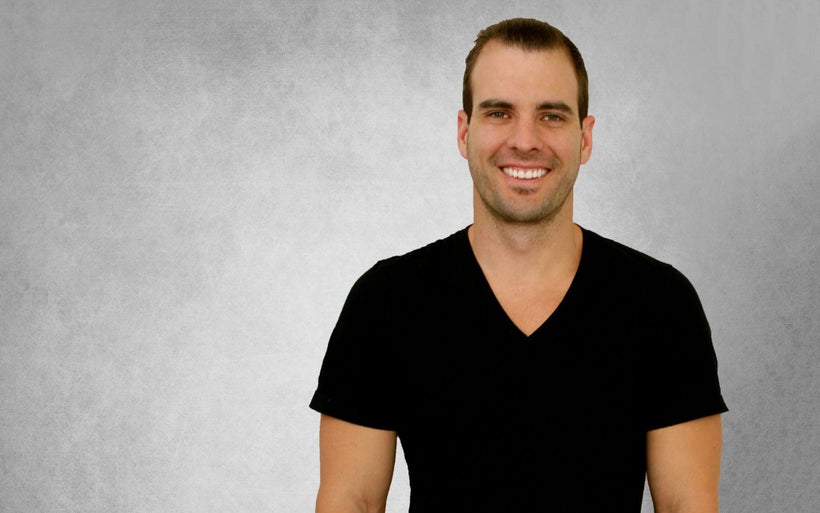 Life lesson: Hidden in the pain of loss and tragedy are lessons. If you look for the lesson, the entire trajectory of your life can not only change, but change the lives of many others for the better.
I was reminded of this lesson I've learned from my own life experiences after hearing the story of an entrepreneur who did exactly that.
Cole Hatter, an author, award winning speaker, and entrepreneur, has a lifestyle today that so many aspire for, but has a past that would be found in the depths of our worst nightmares. Imagine you are 21 years old, going on a road trip with two of your best friends, and moments later find yourself being life flighted to a trauma center, with all odds against you surviving. Cole and two of his friends (Steve and Matt) had gotten into a bad car accident at the fault of a negligent driver in another lane, and while Cole and Matt had survived, Cole's best friend Steve did not. Cole demanded to be with his friend in his final moments at the hospital, and right after having to say goodbye to his dearest friend, the surgeon that had saved his own life came over and had tears in his eyes.
The surgeon told Cole that he has no medical explanation to why he survived the accident, and just pointed up and said "Someone must have a plan for you'. Fast forward to one month after the accident, Cole, Matt, and their friend Scott are are a dirt biking trip to try to regain normalcy in their lives. As they are riding they are met with an unmarked, abandoned mineshaft. Cole reaches out to grab hold of a bush (barely as large as the size of bathroom waste bin) and hangs on desperately as Scott jumps off his bike and tumbles down to grab a hold and pull Cole out of the large hole he was about to fall into. Both of them are desperately looking for Matt, hoping he had driven past the hole and was back at their camp. With no luck in their search they call the fire department and Matt was found at the bottom of the hole hours later, pronounced dead.
Cole had lost two of the most important people in his life, and had a tremendous amount of guilt he carried from surviving, when he had no understanding of why he had survived both accidents. December, one month later, he found himself yelling, calling out to Steve and Matt and saying how sorry he was and that he would trade places with them in a second if it would bring them back. And in that moment, a switch flipped that allowed him to see the lesson in the pain. He vowed to use every moment to create a life that was big enough for the life of three men, leave nothing behind, help as many people as he could along the way to make life matter.
Cole was extremely successful in real estate, and found himself making way above the paygrade of most 22 year olds, and of course, spent money more frivolously in his early years on cars and boats. But, he also did charitable thing with his new found wealth, like helping friends in need, volunteering in Africa, and found that the most rewarding part of having wealth was the ability to give back. He questioned why his business life and his charitable life where separate, and launched purpose driven brands that now provide him the most wealth of his entire career. He reminds us that you can be profitable and do good, and that we can even argue that you will be more profitable by doing good rather than launching a traditional business.
Cole believes that any entrepreneur can make their money matter. He believes that by building a business designed to give back, anyone can make an impact, and also not feel guilty of their success, but make a difference and leave an impact with it. He's so passionate about this idea he launched a wildly successful event called Thrive to show entrepreneurs how to do just that.
He's identified 4 steps for anyone to build a business with purpose and make their money matter.
1. Decide that giving back matters to you.
It sounds simple, but you need to see this as a core part of your business, and that you don't just want to be a for-profit capitalist who's only in it for the money. Sooner or later, if you are in it for just the money, you realize that you are never really happy no matter how much of it you make. Figure out what cause you are passionate about, that lights you up, and find ways to give to it.
2. Be able to see a measurable difference.
When you are writing a check you feel good, but you miss out on the experience to see how your money is making an impact in others lives. Find ways to see be a part of the experience of how your money is helping and have conversations with the people you are impacting.
3. Design a business that funds your initiative.
Think of companies like Tom's or Sevenly, whose models have giving back built into it.
4. Understand your branding.
To add to the impact you can create, find ways to brand yourself around your cause to stand out from the competitors in your industry. You are now distinguishable from your competition in a major way, and can maximize your impact by informing more people of your worthy cause.
REAL LIFE. REAL NEWS. REAL VOICES.
Help us tell more of the stories that matter from voices that too often remain unheard.
This post was published on the now-closed HuffPost Contributor platform. Contributors control their own work and posted freely to our site. If you need to flag this entry as abusive,
send us an email
.